---
Rachel Clift, Health & Wellbeing Director at Ben, looks at the mental toll the COVID-19 lockdown has caused for the repair and maintenance sector.
---
It has been a tough and uncertain time for many people, and it has been particularly difficult for the automotive industry. The repair sector has been severely impacted with many businesses affected by the lockdown. A large number of employees were, or still are, furloughed and many made redundant as employers have taken action to save their businesses.
For some time now, we have seen an increase in the number of people turning to us seeking support for their mental health and money worries. The COVID-19 pandemic has certainly heightened this situation with people reaching out to us feeling more stressed, anxious, as well as lonely and isolated. For some, it has worsened existing mental health conditions, and, for others, it has been the cause of the onset of a mental health issue.
Anxiety levels have increased due to constant changes and uncertainty about the future. For many, this has led to further issues with sleep, increased food and alcohol consumption, which, coupled with feeling less socially connected, has affected people's mood and, for some, led to feelings of depression.
We believe we will continue to see an increase in people turning to us for support for their mental health throughout the rest of the year as this situation takes its toll. We also believe we will see a further increase in financial strain surfacing after the furlough scheme ends in October, with the potential for ongoing uncertainty and job losses across the industry.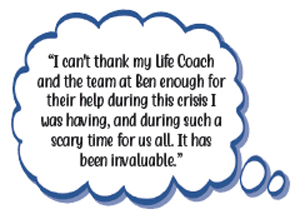 Ben has been supporting people through lockdown in the following ways:
Mental health support
Over 50% of people who turn to Ben need help with their mental health. These individuals can continue to receive support for mental health issues they are facing, including mental health assessments, life coaching and telephone-based counselling, as well as other talking therapies.
Ben is now also fast-tracking access to its digital therapeutic platform, so individuals can access self-help support (computerised cognitive behavioural therapy) programmes for stress, anxiety, depression, resilience, sleep, as well as participate in mindfulness activities. A new programme called 'Coping with challenging times' has also been launched in response to COVID-19 to help people to keep physically and mentally fit and well through tough times.
Last year, over 700 people received a Mental Health Assessment through Ben, with around 90% of those individuals going on to have counselling or other talking therapies. Over 180 people received life coaching in 2019. Our life coaching and mentoring service is a six-week, telephone-based programme supporting people to build their confidence, self-esteem and developing coping strategies. Life coaching is great for those who want to make specific changes in their life and applies the principles of behavioural change to help people make positive lasting change in their lives.
Financial support
On a case-by-case basis, Ben continues to provide financial support for urgent need, welfare and specialist consideration grants. During COVID-19, we have not only been administering grants but also supporting individuals to reduce their monthly outgoings such as payments breaks for mortgages, housing providers and utility bills, as well as helping people to maximise any benefits they may be entitled to.
We have streamlined access to financial information, advice and guidance through our case managers and provided additional support via our money worries programme using our digital platform, SilverCloud. For more information on the financial support Ben is providing during this time, click here.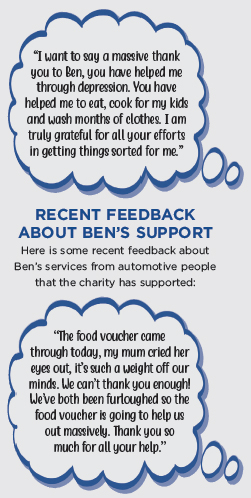 Coronavirus hub – online tips, advice and tools
We estimate that over 60,000 people accessed Ben's online support content (provided via our website) last year, so on this basis, and in response to COVID-19, we created a 'Coronavirus hub', with specially tailored online content providing tips, advice and tools, including:
Managing money
Anxiety
Stress
Resilience
Work, health & wellbeing
Home working
Self-care
We also continue to provide support to individuals via email. Automotive people can sign up here.
In addition to this, we have been working hard to look at ways we can support those who may be facing job losses. This is not only through the content we are developing on our website, but also via our Support Services. We will be helping people to cope with their situation, look to the future, as well as providing information, advice and guidance for job-seeking, CV building and interview skills.
---
If you're struggling or feel you might benefit from support, Ben is here for you. You can chat with the charity online of call the helpline on 08081 311 333. To find out more about Ben or seek support online, click
here
.