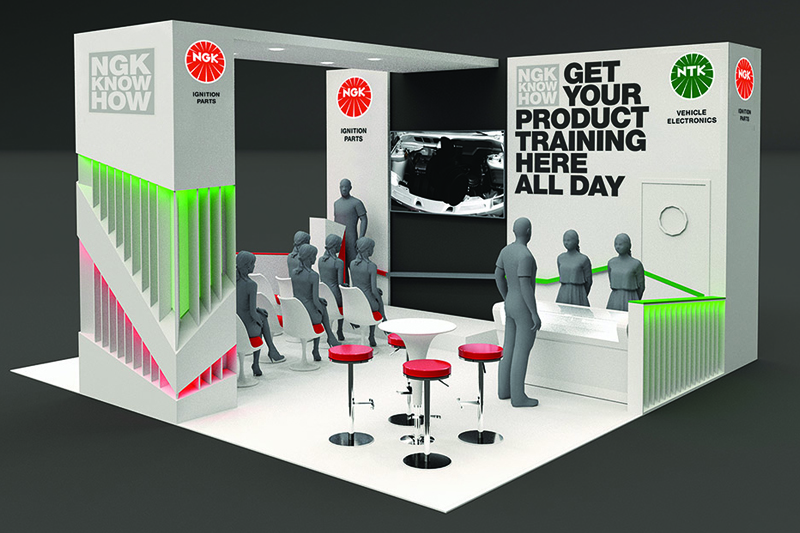 ---
Ignition specialist NGK Spark Plugs will be providing garage visitors with technical product training on its range of components when it exhibits at the forthcoming MECHANEX show in Manchester.
---
NGK will be holding the sessions on a new specially designed stand throughout the two-day show which is being held at EventCity on Tuesday, May 15 and Wednesday, May 16. As an added incentive for show visitors to attend these invaluable training sessions, each delegate will receive a free LED work lamp.
Mark Hallam, Marketing Manager, NGK Spark Plugs UK: "At NGK we have always recognised the importance of providing top quality product training for workshop owners and technicians and are delighted to have the opportunity to share our expertise with visitors to the show.
"We have designed an impressive new stand to accommodate all those who attend the training sessions, which will be held at regular intervals on both days of the show and are open to anyone who attends. There is no need for visitors to pre-register, all they have to do is turn up on the day and get involved. The on-stand training will not only give visitors a deeper knowledge of our products, but they will also each receive an LED work lamp which they can use back at their workshops."
This year sees a change to the normal show opening hours and it will remain open later than customary on day one. The show will open on Tuesday at 2pm and will close at 8.30pm, while Wednesday will retain the usual opening hours of 10am-4pm.
There will be five training sessions each day presented by Tim Howes, Deputy General Manager – Supply Chain & Technical Service, NGK Spark Plugs UK. On Tuesday they will be held at 3pm, 4pm, 5pm, 6pm and 7pm, and on Wednesday 11am, 12 Noon, 1pm, 2pm and 3pm.
In addition to the training seminars NGK staff will be on-hand to provide more details about the company's products and latest initiatives.
Garage visitors are also being urged to sign-up to its BoxClever independent garage loyalty scheme. BoxClever members who purchase NGK components are encouraged to collect the single boxes that the products come supplied in and return them in exchange for points they can later redeem for prizes.
NGK holds regular BoxClever promotions, the latest of which is giving members the chance to enjoy a full day's driving experience at PalmerSport's renowned Bedford Autodrome. The fantastic day out will be won by a Boxclever member who is selected in a prize draw at the end of a promotion which started on April 1 this year and runs until the end of June 2018. The lucky winner will drive six cars at PalmerSport; a Formula 3000, Renault Clio Cup Racer, BMW M4 GTP, Ariel Atom 3, Palmer JP-LM and a Land Rover Defender. Full hospitality including breakfast, lunch and afternoon tea will also be included for the winner, who must redeem their prize before mid-December 2018, and for an accompanying non-driving friend.
---
The show is completely free to attend and tickets can be
booked online
, or by calling
01923 237799
. For more information follow
MECHANEXShow
on Facebook, or visit the
MECHANEX
website.