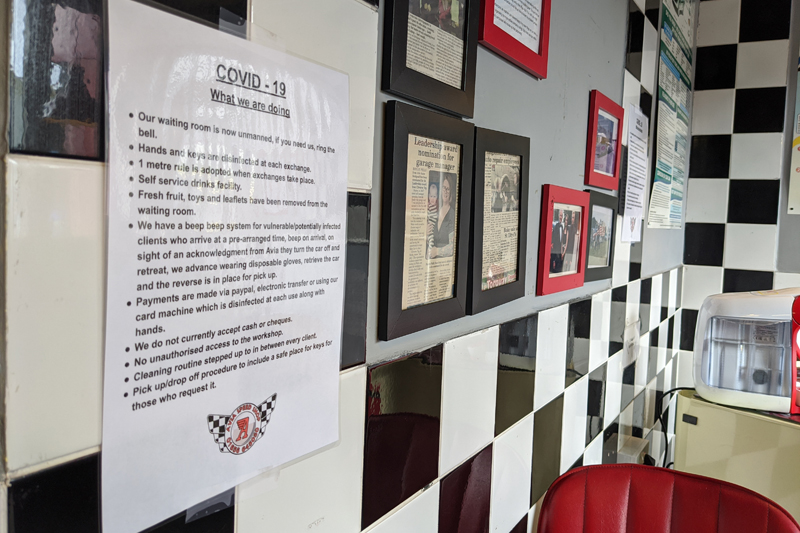 ---
Hayley Pells, of Avia Autos, outlines the precautionary measures she has taken to protect her business from the Covid-19 outbreak, and implores businesses not to panic!
---
'Don't Panic!' should be adopted as the slogan for these trying times, whilst paying due credit to perhaps the originator of the phrase, Douglas Adams. In any case, here is the start of a series of garage guides working in partnership with PMM to try to help during these coming weeks. First, let's look at the procedures that should be enacted in order to continue business operation.
It is important to remember that advice on how to conduct yourself is changing faster than I can type. We will endeavour to provide the latest information, but you must check the published date of the material, which will serve to contextualise the government advice into our environment. Advice from the government must be used in conjunction with your best judgement and if the government's advice contradicts anything else you hear, then follow the government's!
What is the current state of play?
The need for a private car has never been greater. Nurses need to get to hospitals, teachers need to get to schools, delivery workers (a huge component of the self-employed, self-driving 'gig economy') all need to travel safely, and judging by the disinclination to use public transport, this will be accomplished via cars. These cars need to be kept on the road.
The government has also suspended the need for MOT testing and left the decision regarding roadworthiness to the motorists. Some are understandably anxious about this and may require additional reassurance. MOT tests can still be performed and can be of benefit to a motorist, so it's important that each situation is assessed separately. The purpose of the temporary change in legislation was to ease the load, not fill our roads with dangerous cars! So, communicate with your customers to help them decide for themselves what they require.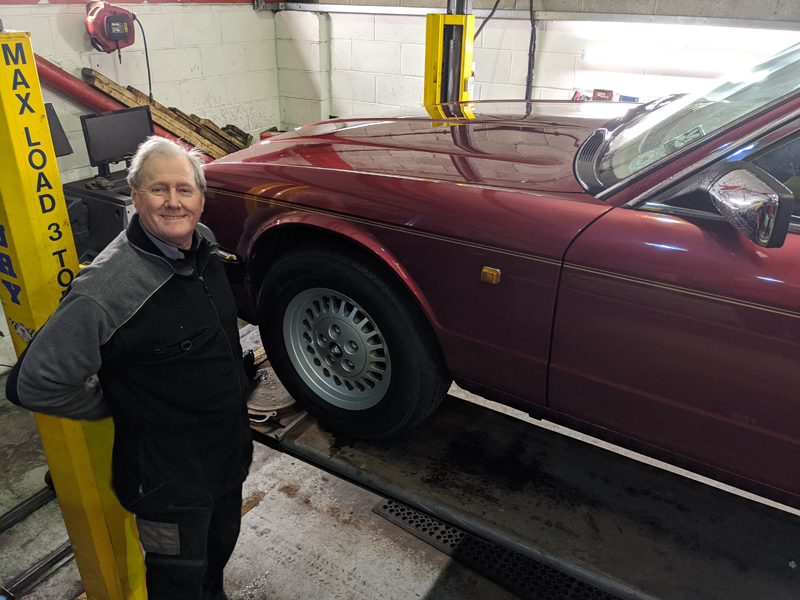 How do you keep you and your clients safe?
At Avia, we have the following new rules:
Client interaction
Services by prearranged appointment for essential travel only
Unessential travel and/or inappropriate services are turned away
Our waiting room is now unmanned
Hands and keys are disinfected at each exchange
Our hospitality of serving a drink has been withdrawn completely
Fresh fruit, toys and leaflets have been removed from the waiting room
We have a 'beep, beep' system for vulnerable/potentially infected clients, who arrive at a pre-arranged time. They must beep on arrival, on sight of an acknowledgment from Avia they turn the car off and retreat, we advance wearing disposable gloves, and retrieve the car. The reverse is in place for the pick-up
Payments are made via paypal or electronic transfer. Our card machine is disinfected at each use, and is used only when unavoidable
We do not currently accept cash (we have not accepted cheques for a long time)
No unauthorised access to the workshop
We have reduced our staff to the minimum
Cleaning carried out between every client and those clients staggered with strict appointment times
Pick-up/drop-off procedure includes a safe place for keys
Only electronic communications are offered. Paper MOTs are kept for posting later if requested
Full sanitisation of touch points within vehicle on completion of work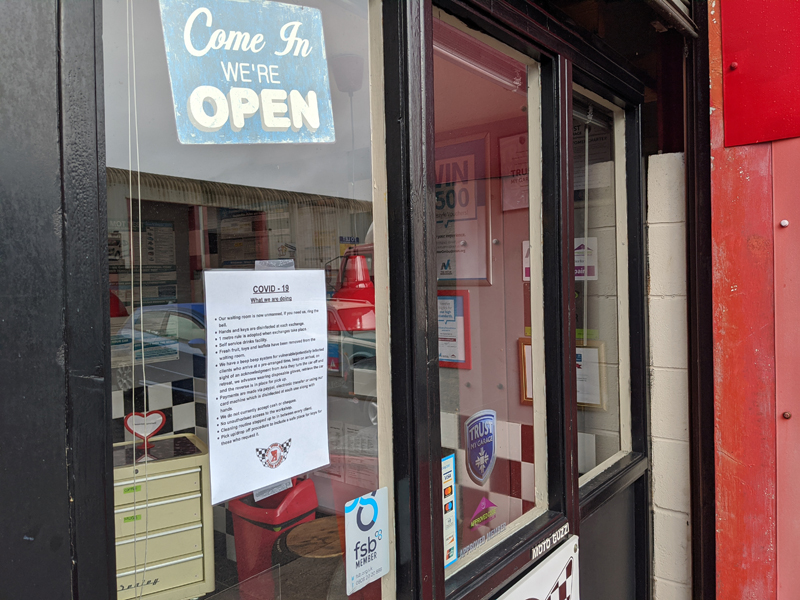 Supplier interaction
We do not sign for anything
Supplies and post are left in a designated area, same procedure for car drop-off – supplies are checked and a verbal acknowledgement is given to the driver. Returns are left in clearly labelled boxes for collection
Payments to suppliers are in the process of being switched to electronic methods and we are discouraging the use of cheques
No meetings, no cold callers – no supplier staff should be in our workshop save the designated area for supply/removal
Frequent cleaning of supplier area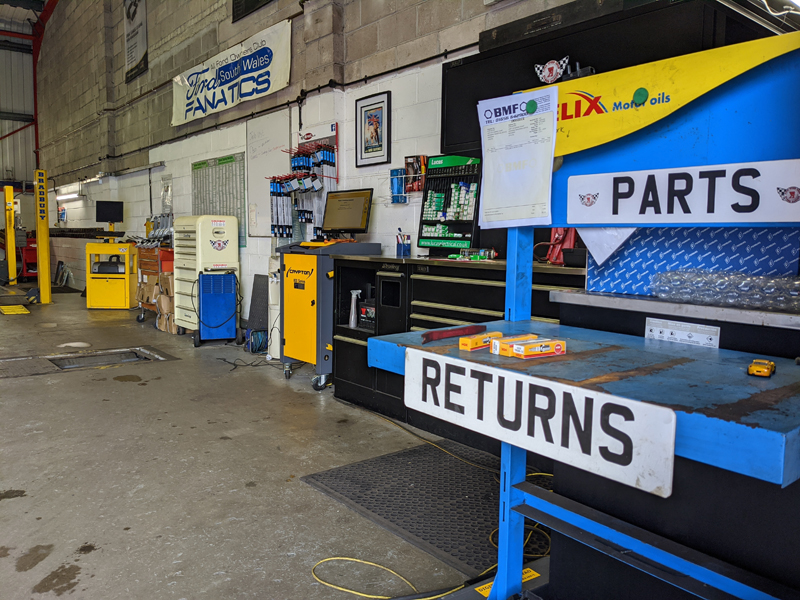 Business protocol
Social media and voicemail updated to inform outsiders of changes
Daily communication with all team members, particularly regarding protocol changes and government advice
IT and telephone equipment supplied and labelled to each worker
Workshop equipment assigned to a nominated worker
Stepped up hand washing routine according to government guidance
Clean all surfaces in accordance to government guidance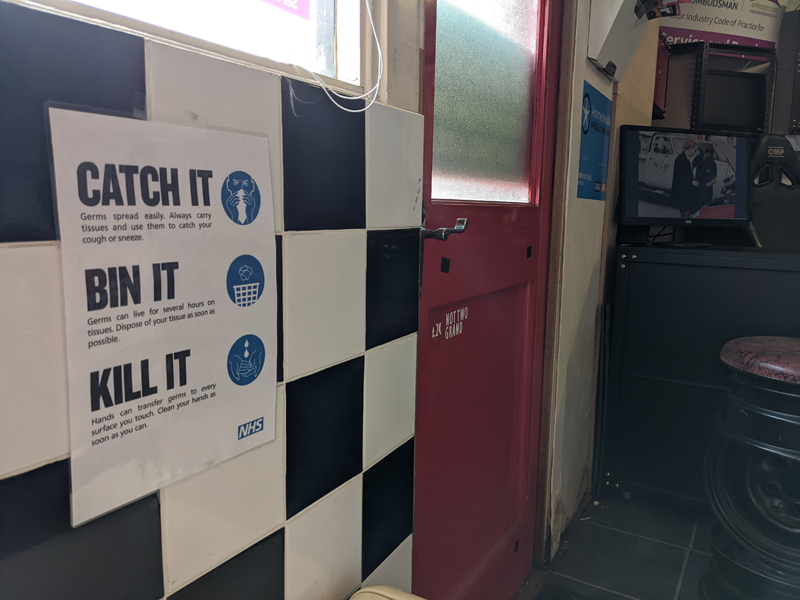 Vehicle and personal protective equipment used where appropriate
We endeavour to get paid on time
We endeavour to pay everyone on time
Due to our reduced team, we have suspended all trade credit facilities
Disposable gloves have replaced our environmentally friendly reusable ones
Offer 'beep, beep' system to every client booking in, then reassure clients who are waiting about the procedures in place
Insist on safe place plan for pick-up/drop-offs
Record your policies and procedures effectively
Look to your supporting organisations such as your insurance company, trade bodies and banks for advice pertinent to their respective areas of expertise
Look to the government website regularly for advice, instructions, and assistance offered to businesses
Forecast your financials and revisit with updated information as it becomes available
Self help
Limit news exposure, relying on trusted sources for updates and information
Evaluate your policies and procedures regularly
Limit exposure to social media – most smart phones can help with this
'Snooze' repeat offenders on your platforms who offer no helpful advice and share crazy stories
Focus on the task in hand
Listen to your team and address their concerns
Talk to someone about your concerns. Remember BEN!
Do not allow financial problems to escalate – batten down those hatches
Take time to relax and recharge, even just for 10 minutes, for the challenges ahead
Wash your hands with soap and warm water, it is scientifically proven to kill the virus
The future
I believe that it is highly unlikely for this state of alert to change after only a two or four week lockdown. Long-term periods of quarantine may or may not come to pass – it is important to be mindful of the team members returning to work. Ensure that they are fully versed for any new procedures, and consider that a staged return may be wise, especially if you have any members of your team that may be at increased risk. It is important to consider the government advice regarding furlough, SSP and the timescales involved.
This sector is going to be busy! Many vehicles will be off the road and will present issues when they are used for the first time. The weather recently has been good, but shortly before this we had a lot of rain. I am expecting anything that normally has grease, probably won't and anything that normally moves will probably be resistant as well. That's not to mention lazy batteries and sticky starter motors.
Help customers through your usual communication channels. The administrative burden of a sticky park brake and a battery that just needed a run around the block will get in the way of the wheel bearings the flood waters washed dry. It will be far more useful to motorists and your business if you are available for that kind of work.
If you are experiencing a dry spell, this is a great time to get on top of training – Schaeffler has an exciting new offering if you've exhausted your usual sources. It's also a good time to get on top of your kit maintenance and repairs or even get to grips with the demons of financial planning and business management. Don't panic! Get ready!
---
For more information on how to deal with the Covid-19 outbreak, click
here
.