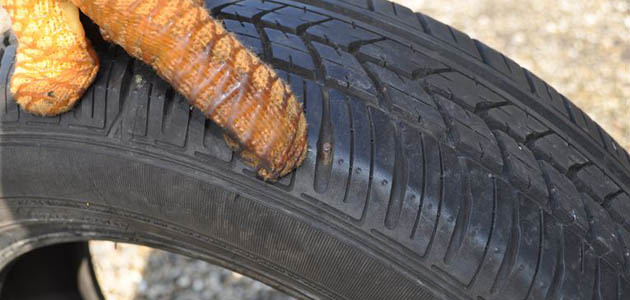 An episode of BBC's consumer programme Fake Britain featured a report highlighting the dangers associated with buying part worn tyres on BBC1 this week.
Made with the support of Trading Standards and TyreSafe, the programme featured Georgina Gee, whose family car was fitted with four unroadworthy tyres by a part worn dealer. Two of the unsafe tyres fitted to Georgina's car can be seen in the 'Your Safety' tab on a website recently launched by TyreSafe – www.partworn-tyres.co.uk – where there is also a link to the BBC programme.
The episode showed the poor handling characterises of used tyres demonstrated on a test track and tyre assessments by TyreSafe's tyre expert. It also gave a glimpse behind-the-scenes of a Trading Standards operation.
Stuart Jackson, Chairman of TyreSafe, said: "It is a massive concern for us that we have unscrupulous dealers across the country selling dangerous part worn tyres which are not roadworthy. The unknown, hidden dangers of a part worn, or used product, is the biggest issue. Has it been damaged? Has it been in an accident? We just don't know.
"TyreSafe's advice is simple: don't take a risk on a vehicle's primary safety feature – buy new tyres and avoid the risks of part worns."  
Episode seven of series six of Fake Britain can be viewed on the BBC iPlayer until 30th December 2015 via this link.