---
The NGK Spark Plugs product training sessions at MECHANEX Manchester have been hailed a resounding success.
---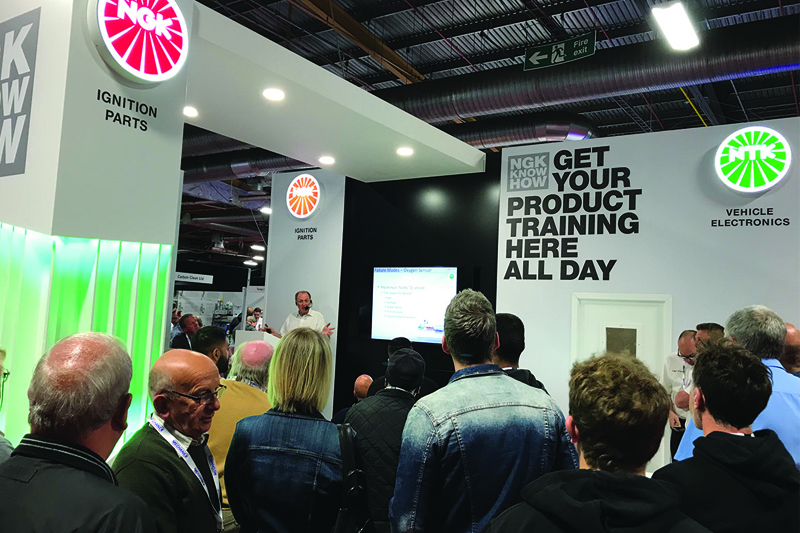 §NGK held the sessions on its new specially designed stand throughout the two-day show at EventCity and attracted big audiences of technicians to each presentation.
There were five training sessions each day presented by Tim Howes, Deputy General Manager – Supply Chain & Technical Service, NGK Spark Plugs UK, each focusing on either ignition products – spark plugs, glow plugs and ignition coils – or vehicle electronics, NTK Lambda, NOx, EGT, MAP and MAF sensors.
Mark Hallam, Marketing Manager, NGK Spark Plugs UK, said: "The technical training sessions proved to be extremely popular. We attracted big attendances for all of them and trained over 250 garages across the two days. In some cases, it was standing-room only as technicians gathered to learn more about our products and the outside factors that can affect their performance.
"At NGK we have always recognised the importance of providing top quality product training for workshop owners and technicians and it was great to have the opportunity to share our expertise with visitors to MECHANEX.
"We designed a new stand to accommodate all those who attended the training sessions and the feedback we received was very positive. The attendees really appreciated Tim's presentations and they all received a free LED work lamp to use back at their workshops."
NGK is an OE supplier to most of the world's leading vehicle manufacturers with the same parts being available in the automotive aftermarket and showcased together with its comprehensive ignition coils range at MECHANEX.
In addition to the training seminars NGK staff were also on-hand to provide more details about the company's products and latest initiatives.
---
For more information on
NGK Spark Plugs
and its products and services,
click here
.