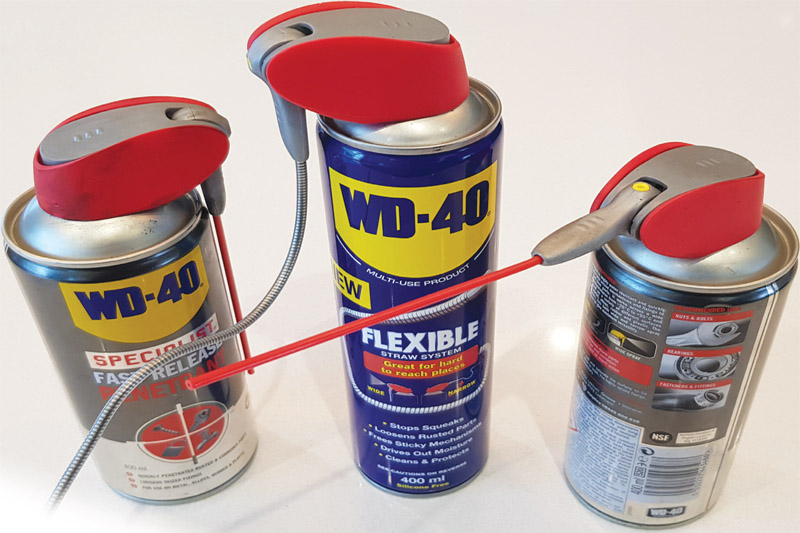 ---
With help from our trusty product testers, PMM put WD-40's Specialist Fast Release Penetrant and Flexible through their paces. To get the full picture, the products were used in a wide variety of applications by three different technicians. Here is how they got on…
---
DES DAVIES
Top Gear Motor Services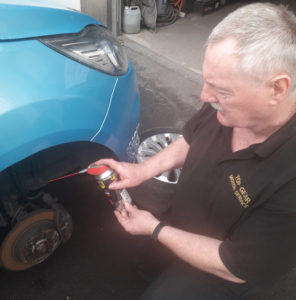 To test these products, I rolled out my old MGB GT once again. As it had been in the garage for months on end, I needed to change the brake fluid, but my brake caliper and wheel cylinder bleed nipples were solid and seized with corrosion and would more than likely shear off if I attempted this. Which gave me the opportunity to try out the WD-40 Specialist Fast Release Penetrant to see how good it is.
I sprayed the bleed screws with the product, left them to soak for 30 minutes, and then reapplied them with more penetrant again, followed by another 30-minute rest period. After this, I gently slackened the screws and worked them back and forth without any damage, which saved me a lot of time and expense!
My next job was a Vauxhall Tigra 2006 with a heavily corroded exhaust system (this was an MOT fail). The front exhaust pipe had the flange bolts seized and the nuts were out of shape and corroded. I sprayed the flange bolts with the WD-40 Specialist Fast Release Penetrant and left it for around one hour. I then reapplied the product again and left it for another hour.
I attached my bolt/nut remover to the nuts and gently applied force to the ratchet, and slowly I was able to release the nuts without damage to the flange stud threads. This was one of the worst exhaust corrosion jobs I have come across, and I did not expect to remove this exhaust front pipe without any damage.
These are just two examples of the many ways I used the WD-40 products. The applications are far ranging and can be used for many problems you may come across in the workshop. I particularly liked the Flexible straw as it was great for spraying hard-to-reach components, especially intake and exhaust manifold nuts and bolts.
HELEN DIXON
Dixons of Pudsey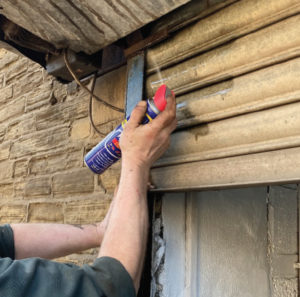 The WD-40 products were used daily in the workshop, and even in an emergency situation when our roller shutter doors failed one evening whilst shutting up shop! We have found that it doesn't leave a horrible residue in places where you don't want it. The application process on the Flexible is very precise. We found it lubricated and coated well and freed off the shutter doors without using lots of spray like other products we have used in this instance. There is also no back spray when spraying, so if you are spraying at an awkward angle, it doesn't come back all over you and the can.
We used the Specialist Fast Release Penetrant on vintage bikes to lubricate and free components of any rust, and again, we were impressed with how quickly it worked and the coverage it gave. With any bike, the last thing you want is spray going everywhere, so the precision spray was a great asset for this application. It also works well with heat as a freeing agent, having just used it to free off the handles on some scooter panels that haven't moved in over 40 years – it worked like a dream!
These are just a couple of examples, but we also tested the products out on routine jobs in the workshop such as car exhaust bolts, suspension bolts, etc, so I could really go on all day! In conclusion, I really cannot find a bad point. I am glad we got the opportunity to test the product as it will certainly be a staple product in both home and workshop from now on!
ANTONY POWELL
A P Autodiagnostics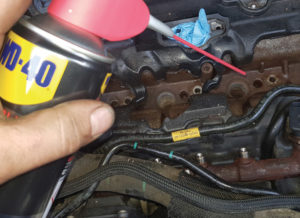 We have found the new WD-40 supplied to us proved to be better than ever! The new option to choose between a general spray or a directional straw is a big step forward from the old plastic one that always got lost, not to mention how you would spray yourself whilst fitting it every time. The flexible straw means you can use it to hit the exact spot in the most awkward places, coupled with a can that sprays in any position, so I was very pleased with these developments.
The Multi-Use solution itself is as it has always been, a good, all-round general lubricating/freeing agent with the added benefit of being a water dispersant.
As my company specialises in removal, I used the WD-40 Specialist Fast Release Penetrant on both seized glow plugs and seized injectors on many occasions; the oil penetrated to a good depth and provided both lubrication and rust penetration.
Looking on the WD-40 website, it's clear the company has expanded its range over the years and now offer much more than just the original lubricant – take a look, it's well worth it!
Just one last question for WD-40…can we have the Flexible on all cans, please?
---
To find out more about these products, click
here
.