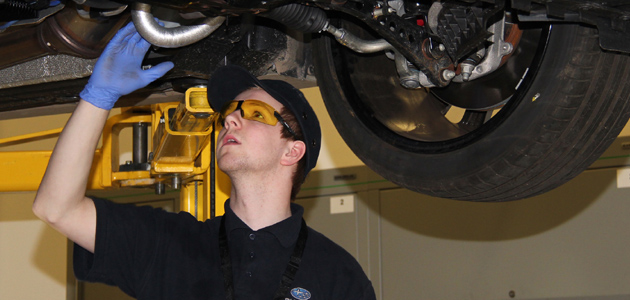 Cast your mind back to when you were in your teens, trying to plot a path through the big wide world in front of you. For many of you reading this blog, being given a chance by the employer of a small firm – likely an independent garage – proved to be the major catalyst for you to forge a long, and, hopefully, prosperous career as an automotive technician.
You may now find yourself as the owner of said small business, but are you giving others the same chances you had when you were starting out?
The current financial climate, not to mention the ridiculous demands placed on small businesses in a world dominated by legislation and paperwork, has meant that these opportunities have not been as forthcoming in recent times.
To combat this, the government has embarked on a number of measures to boost the influx of young people into skilled trades. The 'Improved Apprenticeships' scheme is one such initiative, aimed at giving some power back to the employer to create new apprenticeship standards.
As admirable and progressive as this may seem, there are those within our industry who have doubts over its likely effectiveness. Steve Nash, Chief Executive of the Institute of Motor Industry, which helps design the content and structure of apprenticeship schemes across the retail motor sector, has questioned its feasibility.
"The reality is that a large percentage of employers in the sector are small, proprietor-led businesses," he said. "The people who own and run these organisations already struggle to find the time to complete the basic paperwork for their business; is it really realistic to expect them to dedicate focused resources to creating an effective apprenticeship scheme? And what this means is that another avenue for young people to get on the jobs ladder is closed.
"Indeed, feedback we receive from stakeholders in apprenticeships strongly suggest that the current frameworks are fit-for-purpose. This therefore poses the question as to why there is a need for change."
Steve has also expressed a number of other key concerns in relation to the government's approach to apprenticeships, including the lack of a benchmark for all apprenticeship programmes across different sectors, and the risk of devaluing current apprentices taking part in existing programmes.
We think Steve has some valid points. In recent times, a lot of time, money and resource has been invested in creating competent and robust frameworks to bring apprenticeships into line with modern demands. It's so typical of the government to want to rip up something up that has never been given a chance to prosper and simply start again. The tax-payer ends up being the one to foot the bill.
With no disrespect meant to independent garage owners, the vast majority that we've had contact with over the years have appeared the type of people that simply want to get on and do what they do best – fixing cars. New legislation and academic frameworks should be left to those within government circles who are paid to exert their expertise in these areas.
The old saying 'never should the twain meet' springs to mind and although consultation with those directly affected by small-business-related initiatives is always welcomed, the level of personal time spent in meetings or filling out paperwork should be kept to a minimum for proprietors.
The major piece of advice we'd offer the government is to cut out the money-wasting bureaucracy and instead spend the time investigating ways that can make it as easy as possible for a small business to bring through a new generation of professionals – a simple concept that has served society incredibly well in years gone by.