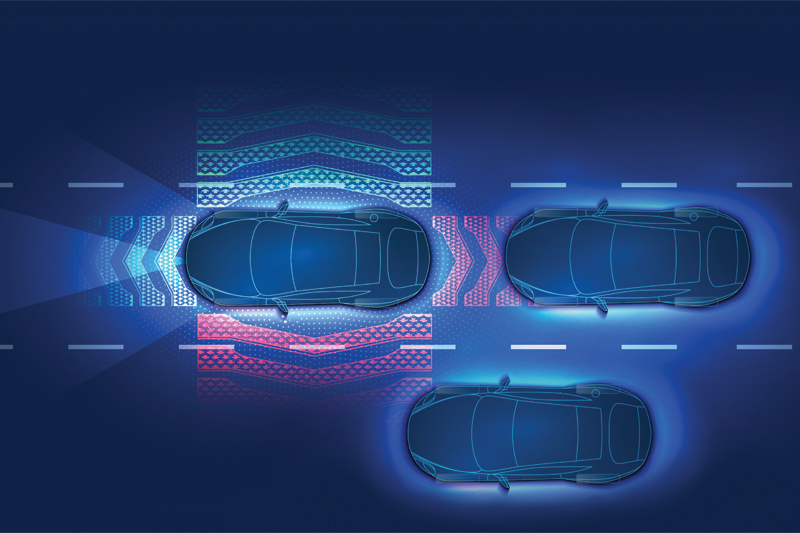 ---
More technology on a vehicle should mean more opportunities for independent garages. However, there are big questions that need answering when it comes to ADAS. Step forward Neil Pattemore…
---
Advanced Driver Assist Systems (ADAS) are not only becoming increasingly common, but European legislation is mandating a whole lot more; the European Commission recently announced that more ADAS functions will become mandatory from 2022 for all new type-approved vehicles. These will include:
Advanced emergency braking (cars)
Alcohol interlock installation facilitation (cars, vans, trucks, buses)
Drowsiness and attention detection (cars, vans, trucks, buses)
Distraction recognition/prevention (cars, vans, trucks, buses)
Event (accident) data recorder (cars and vans)
Emergency stop signal (cars, vans, trucks, buses)
Full-width frontal occupant protection crash test – improved seatbelts (cars and vans)
Head impact zone enlargement for pedestrians and cyclists – safety glass in case of crash (cars and vans)
Intelligent speed assistance (cars, vans, trucks, buses)
Lane keeping assist (cars, vans)
Pole-side impact occupant protection (cars, vans)
Reversing camera or detection system (cars, vans, trucks, buses)
Tyre pressure monitoring system (vans, trucks, buses)
Vulnerable road user detection and warning on front and side of vehicle (trucks and buses)
Vulnerable road user improved direct vision from driver's position (trucks and buses)
Quite a snappy little list, I'm sure you agree.
Up until now, these systems have been designed to 'assist' the driver, but increasingly, they are establishing more direct control over the way that a vehicle reacts to certain situations. If there are any problems with these systems then technicians have more repair opportunities – so is there a down side?
Who do you need to turn to?
The fundamental problem is one of liability. The vehicle manufacturer needs to ensure that the ADAS systems fitted to the vehicle are working correctly, and therefore, that they are repaired correctly and the sensors properly recalibrated. Unfortunately, this raises a whole host of questions.
Thatcham Research, the not-for-profit automotive research consultant, has published a guide to help workshops and other repair organisations to understand how best to approach the repair of ADAS systems – a fundamental part of this is to know your own capabilities!
The guide also looks at the roles of both vehicle manufacturers and workshop equipment companies when it comes to providing the correct procedures when repairing ADAS systems and when they need recalibrating after other parts of the vehicle have been repaired.
However, there is a certain element of 'you don't know what you don't know' in all of this. Although it varies across different manufacturers, many ADAS systems are often 'options', and therefore, two vehicles of the same type may have different levels of ADAS fitted, depending on what options were ordered when the vehicle was manufactured. The first and most important step is to find out what systems are fitted to an individual vehicle.
Troubleshooting
This process may be possible by using a diagnostic tool to conduct a 'global scan' of the vehicle, but this will also require the software being both up to date and to have the latest ADAS system information. Although this is a good solution, it is not necessarily a 100% guarantee that all systems have been identified.
The vehicle manufacturers may provide information on their websites, but this will probably require you to search through all possible systems of the vehicle, which is both time-consuming and expensive. The OEM diagnostic tool may provide an answer as part of its diagnostic test routine (e.g. a global scan), but this would mean buying and updating multiple OEM diagnostic tools to cover all the makes that come into your workshop – not an appealing thought from an economic perspective!
The vehicle manufacturers are claiming that they have a direct product liability to ADAS throughout the life of the vehicle because these systems have a direct impact on vehicle control and safety. This has led the VMs to increasingly restrict the repair and calibration of ADAS systems to only their authorised repairers (i.e. main dealers), because it allows them to check whether the vehicle has been repaired correctly, as well as monitor who carried out the repair, what replacement parts they used, and whether the vehicle was properly recalibrated.
Consequently, this new business opportunity for independent workshops is under threat.
ADAS and the aftermarket
It all comes down to competence and being able to identify who did what work on a vehicle fitted with ADAS systems. There should be no reason why independent workshops cannot meet these requirements if they want to. But, the aftermarket needs to roll up its sleeves and fight for the right to repair and recalibrate ADAS systems!
This is unlikely to happen unless the UK aftermarket unites to challenge these restrictions. So, what is needed?
Fundamentally, independent workshops need to be able to demonstrate both competence and traceability for the work that they conduct on ADAS systems. There needs to be a framework through which workshops are verified and then registered via an 'assessment body' that then provides a certificate/PIN that is used when accessing the relevant parts or reconfiguration codes via a vehicle manufacturer's website or 'trusted partner' (e.g. a diagnostic tool manufacturer).
These certificates/PINs could also be used when a recalibration of an ADAS component (e.g. a camera) has been made, by updating the online service record of the vehicle. The workshop would only be awarded the certificate/PIN if the technicians had the relevant training and equipment that ensured the required level of competency.
As many of the vehicles fitted with ADAS systems are 'connected cars', the vehicle manufacturer could conduct an 'over-the-air' check to verify that the vehicle's ADAS system is repaired or recalibrated correctly. Job done!
Necessary investment
This may sound like a move towards 'garage licensing', but would that be such a bad thing? As vehicle technologies continue to increase, there is an inevitable increase in the investment required to remain technically capable and to be able to compete. If your customer is not confident in your abilities to provide the necessary repairs at an acceptable price, then don't be surprised if they go to someone else who can – and this will probably be a main dealer, even if they are more expensive. If your costs increase, then your prices must rise as well, but it will ensure that an equal level of competence also exists. Doing nothing is not an option.
All workshops must invest to provide the ability to develop new business models for the diagnosis, repair and recalibration of ADAS systems. It is undoubtedly an opportunity, but it is one that can only be fulfilled if your customers are confident in your ability to conduct the work correctly. You then need to be able to record this, should an audit of what you did ever be needed. This will also ensure that you are mitigating your liability issues. Do not let the vehicle manufacturers gain a monopoly over the work on these systems. This would have dire consequences for the future of your business, and ultimately that of the UK independent aftermarket as a whole.
---
For more information, click
here
.