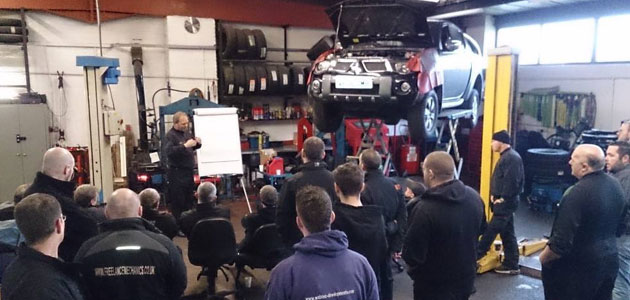 Throughout the first week in December, Gary Wood of The Diesel Doctor hosted the events at garages in Manchester, Stoke, Bristol, London and Peterborough.
The events were open to all independent garages and mechanics and kept small to ensure all those attending benefited fully. Over the course of the week, more than 90 people attended the training days.
Split into two sections, the morning training dealt with the theory behind the TerraClean EGR cleaning tool and looked at the importance of diagnosing faults with DPFs and EGR systems.
In the afternoon, the event took on a more practical approach looking at the principal features and benefits of the tool plus demonstrations on how to connect to vehicles.
Gary Wood said: "It's essential, for the entire TerraClean brand, that mechanics understand the tool and how to diagnose faults and identify problems before working on a vehicle. We examined the entire emission control system and identified areas where garages can use the tool effectively, saving motorists money and hassle by not having to pay to dismantle the engine."
Phillip Dowd, Randstad Sales Director, said: "The training was a huge success and a big thanks to Gary for hosting each event. We continue to add more products to the TerraClean brand line-up and do so against a backdrop of guaranteed customer service and support, in order to help use the product to its full potential."