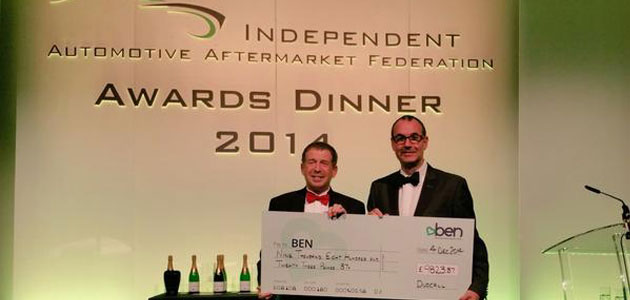 On December 4th the ICC Birmingham saw the automotive industry brought together for the IAAF Annual Dinner and the return of the IAAF Awards.  Thanks to the generosity of those present as contributions to the automotive industry charity, BEN totalled over £21,000.
The IAAF invited BEN's Chief Operating Officer, Nigel Rothband to speak on the night. He outlined the work that BEN does and thanked the aftermarket sector for their continued and valued support. The evening also featured two further important cheque presentations. The first, for £9,824, was from Jerry Bart of DuoCall Automotive Alliance and the second came from Original Equipment Suppliers Aftermarket Association (OESAA) who raised £1,516.
Commenting on the evening and their generous donation, Chairman of the DuoCall Automotive Alliance, provider of managed voice, data and mobile services, Jerry Bart said "As a huge supporter of BEN we have now raised over £188,878 by donating a percentage of every phone call our customers make. This is the motivation we need each year knowing that our donation will support our colleagues in the automotive community who are going through difficult times and need a helping hand."
Responding for the charity Nigel Rothband said "Thank you all for your generosity to BEN, your help and support really does make a difference to the lives of thousands of people who, through no fault of their own, experience real difficulties in life.