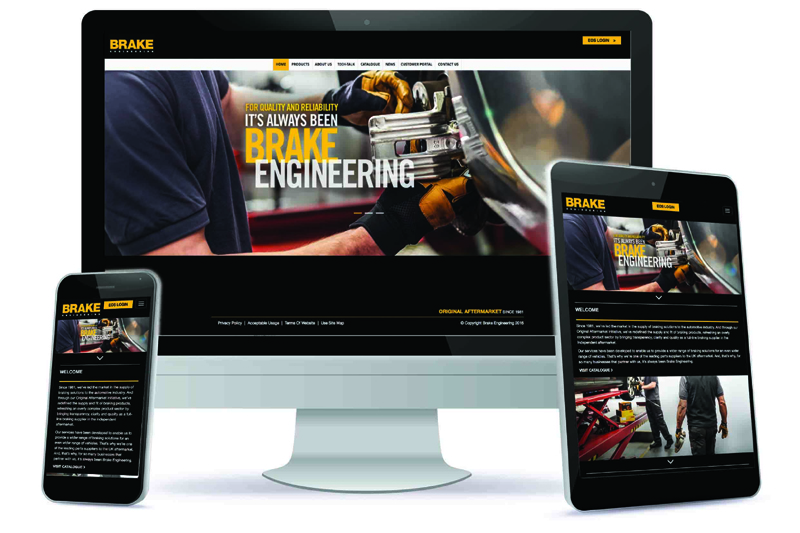 Brake Engineering launches brand new website
Brake Engineering has launched a new market leading responsive website, designed to continue and develop the braking supplier's Original Aftermarket initiative.
The website, www.brake-eng.com, provides exclusive information about the company, as well as regular updates from the braking brand including new-to-range product introductions and events.
Customers can also access its dedicated customer portal, where they can purchase branded items such as stationery and clothing promoting the UK's leading brake supplier.
The new website also contains vast information about the complete braking solution available from Brake Engineering including its high quality range of remanufactured calipers; brake and clutch hydraulics; precision-engineered discs and drums; and, its brake pads and shoes.
The 'Tech-Talk' tab offers the opportunity to view the latest technical news and downloads from the company, many of which contain useful information on intricate parts including guides on how to identify and fit specific components.
The site is also home to the full Online Catalogue, where users can simply enter the model or part number required and the part number or closest match will appear.
Adam Griffiths, UK marketing specialist, said: "The website captures our brand identity clearly and, like our Original Aftermarket initiative, is designed to simplify access to information for braking products. Incredibly user-friendly and simple to navigate on smartphones and tablets, the site functionality also enables us to communicate directly with customers.
"Our 'Original Aftermarket' campaign is reflected in the site's clean, professional layout as it was our intention to demonstrate the quality, and therefore full traceability, of our product range. As a leading supplier, it is important customers receive the best support available to ensure they remain confident in the supply and fit of Brake Engineering products. We will regularly update the website to keep customers up-to-speed with any key developments."
For more information on
Brake Engineering
and to check out the new website, click
here
.