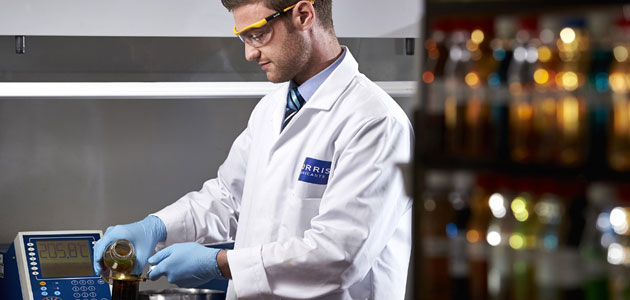 Morris Lubricants has invested around £200,000 in new equipment at its Shrewsbury laboratory to ensure its products remain of the very highest standard.
The company has purchased a new automated open flash point machine to accurately measure flash points of oils and a top-of-the-range density meter for analysing samples.
Morris has also invested in a new Karl Fischer to measure trace levels of water and has also ordered a low temperate Brookfield viscometer and a HTHS (high temperature high shear) simulator.
Quality Assurance Manager Phil Saunders said the equipment would help improve Morris Lubricants' customer service, as well as working towards an ISO 17025 accreditation for laboratory quality.
He said: "This significant investment will help us from a quality control point of view to measure certain parameters on a regular basis. Our laboratory is already very good, but this will help us improve still further.
"We are hoping to apply for the UKAS ISO 17025 accreditation in May, which would be a real boost and would recognise our commitment to producing products of the very highest quality."
Managing Director Andrew Goddard said: "We are extremely proud of our high-tech laboratory and are committed to providing the necessary investment to ensure that the team has all of the machines it needs to carry out complex testing of raw materials and finished products."