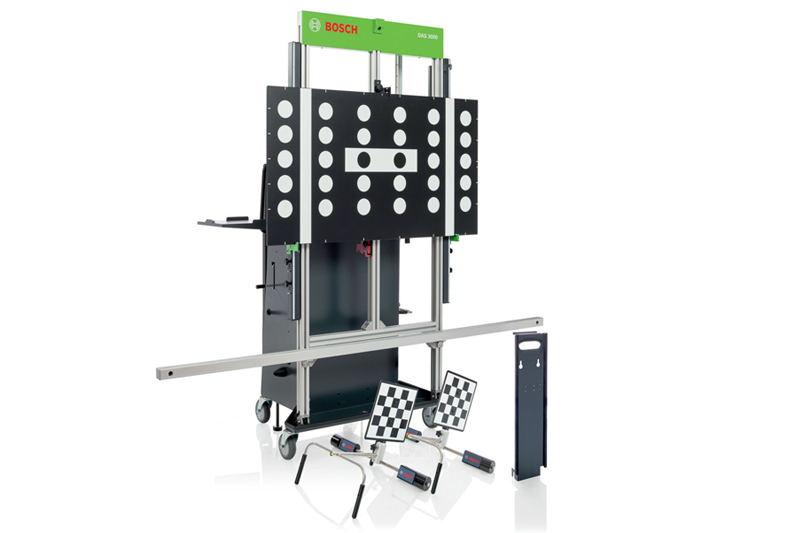 ---
PMM sits down with Andy Morrison, Technical Specialist at Bosch, to find out everything a technician needs to know about ADAS calibration and how the process fits into a garage business.
---
PMM: Perhaps you could begin by providing some background to Bosch and its history with ADAS?
Andy Morrison (AM): As a leading manufacturer of sensor technology, Bosch has been manufacturing calibration equipment for these systems for almost 20 years. Early systems were only available on high-end executive vehicle models, and even on these vehicles, driver assistance was an expensive option.
At the time, the systems were so rarely installed that the setting and calibration tended to be carried out only in the manufacturer's own technical centres, even though the calibration equipment was also available to the dealer network. Over time, as the option of driver assistance became more commonplace on mass market vehicles, Bosch made the systems developed for the vehicle manufacturers available for the aftermarket.
PMM: What sort of sensor and radar technology is used within modern vehicles?
AM: Nowadays, there are two fundamental families of sensor: radar, lidar or ultrasonic based for distance and speed measurement; and vision-based sensors for object detection and location. However, it is no longer the case that these sensors work independently.
With a technology known as 'Sensor Fusion', information from all types of sensors, together with mapping provided by GPS, can be combined to provide increasingly sophisticated levels of driver assistance.
Static calibration of radar-based systems, such as adaptive cruise control, typically use a reflector at a known distance and angle for calibration. Whereas, the vision-based systems tend to use a board with a specific target pattern for calibration.
What is common to all forms of static calibration is the necessity to accurately position the calibration equipment in relation to the vehicle. All Bosch systems meet or exceed the individual vehicle manufacturer's requirements for determining the vehicle centre line or geometric driving axis.
PMM: Why is calibration important? And, what are the risks if it is carried out incorrectly or even not done at all?
AM: Accurate calibration is vitally important to ensure the correct functioning of the system for both safety and customer satisfaction.
The overriding concern is one of liability. As with all work carried out by a workshop, the liability for events that result from its actions will lie with the workshop. As many ADAS systems can be classed as safety critical, the implications for the workshop are clear, even if ultimate responsibility for controlling the vehicle remains with the driver.
I'll give you three examples to make it clearer:
If the calibration is not carried out correctly, the system may trigger unexpectedly, resulting in a hazardous situation. For example, a vision system needs to be able to determine whether a pedestrian has stepped off a pavement or has stopped at the kerb. If the system makes the wrong choice, it could result either in a collision with the pedestrian, a situation which can be controlled by the driver, or it could trigger an unexpected emergency braking manoeuvre, a situation which cannot be controlled by the driver and could result in a collision with another vehicle
Most systems incorporate a level of selftest or plausibility test, which can detect if the system is operating as expected. This means that if the calibration is not carried out correctly, the warning light may come on after the customer has left the workshop resulting in a return visit and a dissatisfied customer
Incorrect calibration of even a simple adaptive cruise control sensor could result in the vehicle slowing unexpectedly after being triggered by a vehicle in another lane, again causing customer dissatisfaction and a return visit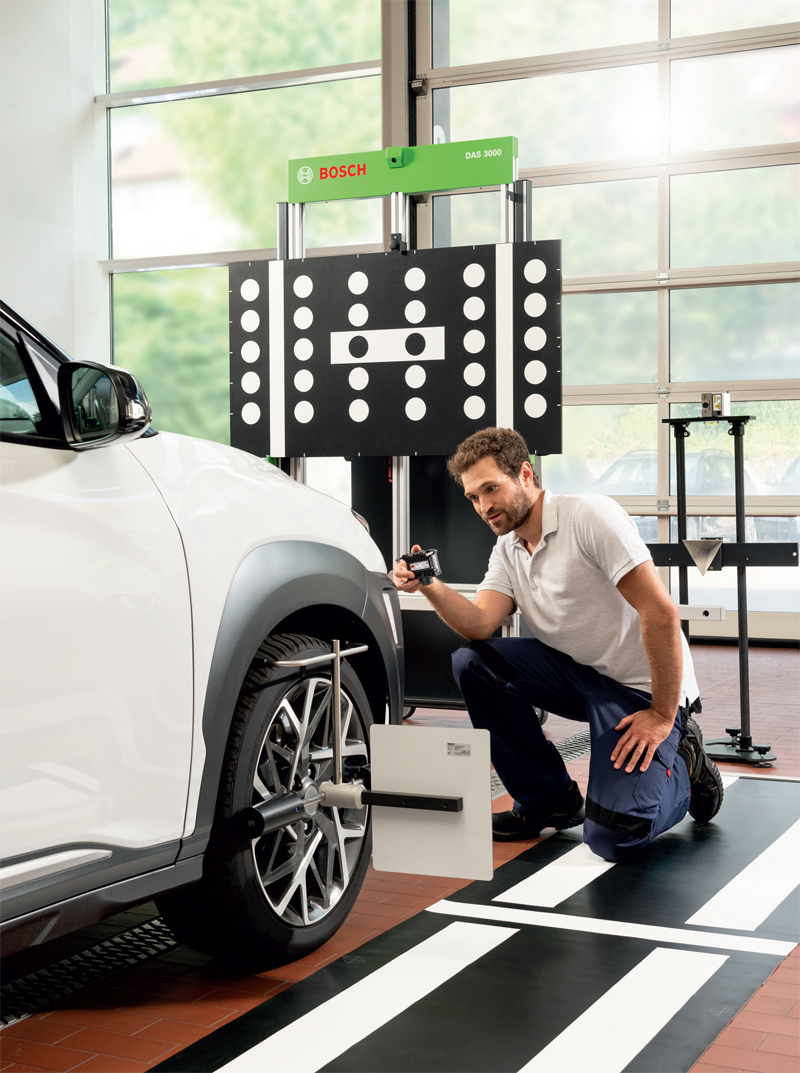 PMM: Where are sensors and radars usually fitted on vehicles? And, can you give some specific examples?
AM: One challenge which faces the independent workshop is finding and identifying the sensor. For example, the buyer of a base BMW 520SE can now opt for Driver Assistance Plus, Driver Assistance, ACC with StopGo, Night Vision, Parking Assistant, Parking Assistant Plus, Adaptive Headlights etc. Every single one or combination of these systems will have a different sensor configuration and require a specific calibration routine.
The Bosch KTS diagnostic tool and ESI[tronic]2.0 software will be key in determining which system is fitted and which process must be followed for calibration.
Once the system is identified the next challenge is to find the physical location of the sensor. For example, the ACC radar sensor on a Golf is not difficult to spot, it's a square device mounted below the grill, but where is the similar sensor on a Passat? It's behind the VW grill badge of course!
Mercedes also like to hide the radar sensor behind the grill badge. A Volvo V90 will have a tiny camera visible in the grill badge, but only if the 360 Surround View option is fitted.
On the same car, if the BLIS system is fitted, there will be radar sensors mounted in the rear bumper together with cameras in the wing mirrors (if the 360 Surround View is also fitted). On an older Volvo, the BLIS system uses cameras mounted in the wing mirrors.
PMM: What investment is needed by a workshop to offer ADAS calibration?
AM: This is a very difficult question to answer. It will depend on factors such as the level of training of the technicians, the equipment already installed, and the range of vehicle manufacturers that will need to be covered. There are some key factors which need to be in place to enable a workshop to carry out ADAS adjustment or calibration. Bosch will only offer solutions when all the conditions are satisfied.
The first is that technicians have to be competent to carry out the work. Bosch offers a range of courses up to Master Technician level, in order to prepare technicians for increasingly complex systems. There are also some new online courses now available, enabling remote learning.
For example, the two-day IMI accredited ADAS Calibration course is now available as an online 'blended learning' option (course code VSB41-VC), enabling the technician to gain exactly the same skills and qualification as the face-to-face version of the training.
This course is complemented by a one-day 'Introduction to ADAS Systems' (VSB40) course, and a newly-released 'Vehicle Safety Systems – ADAS' (VSB44) half-day seminar, both of which cater for technicians wishing to gain knowledge on ADAS systems and are held as either face-to-face or Virtual Classroom training.
The second consideration is that every manufacturer's implementation of sensors is different, and even the same sensor in a different model from the same manufacturer can have a different setting procedure. Bosch provides the manufacturers vehicle-specific procedure via the SIS infotype of the well-known ESI[tronic]2.0 software package The third consideration is diagnostic systems coverage. All setting and calibration procedures, including both static and dynamic, require a vehicle interface and diagnostic software, such as the Bosch KTS range and ESI[tronic]2.0 combination.
Finally, the last equipment cost to consider is setting hardware. This can range from a simple spirit-level device for initial setting, to a complete wheel alignment system for camera and radar calibration.
---
For more information on Bosch training, click
here
.