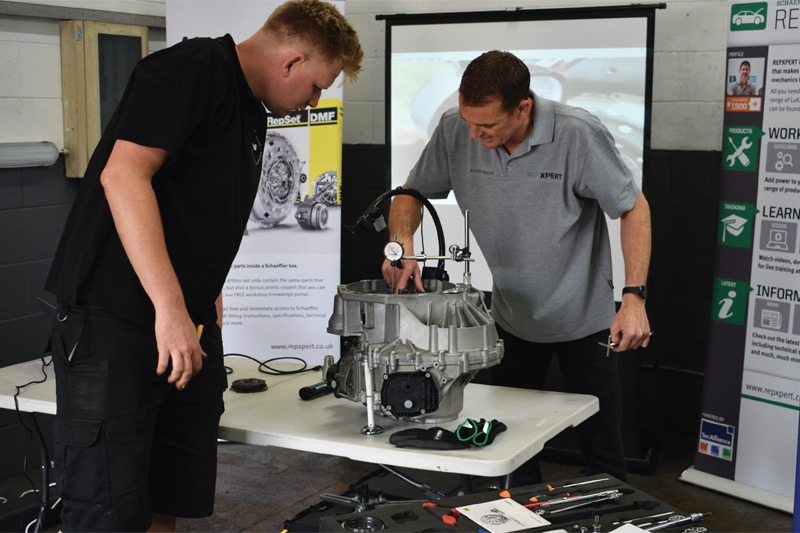 ---
Slough's VRT played host to Schaeffler as the company's Technical Manager Alistair Mason took them through a rundown of a Double Clutch Transmission.
---
It won't be news to any of our readers that vehicles are in a state of constant evolution. Components are always being upgraded and improved by manufacturers; new technological developments improve performance and driver comfort, whilst often adding complexity beneath the bonnet; lastly, regulation and climate concerns drive manufacturers to pour huge amounts of time and effort into tweaking and even overhauling engines in order to provide a better transport solution for the planet.
All of this research and development on the part of the manufacturers translates into vehicles which are no longer simply the sum of parts. In fact, not only are cars more complex than they've ever been, but the ways in which they are complex are constantly changing.
What this means for the forward thinking garage owner is that the problems they dealt with in the past are no longer the problems they are faced with today. The only way to equip yourself to deal with today's problems and the problems of the future is to invest a certain amount of your time and energy into training.
One such forward thinking garage is VRT, a VAG vehicles specialist in Slough. Started by John Grogan and Ryan Lawrence 11 years ago, the business prides itself on offering dealer or higher quality service to customers.
"Many of our customers are vehicle owners who have passed the dealer service time period," John tells me. "Once they reach that point, we're the perfect option for them as we have extensive experience with all the brands under the VAG umbrella and that's what we specialise in now. Because we deal with those brands exclusively, day in, day out, we're well equipped to solve any problem those vehicles present us. In fact, the main Audi dealer around the corner often comes to us if they have a particularly tricky problem"
One component they're seeing more and more of lately is a Double Clutch Transmission. Ryan tells me he is familiar with them and has worked on them before, but that's exactly why they reached out to Schaeffler to provide some in-house training to the team.
"As a business it gives us such an advantage to be able to get the experts in and give us a full and thorough demonstration of a component such as a Double Clutch Transmission," Ryan explains. "It's one thing being faced with a problem and working it out for yourself, but it's invaluable to be able to have each part explained in detail. It's great to get the younger guys on-board too. The more training you can do from a young age, the better."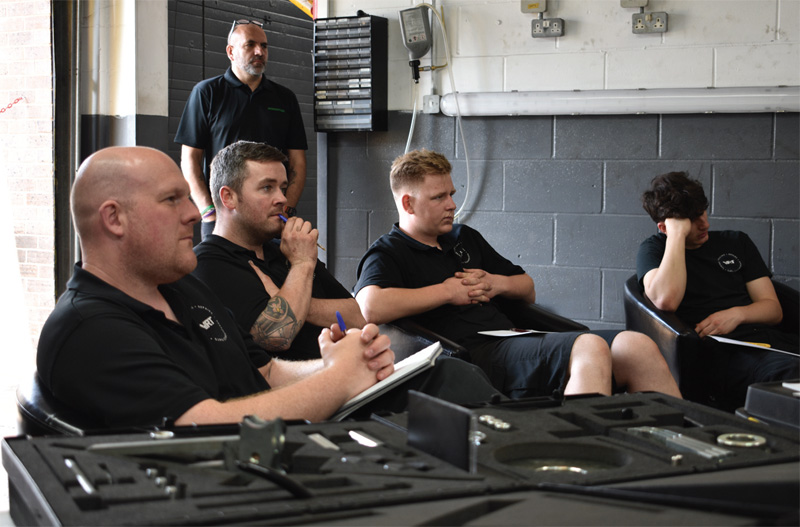 VRT prides itself on training up the future generation in a way that will both provide prospective technicians with a decent career and supply the industry with decent, conscientious mechanics. This goes hand in hand with John's desire to raise the level of professionalism within the industry, as he explains: "I think we're all tired of the stereotypical image of mechanics in blue overalls, covered in grease. As you can see here, we run a tight ship and tidiness and cleanliness are just a part of doing a good job.
We need to set an example to the young generation that a good mechanic is a professional mechanic. That extends to training too. Gone are the days when you could walk out of college on your last day and never do a day's training again. These days, it's a part of daily life as a technician that you keep up to date with the latest developments and regularly go on training courses – you and your staff that is."
On the day, Schaeffler's Technical Manager, Alistair Mason guided the VRT team through the process of replacing a double clutch using the LuK Repset 2CT repair solution, both wet and dry versions. With the aid of a small camera, Alistair expertly outlined each part of clutch for the crew, fielding questions as he went. The course itself is IMI-approved, lasts half a day and covers all you need to know regarding Volkswagen's Direct Shift Gearbox, Renault's Efficient Double Clutch and Ford's Powershift.
So what did the VRT team make of the training session? According to John, the training day was well worth it: "As a business, I'm more than happy to take a day out for a training session like this. Schaeffler is a key brand and it's important for our guys to know as much as they can about the products they're working with. We only work with OEM parts, so Schaeffler training is perfect for us as they have the same attitude towards quality."
It's VRT's desire to put quality and professionalism above all else that led John to call up the Schaeffler team. It's also why Garage Inspector Andy Savva praises them as an "elite" garage at the top of the league, having also gone on his business training course in order to maximise their potential.
The range of vehicles on offer to the public is staggering. The complexity of cars is multiplying, with varying fuel types, engine technologies and all the interrelated components that make up modern vehicles each complicating things further. Whichever route your garage has gone down, one thing is clear – training is no longer an option, but a necessity. As John and Ryan know, a well-trained garage is a well-run garage, and well-run garages make money.
---