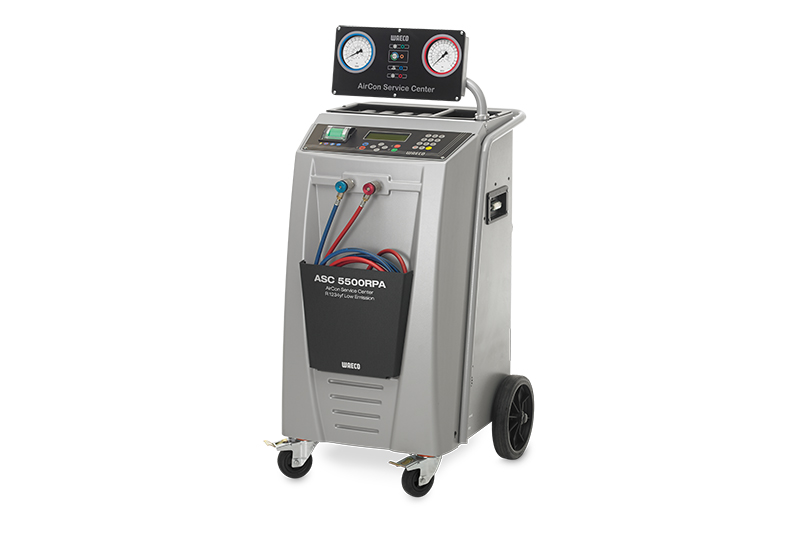 ---
Waeco offers their solution for workshops to combat the differences in A/C & thermal management in electric vehicles.
---
Hybrid and electric vehicles have made their entrance into the automotive world with 2021 seeing record sales, making up 18.5% of new registrations. Petrol and diesel numbers still dominate workshops, of course, however hybrid and electric vehicle numbers are continuing to grow rapidly. As legislation, public demand, infrastructure and rising fuel costs with low emission incentives change the public perception of having an electric vehicle, the option of owning one has never been so tempting.
So, if you haven't already, now is the time to familiarise yourself with the opportunity that the electric vehicle presents in today's market and the future markets to come, one of these being air conditioning and thermal management systems. Just like diesel and petrol vehicles, A/C on hybrids and EVs also require regular servicing but now operation and efficiency is more vital to a vehicle's operation than ever before. The servicing procedures are similar but there are some differences that you need to be aware of in order to take advantage of and educate the end user about the importance of this service.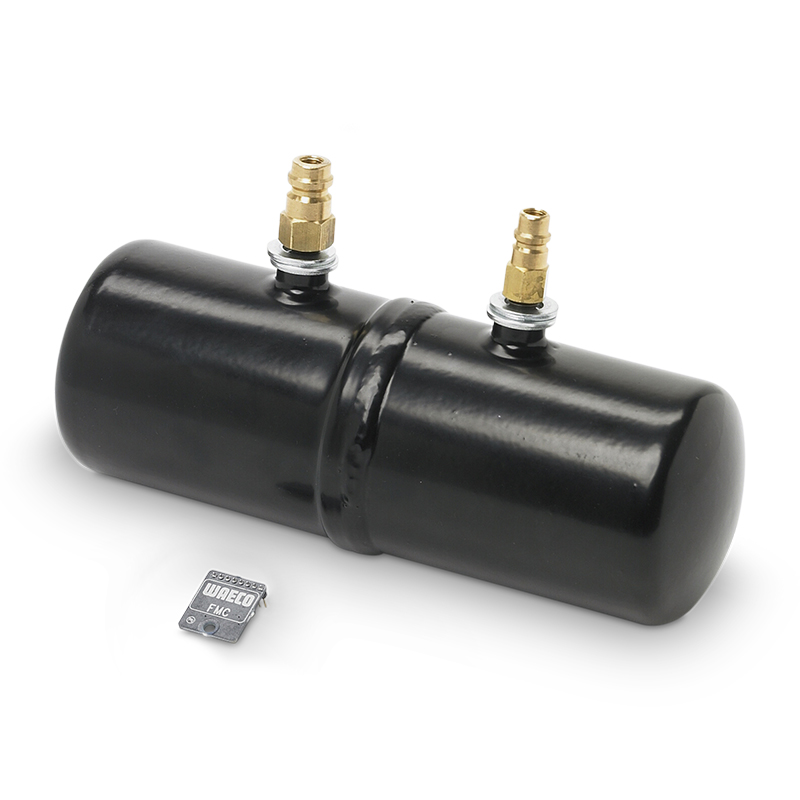 Hybrids and EVs use high-voltage systems. Some vehicle batteries supply over 400 V, hence different procedures should be carried out before attempting any A/C service. Technicians must carry out a "power down" and disconnect supply of the system to remove any risk of electric shock when working in or around an electric compressor.
Technicians should hold an approved hybrid/electric vehicle accreditation before working on high voltage vehicles.
New technologies utilise different components such as a scroll compressor, which is powered either by the belt, when the engine is running, or electrically when the engine is off. Most newer hybrids (2004 onwards) have moved to a fully electric compressor, consisting of a spirally wound fixed scroll and variable scroll with a brushless motor, it runs on high voltage A/C. This allows the A/C system to operate even if the engine is not running.
One of the most important things to be aware of is the type of lubrication oil used in the system. Conventional belt-driven piston A/C systems typically use PAG or Ester oil; however, all hybrid vehicles require a special polyester (POE) type oil. POE oil is dielectric – meaning it has non-conductive properties that are designed to lubricate the compressor whilst protecting the compressors electrical windings.
Workshops must use the correct PAG POE when servicing, as cross contamination will reduce its dielectric property, which will also affect the oils as they are not meticulously protected against moisture present in the atmosphere (humidity free storage and feeding system). Contamination will lead to acid formation which attacks the compressors electrical motor windings and fine hydraulic components.
POE oil is very hygroscopic, detrimental moisture levels can occur in one day if left open to atmosphere and once absorbed cannot be removed by system evacuation even at pressure as low as 500 microns.
Waeco has the solution for this Waeco's ASC range AirCon Service Centers utilise software for hybrid service, with flush kit to safely change from conventional PAG oils to POE, enabling flushing of all machine pipework to ensure no contamination. Along with their patented Profil oil systems for truly moisture free storage.
Original equipment specification oils such as Denso ND11 & ND12, Sanden SPA2 and RB100EV are some examples that are available in the patented Waeco Profil oil system. Compressor manufacturers are stipulating specific oil specifications that have different additives such as cleaning and molecule stabilising properties. Again ensure the correct oil is used.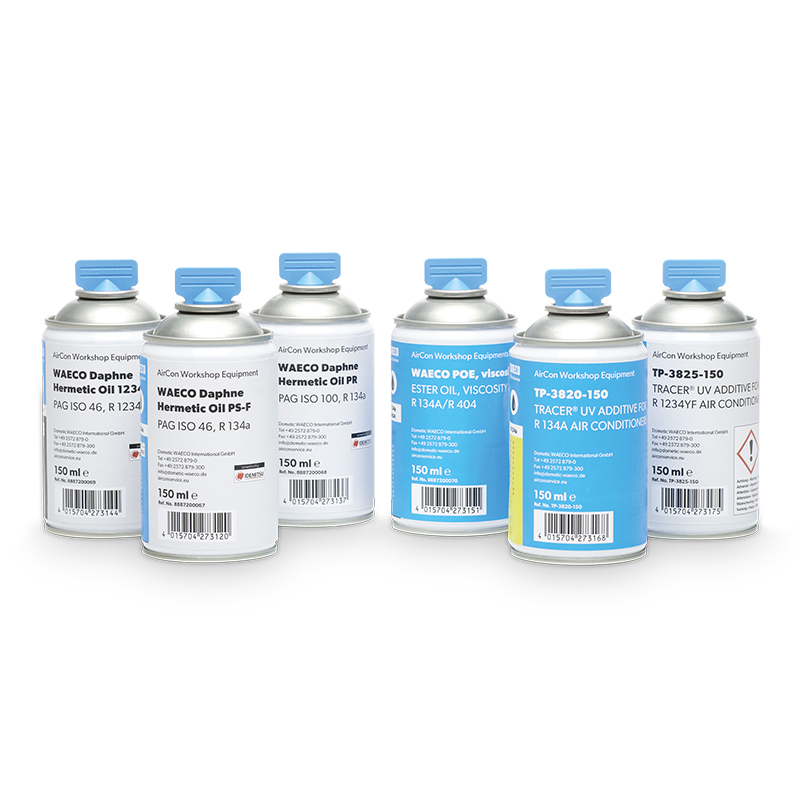 Waeco also provides a hybrid flushing kit as option on all of our ASC service stations, approved according to SAE J 2843/2788/2843H. This flushing device means that you can jump between EV/Hybrid and combustion vehicles without any danger of cross contamination.
Research has shown that as little as 1% of PAG oil in a hybrid system can affect the dielectric properties, reducing the insulation resistance of a compressor from 10 mega ohms to less than one mega ohm. Case studies have shown failed insulation tests logging DTCs with vehicles ECUs can shut down vehicles system, because of small voltage leaks that have occurred. More worryingly, it can also conduct high voltage to the compressor housing and connected components, causing a harmful and potentially lethal shock to anyone coming into contact with it. Consequently, some vehicle manufacturers recommend that all system components are replaced if cross contamination of the oil has occurred in a hybrid vehicle, potentially resulting in a very costly service and an unhappy customer.
A major driving factor to this opportunity is the fact that the HVAC system is now an integral part of the hybrid EV thermo management system. Vehicle efficiency range and performance are affected if temperature of battery cells, motor, drivetrain and regenerative systems are not precisely controlled. Again shut down or no drive of a vehicle can occur if systems efficiency is reduced to 80% or temperature of 40° reached.
Temperature control of the vehicle's battery could have systems that use refrigerant or a coolant that moves around the entire vehicle via valves and pumps that could lead to a further service and replacement parts opportunity, you may be only recharging the system. However, the awareness of different types of systems and how they work will enable a reliable service and happy customers adding profit to the workshop.
So A/C service isn't just for hot summer months anymore. Hybrid, electric vehicles and HVA/C systems are changing A/C into an essential service item all year round. The role of the A/C service must be carried out with understanding that normal air conditioning oil conducts electricity – new dielectric POE oil is hygroscopic, and electricity and water don't mix.
HVAC and thermal management systems provide heating where no engine coolant is available and provide cooling for passenger comfort, vital system temperature control along with other benefits.
---
Want to know more? For more information, click
here
.