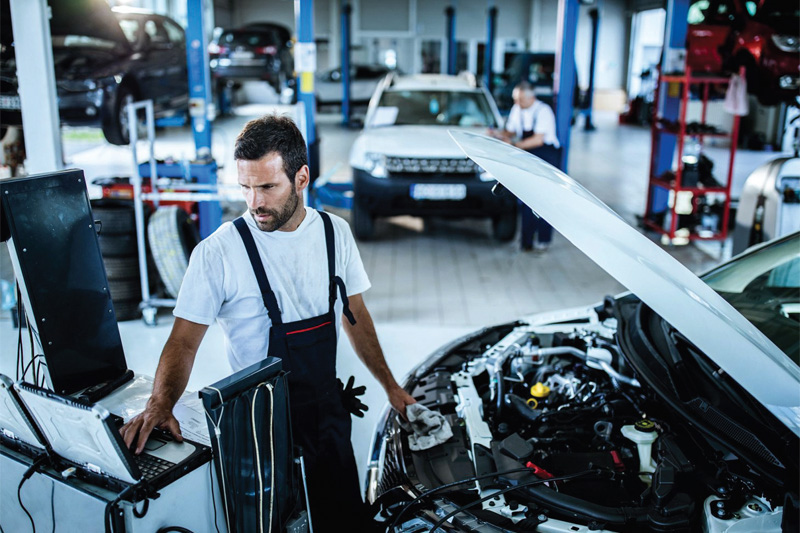 ---
PMM goes back in time with Varta to explore the firm's long history within the industry and to see how it has developed over time.
---
Varta has a long history of designing and manufacturing automotive batteries stretching back over 130 years. That's 130 years of developing the battery technology to power all kinds of vehicles. 130 years of producing batteries for vehicle manufacturers as Original Equipment. It's no surprise then, that 70% of AGM batteries fitted as Original Equipment are still Varta today.
Varta batteries are installed in new cars and commercial vehicles by most vehicle manufacturers, and are trusted by drivers around the world to keep them moving. To understand more about the company's success, we took a look back at some key milestones in battery technology and the role the German firm played.
1887 – It was in 1887, when Adolph Müller founded the first battery company in Germany. At that time, he had recognised the great market potential for rechargeable accumulators and thus laid the foundation for the future Varta. In 1893, these batteries powered the first electric cars in Germany. As more and more drivers wanted to venture out on the road at night, Varta was making the very first batteries for exterior car lighting.

1914 – From 1914 onwards, Varta lead-acid batteries became increasingly popular as a means of starting car engines quickly and reliably. As the brand subsequently expanded worldwide, the product range also expanded to include the dry cell battery. The number of cars worldwide climbed past the three million mark, and the need for reliable and powerful batteries was increasing just as rapidly.
1935 – In 1935, the company started producing the first batteries in standard case sizes. They fit in every car and made replacement quick, easy, and inexpensive. The first assembly line for automotive batteries went into operation, making the production of batteries faster and cheaper.
1955 – In 1955, in the early stage of mass production, the Varta plant for portable batteries in Ellwangen, Germany developed a paper-lined battery with a double-laminated separator between the plates. The success of the product is reflected in the fact that 23 countries adopted the patent for it.

1960s – The change from 6-volt to 12-volt batteries in automobiles was a major shift that was made to meet the growing energy needs in vehicle models of the 1960s. In addition, a crucial component of the batteries was renewed: from now on, the separators were no longer made of wood, but of plastic, which made the products much more robust. As well as this, all cell connectors were now installed inside the casing, as opposed to externally connected. In 1965 Varta started production of dry starter batteries in Germany. In addition, the previously used hard rubber cases of starter batteries were replaced by simple plastic boxes. This made them lighter and easier to transport.
1970 – Post-1970, many innovations in battery technology took place. The first leak-proof car battery was introduced, the Varta Super Dry. The first ever maintenance-free starter batteries – based on selenium technology were launched. They had a low self-discharge, consumed little water, and generally reduced costs.
1995- Varta silver technology for automotive batteries was launched in Europe in 1995 and is quickly adopted by leading vehicle manufacturers. The dynamic silver battery is now the ideal partner for high-performance vehicles with extensive equipment.
2003- In 2003, the new automotive battery technology centre opened in Hanover, Germany, bringing together some of the industry's most skilled designers and engineers. In the same year vehicle manufacturers award the company as the very first supplier of AGM (Absorbent Glass Mat technology) batteries for luxury cars. Varta AGM batteries are tip-proof and require no maintenance or topping up. The premium flooded battery series, the Varta Dynamic Trio was launched in 2006. The Silver, Blue and Black model variants ensured that the demands of a car at any age could be accommodated.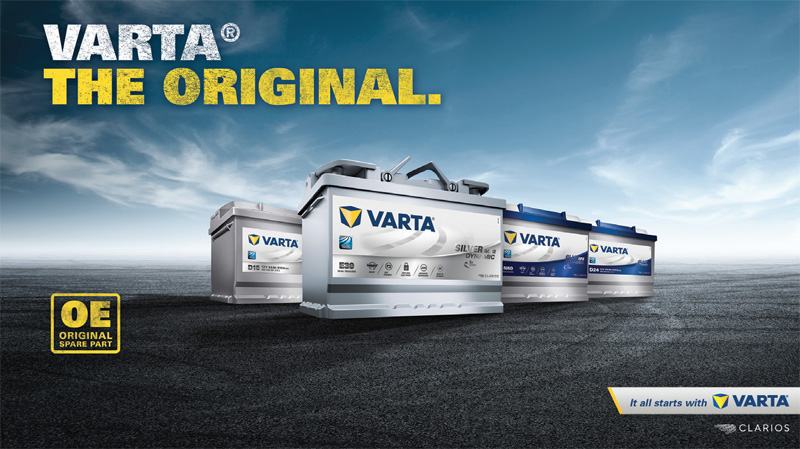 2000s – Shortly after that the company became a leading supplier of batteries for vehicles with start-stop systems and for hybrid and electric cars thanks to its new technologies – AGM and EFB (Enhanced Flooded Batteries). Launched in 2008, PowerFrame technology ensures optimum energy flow and uncompromising reliability. Today, every Varta battery still has the PowerFrame grid inside. By the beginning of 2009, 80% of new vehicles with start-stop technology were factory equipped with a Varta battery.
Today, Varta products will be found in millions of cars, commercial vehicles, motorcycles and leisure applications. The company's engineers put experience, knowhow and precision into every single battery. The company's 16,000 employees around the world strive to produce and deliver the highest quality batteries available to vehicle manufacturers and drivers, and ensure they keep on moving, for longer. Varta batteries are characterised by long life, less corrosion and vibration resistance, which is why they claim to be the most trusted battery brand throughout Europe.
---
Want to know more? For more information, click
here
.