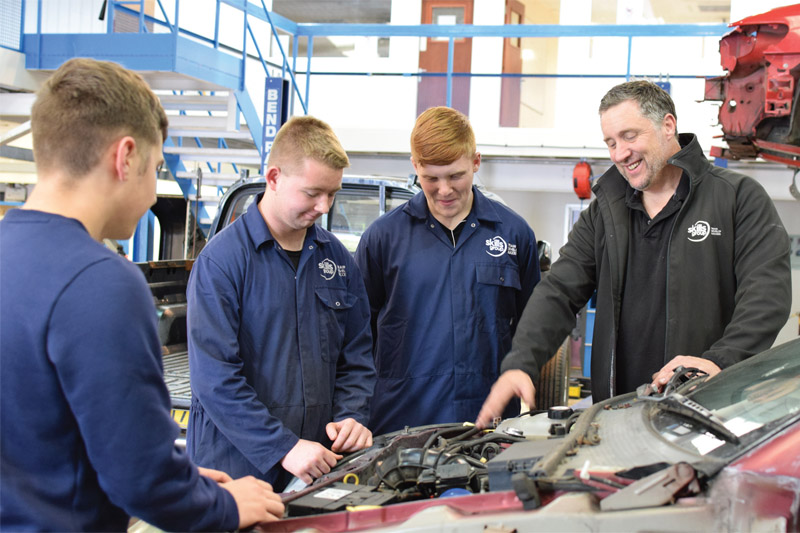 ---
Matthew Perrot, Automotive Trainer/Assessor at Skills Group, unveils his tips for delivering effective apprenticeship training.
---
The automotive industry is again attracting new applicants because of the exciting new technology in cars and the incentive of a good wage. It is important to equip learners with a basic understanding of how the different parts and systems of a motor vehicle work, and the types of tools and specialist equipment they will come across before sending them out to an employer. This allows them to start contributing positively from the first day of their apprenticeship.
We offer a full-time study programme which learners take in order to gain a better understanding of what will be expected of them within the working environment. Not only does this help with developing industry knowledge, skills and behaviours, it also allows them to decide if they have chosen the correct sector to work in before they go out to an employer.
When a learner enters the automotive industry for the first time, it is important to teach health and safety procedures on the first day so that they know how to behave responsibly and safely while out on the workshop floor. Developing hand skills is essential, so we get students out in the workshop as often as possible, and knowledge grows as they gain more and more practical experience.
In the classroom, it's a good idea to use a mix of computer-based learning and videos, alongside traditional presentations to vary the style of learning. Once you know the students, you have an understanding of which methods work best so that you can tailor the lessons to suit their requirements – or, even better, include a little bit of everything!
With the industry changing rapidly, it's essential that trainers stay up-to-date with current developments. We get the majority of our information straight from manufacturers, so we remain up-to-date on new developments and working practices. This helps to ensure that students are ready for what is expected once they are in the working world. They need to be able to work quickly to meet the demands of the garages.
We have a number of modules that need to be covered, however we can be flexible about how we teach these. Creating excellent relationships with employers is vital to the apprenticeship programme and its delivery. It allows us to make sure the training complements what the students will be doing in the workplace.
To inspire the students, it is important that we create engaging projects that they can get involved with from start to finish. For example, we are currently stripping back a standard car and re-assembling it as a track car, with the idea that we can then use it out on a track. The learners are really engaged with this project, and contribute ideas for vinyl wrapping and parts to order without any encouragement.
Passion is vital for a trainer. Students can tell if you're excited by your industry or not, and are more likely to be enthusiastic if you clearly love the sector you work in. By providing fun, informative and inspiring training from the outset, young technicians will have a positive start to the industry and be prepared to take on any challenges the apprenticeship throws at them.
---
To find out more about the range of training available through Skills Group, click
here
.