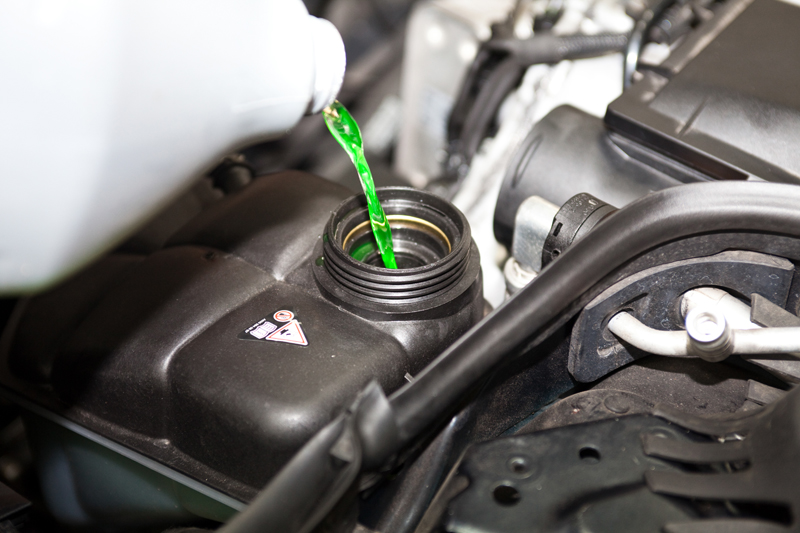 ---
Mannol explains the importance of antifreeze to 'protect engine and operating systems'.
---
Batteries, tyres, light and wipers will all be in focus this winter, but, according to German lubricants specialist, Mannol, antifreeze should be high on the list as well. The company believes many drivers think the additive is only there to keep the cooling system from freezing in bitter temperatures.
The reality, though, is that this is just one of the vital tasks that antifreeze has to perform to keep a modern vehicle functioning correctly and to protect its engine and operating systems.
As well as the prevention of freezing, antifreeze also raises the boiling point of the cooling system in hotter temperatures to avoid overheating, and it also has the vital role of protecting the engine and cooling system from corrosion and impurities that can lead to expensive mechanical issues.
As vehicles have become more sophisticated in recent years, and many engines more compact, the demands on the cooling system have increased. Also the types of parts used in the cooling system are no longer just brass, steel or rubber, but could be made from a variety of materials, such as silicon, cooper, nylon, magnesium and aluminium. This means that different vehicles now require specific types of antifreeze to function correctly, and use of the wrong product can affect vehicle performance, or even cause cooling system damage.
The best recommendation is to always use an antifreeze specification recommended by the vehicle manufacturer. Mannol offers a range of antifreeze products, suitable for all vehicles.
These are available in handy pack sizes for simple topping up, or larger sizes for workshops performing a complete fluid change. All of the products are formulated to meet manufacturer requirements and designed to deliver excellent performance and value.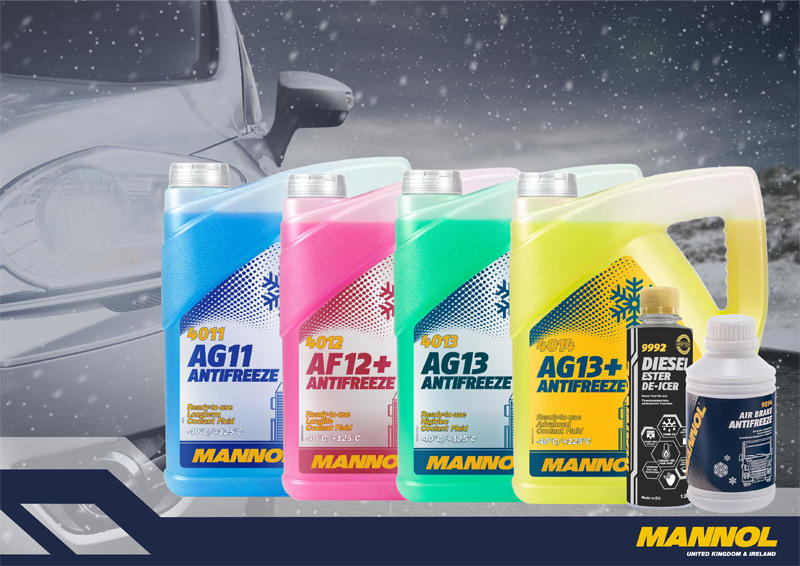 Antifreeze AG13+ 4014 is a Hybrid Organic Acid Technology (HOAT), ready-to-use advanced solution for all-year round use, which protects the car cooling system down to -40°C. It is suitable for applications where mono-ethylene-glycol-based antifreeze is recommended. The product has a nonorganic additive package that provides immediate and maximum protection to extend the service life of the engine. It protects for up to five years, with thermal stability and resistance to hard water. Yellow in colour, the solution also contains a fluorescent dye making leak detection easy with a UV light.
Also based on HOAT, Antifreeze AG13 (-40) Hightec 4013 is a ready-to-use green solution that protects down to -40°C and offers reliable all-year round performance for up to three years. Like AG13+ 4014, it is suitable for use where a mono-ethylene-glycol-based antifreeze is recommended, as well as offer protection and thermal stability. It also includes a fluorescent dye for leak detection.
For long life and enhanced performance requirements, Antifreeze AF12+ Longlife 4012 is a carboxylated Organic Acid Technology ready-for-use solution, that delivers all-year round protection. The additive package ensures stability and an extended service life in car cooling systems of up to 250,000km or 500,000km in trucks. It is especially recommended for engines that require enhanced heat dissipation, such as highly accelerated engines, engines with a turbocharger and cooling systems of modern commercial vehicles.
Finally, Antifreeze AG11 Longterm 4011 is ready-to-use and based on Inorganic Acid Technology. It comprises of heat conductivity properties and a resistance to foam formation. According to the company, this is a blue all-year round product that offers value and performance, with a service life of up to three years.
---
Want to know more? For more information on Mannol, click
here
.