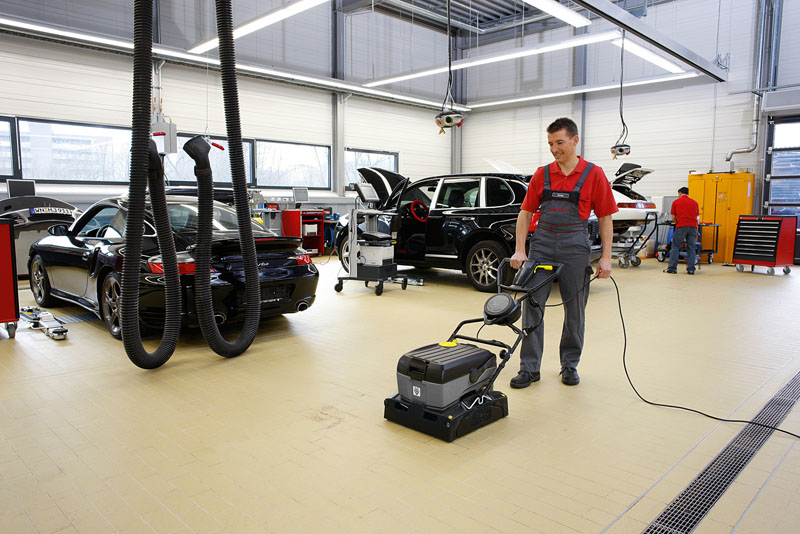 ---
Daniel Took, Head of Professional Product Marketing at Kärcher UK, explores the process for keeping workshops clean and in good working order to prevent health and safety risks.
---
An unkempt, messy workshop can easily lead to extensive health and safety risks with the potential for trips, slips and ultimately injuries. Maintaining a clean and tidy workshop is imperative to protecting workers as they go about their everyday jobs. A good place to start is by focusing on the flooring to avoid potential obstacles that can get underfoot.
The amount and type of dirt will determine the level of cleaning that is required and what machines should be used. Push sweepers, for example, are adept at collecting loose dirt and debris from workshop floors for daily cleaning. However, for a deeper clean to target stubborn dirt, scrubber dryers are more efficient and cost-effective.
Scrubber dryers are ideal for workshops as their brushes scrub the floor displacing loose dirt which can then be collected by the squeegees at the rear of the machines where it can be deposited in the dirty water tank. The process is fast and efficient and leaves the ground dry, allowing workshop staff to quickly get back to the job at hand.
Heavily soiled or damaged flooring will require the additional use of an effective cleaning agent. High concentration (5-20%) detergents help dislodge the dirt prior to the floor being cleaned by the scrubber dryer. Kärcher's FloorPro Intensive Deep Cleaner RM 752 is ideal for this and allows floors to return to their former state. The cleaner breaks up the tough particles allowing them to be easily collected by the machine's squeegee and stored in the dirty tank. For floors impaired with tyre and abrasion marks, Kärcher's FloorPro RM 776 is ideal for dissolving track scuffs caused by rubber tyres on vehicles.
When selecting the right scrubber dryer for your needs, ensuring the machine has the correct cleaning head is crucial. For smooth floors, disc systems are effective. However, most workshops contain textured floors for which roller brush head systems are most effective. Roller systems contain fine bristles that penetrate the gaps in the surface floor, where dirt can be dislodged and lifted from the floor.
Stoneware Tiles
For stoneware tiled flooring microfibre technology is a must to dislodge dirt from the fine pores found in the micro-pore structure of the tiles. Thicker bristles found on regular discs and roller brushes are too thick to be able to penetrate the dirt and will be unable to remove much of the dirt that results in them becoming grey and discoloured. The high rotational speed and pressure of roller scrubbers removes the dirt and immediately expels it from the microfibre material. This means the roller maintains the same efficiency throughout, restoring the tile to its original appearance.
Ceramic Tiles
Other popular tiles found in workshops are "orange peel" ceramic tiles (typically reddish-brown in appearance) and these are best cleaned using roller brushes with polypropylene bristles. The bristles work to lift dirt off the surface, which, when combined with powerful alkali-based gravel, are highly efficient in dislodging grease, oil and brake dust, and mineral soiling.
Cement screed
Cement screed flooring can often be found in workshops and is usually exposed to the elements, coloured with an epoxy resin coating or is treated with a slip-resistant material. To clean these surfaces, a roller scrubber head is essential for getting into the gaps within the concrete where it has dried.
---
Want to know more? For more information, click
here
.