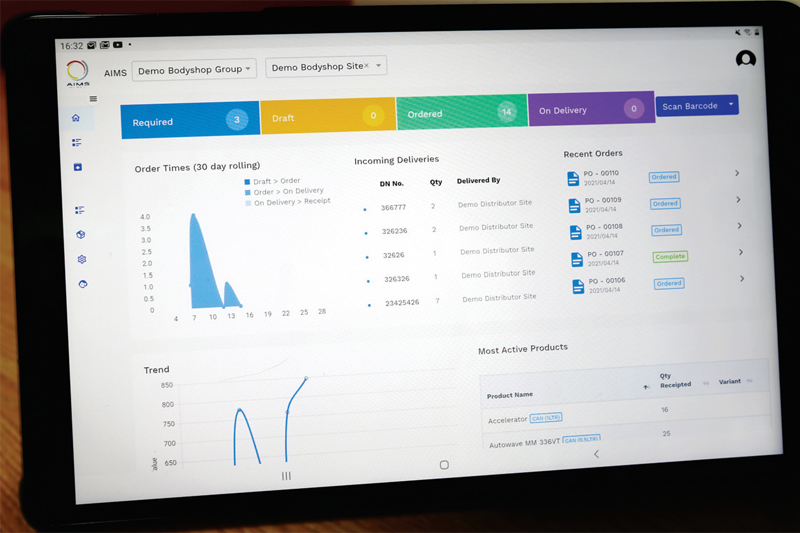 ---
ACIS discusses the benefits of investing in software in the workshop.
---
It is commonplace for workshops to invest in the latest technology for their technicians on the workshop floor. But, if businesses want to streamline their operations effectively and save time and money, it is just as important to do the same at the back end. Systems such as ASCRIBE, AIMS and AIMS Lite from ACIS can help repairers become more efficient and profitable.
The ASCRIBE inventory management system from ACIS was developed with the user in mind, providing full visibility of the use of products within the workshop, enabling managers to speak to the technicians on the shop floor, compare individuals' usage of products and measure the associated costs.
ASCRIBE also streamlines the ordering process because it can allocate products to a technician, department or job number easily, and it knows when the items are at a minimum so it can reorder them to the agreed level. This then leads to the garage optimising its overall stock holding because it can easily see how much product it is using. This also means the business becomes leaner, both from a stock and financial point of view, because it has moved away from the inefficient manual method of ordering X amount of pounds worth of product each month and potentially not using all of it before reordering the same products the following month. As a result, the workshop keeps accumulating dead stock which just sits on the shelf.
The next stage of ACIS' technology development is AIMS and AIMS Lite, which have recently been launched to the market and have already provided quantifiable benefits for users across the UK. AIMS Lite, in particular, has been developed as a solution for cosmetic repair and mobile repair, operated through bodyshops, pods, and vans.
This new software is built around Application Programming Interface software (APIs), which enables applications to talk to each other. This communication allows for the integration of data from various systems, including paint, estimating and bodyshop management systems, under one roof and ensures that the bodyshop does not have little silos of information on various systems that are hard to access, compile and decipher. The fact they are now under one roof will enable management teams to drill down easily into the data. For example, to understand how much material cost was estimated for a job, how much was used, and how much was invoiced.
The software also ensures a core stock profile, which can be set on the system, and if selected means users can only order from a pre-set basket of products, instead of a stores person ordering varying items based on (perhaps) individual preferences by technicians. As with all its systems ACIS provides, the user is put first, as the software is simple to use. For example, when placing an order, all that is required is for the product to be scanned on a tablet. There is an easy view of the order on the dashboard and AIMS then automates the ordering process and ensures workshops of all sizes, from single sites to multi-site operators as well as cosmetic and mobile repair operations have more control over their inventory and associated costs.
According to Ryan O'Neill, Business Development Manager at ACIS, "AIMS Lite has gone through extensive testing with customers. The feedback from the trials is that it is very user-friendly and enables users to be more efficient in their ordering process. In addition, as more businesses add cosmetic and mobile repair operations, AIMS Lite will even allow us to set a van up as a single account for a customer, making it is easier for them to see what products it is using over a period of time."
He adds: "The market is heading in a direction where businesses are looking to save time and money, while being as efficient as possible, and this is being assisted by the introduction of electronic ordering platforms. Once these are in place, there is no need for an account manager to come into the store and take orders from the shelves. There is also the benefit to the workshop of not having a stores person walking around checking shelves and placing an order, as the system does it automatically. This means that money can be saved and then reinvested back into the business.
"Aligned with the market development, the software is evolving too. There is now more of a focus on autonomous reordering and machine learning that will enable AIMS and AIMS Lite to understand what the business is ordering and then use algorithms within the software to help the business optimise its stock holding. These areas of focus are not going to change anytime soon and ACIS will remain at the cutting edge of technology to ensure it offers this to its customers."
---
Want to know more? For more information, click
here
.