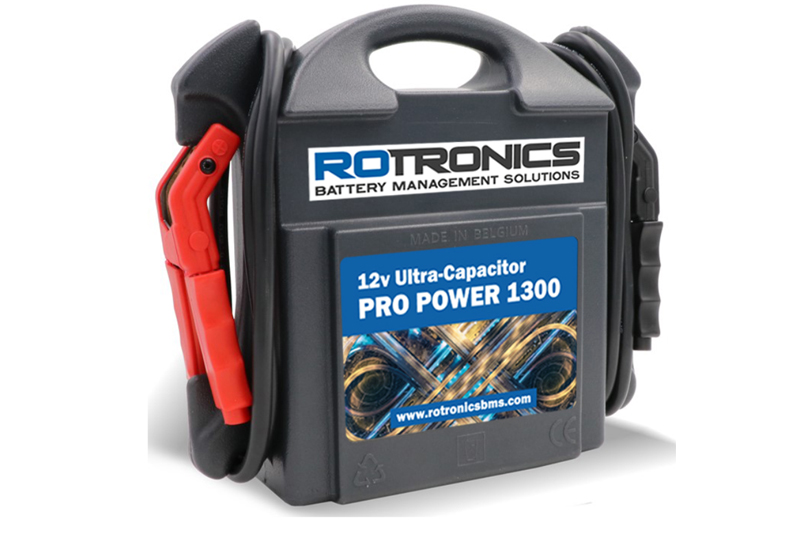 ---
Investing in a battery tester can be daunting, especially when the tester itself isn't the only factor that needs to be considered. Here, Ken Clarke, Managing Director of Rotronics, explains the importance of accessories, power packs, and safety when choosing the best testers and chargers for your workshop.
---
Accessories
When investing in a battery charger or tester, you should consider which accessories might be needed to improve your workshop efficiencies, sales opportunities, and service.
Your business could benefit from using accessories such as integrated amp clamps, external printers, upgraded software, and replacement lead sets in case of any damage. Storage cases and trolleys can also be a considerable help in the workshop.
Also consider whether you want to have a fixed or flexible mobile charging within your workshop – this can increase accessibility and maximise your charging opportunity.
Power packs
There are a lot of power pack units on the market, and some perform better than others. You can expect many years of good service from a quality power pack if it is used properly and charged regularly. Before investing, consider looking at how frequently it is going to be used, what job you need it to perform, and how mobile you need it to be.
The weight of a pack is often a consideration that users are faced with. A rule of thumb is that if the battery pack is heavy, it is indicative that the batteries are of good quality. Get some recommendations and feedback from colleagues – who is using which battery packs? More importantly, what happens if you require spares or your pack requires repairing? Does the pack you are considering offer a full service backup?
The quality of the cables is also important, so check the clamp size for suitability of application and usage. Make sure that all the materials used are of good quality – how durable are the clamps? They should be made of bronze or steel, though bronze is ideal. Are the clamps connected down both sides of the jaw? Is power provided down both sides of the jaw?

The thicker the cable diameter, the more conductive power can be released from the power pack.
You need to decide if you want built-in charging or external charging; an external charger can get lost, whereas an integrated one is all in one place.
It's also important that the unit can be repaired if need be. It's especially important that the leads can be replaced, as they are the most fragile and used components of any tester.
Safety
Batteries are volatile, so ensure that you know what in-built features are associated with the products you are buying. Spike/spark and reversed polarity protection is a good example.
You need to know this to be able to look after your workforce and workshop. Every time the battery pack is used, it should go back on charge as soon as possible. This ensures a full charge and will prolong the life of the power pack.
Make sure that clamps aren't connected together, and confirm that they are fitted with isolator switch mechanisms to avoid the pack spiking.
Periodically, check for signs of damage to the pack, and ensure that cables are not worn or damaged. Also ensure that the clamp protective coatings are not exposed. Any wear and tear should be resolved as soon as possible.
---
To find out more about Rotronics' range of battery solutions, click
here
.