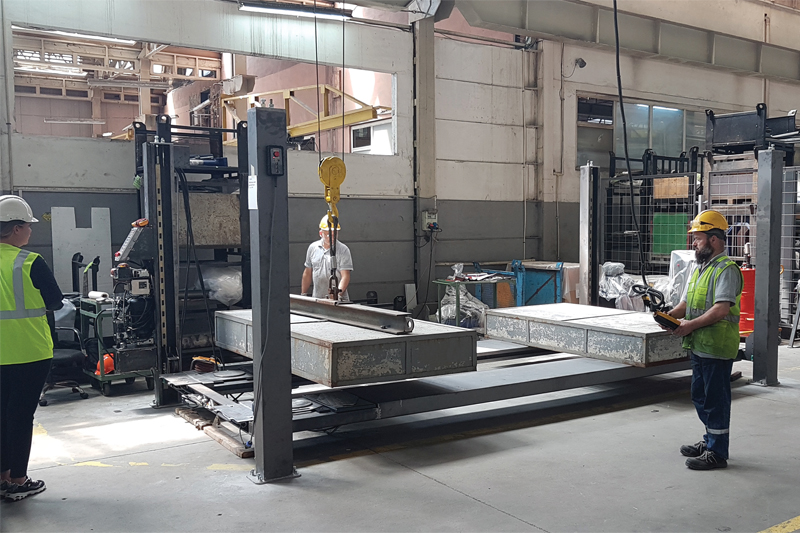 ---
To find out more about the process of designing vehicle lifts, PMM speaks to Boston Equipment about its new, smaller MOT lift that has been created in response to specific customer demands.
---
In an industry where equipment is increasingly fabricated in low cost regions, Boston has successfully grown its business and built its reputation on supplying quality, user-friendly products manufactured in the UK and Europe. Located on the outskirts of London, the company not only sells, but installs and services garage equipment, it also designs and manufactures many products in its MOT range.
Boston has a rigorous approach to product development that starts with identifying customer needs. Feedback from customers highlighted the demand for a small but solid, reliable MOT lift that would meet DVSA regulations for garages with limited space. Combined with reduced dimensions, the lift would also need to be compatible with a shallow 130mm recess to suit existing groundwork for 'grandfather rights' MOT stations replacing old lifts.
Having clearly identified the requirement, the design team at Boston analysed existing products in the market and looked at how these could be improved upon. This included extensive research into the weights and dimensions of Class 4 vehicles that would be tested on the lift, and critically, their wheelbase, track width, and wing mirror width.
Boston Director Brad Calcutt explained, "Research and analysis is an integral part of product design. If skipped or rushed it's likely to result in an unsatisfactory product. By taking the necessary time here, we were able to maximise the design of the lift and position the built-in play detectors and turning plates in a manner that enables testing of longer wheelbase vehicles not possible on other lifts of comparable size. Furthermore, despite a narrower lift design, we were still able to integrate 630mm wide platforms to accommodate the track width of larger vehicles, such as the Ford Transit. This represents a significant increase of 70mm per platform compared to other lifts of the same size and makes testing and repairing these types of vehicles much safer.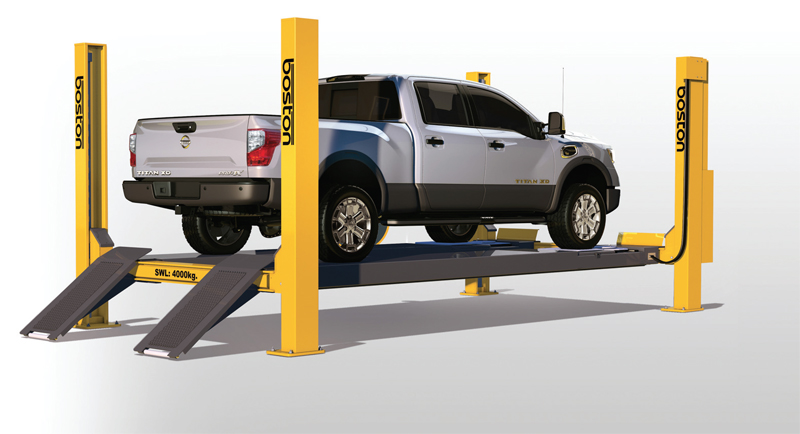 "Product safety, reliability and ease of servicing are all factors that impact the final design. Safety is a primary concern for any product, but when it comes to lifting equipment it is critical. We incorporate substantial safety measures in our lifts. One of these is to construct the lift using a higher grade of steel than specified in the design process. This means that should there be any inconsistency in the raw materials, the integrity of the lift would not be compromised.
"Hydraulics is also a fundamental part of a four-post lift, and it's easy to compromise reliability if the area is not carefully considered and designed. Lifting cycles may be short, but overloading electric motors affects the lifespan of hydraulic powerpacks. To maximise performance and reliability in a cost-effective manner, medium pressure is required at the highest possible flow rate, without stressing the motor.
"Ultimately, a lift also needs to be easy to service and repair. Boston lifts are made to last and we have built our reputation on reliable equipment. Nonetheless, our products are designed to be easily serviced and repaired. As a company that carries out such work ourselves, we understand how important it is to leave enough space between components so they can be easily accessed and removed. This is a benefit not only for engineers working on the product, but also for the customer who doesn't end up with an enormous labour bill. We also design using common components across the range. This too benefits the customer as it means these items are always in stock and our road engineers will have them onboard even if called to a garage at the last minute.
"At all stages of development, the product is constantly refined until there is a single optimised design. At this point a prototype is produced to specification at the factory. The prototype serves two functions – to thoroughly test the design and safety features, and to assess the manufacturing process. To ensure product quality and safety, the lift is placed under far greater stress than it would be subjected to in an MOT station, with rigorous load and life cycle testing at 1.5 times the maximum load capacity. All aspects of the lift such as the hydraulics and controls are also fully tested, and the manufacturing process is scrutinised to identify any issues or areas that need attention before production can be started.
"Ultimately, we set very high standards on products that we supply or design. In the long term, well-designed and manufactured equipment causes less stress, less downtime, increases productivity and delivers a better return on investment. With our industry experience, which includes operating our own testing and repair premises, we like to think that we understand the needs of garages and the demands of modern-day testing, and this knowledge is always at the forefront of our design process."
---
Boston's new B443 Class 4 MOT lift is available from January 2020. It has an overall width of just 2.79m and comes with a choice of two platform lengths: 4.4m and 5.3m. To find out more about this lift, click
here
.