In this edition, PMM Meets: Aiden Moffat, Laser Tools Racing BTCC driver, for a follow-up to the interview we ran earlier in the year.
We were invited to spend the day with the Laser Tools Racing team at Round Three of the 2015 British Touring Car Championship at Thruxton. Our interview with Aiden featured in the July/August issue of the magazine.
That interview came off the back of a fifth place finish for Aiden at Donington Park and he told us how the team had adjusted its aims for the season and were now targeting a podium position.
Aiden managed to earn his first-ever BTCC podium finish at Knockhill in August, though it wasn't in ideal circumstances as he lost third place to Andy Priaulx on the penultimate lap and finished fourth.
Priaulx was later handed a time penalty for his move on Moffat, which saw the Scot promoted back to third, but the presentation ceremony had already taken place.
If that was the high, then Moffat certainly experienced the low too, when a massive accident in practise at Snetterton forced him to miss race-day because of concussion.
After the season we over, we caught up with Aiden again to see how he feels the season went and asked him to look ahead to next season…
PMM: Could you sum up how you feel the season has gone for you this year?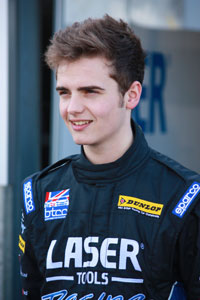 Aiden: I think it has been a real rollercoaster year for us. We had a massive down at Snetterton, but some massive ups. On the whole it was successful and we over achieved what we set out to do.
When we spoke at Thruxton in May, you said that you'd adjusted your pre-season aims following a fifth place at Donington and were now targeting a podium finish. You managed to achieve that at Knockhill, though not in ideal circumstances. Was it disappointing not to be able to celebrate on the podium itself?
A: Yes it was disappointing not to celebrate it on the podium, and it would have been more special again with my teammate Adam being up there too, but I definitely would rather it my way around over Andy [Priaulx]'s!
You were forced to miss race weekend at Snetterton after a heavy crash in free practice. How scary was the incident itself and how frustrating was it being told that you were unable to drive?
A: It was a bit scary as it isn't something I've ever experienced before, I remember shutting my eyes thinking "this is going to hurt" then opening them to find myself in a doctor's room, and no memory of what happened in between. Obviously being told you can't drive is a huge blow, as my team were up for the challenge of working around the clock, and I wanted to be out there. We actually had good pace that weekend too! However, being on the side-lines knowing you should be out there just makes you want it more than ever.
You mentioned that the first few races in the Mercedes [Aiden switched from the Chevrolet Cruze at the start of this season] were very much a learning process, what's the biggest thing you have learnt having been behind the wheel of it all season?
A: I am still learning now. Driving this car has made me have to find new limits with regards to braking points for example, and I can drive it in a different style, so it was almost like starting over to a certain degree.
What was it like taking part in the McRae Rally Challenge with Laser Tools back in May? Is rallying something you'd ever done before?
A: The McRae challenge was great to be involved in. It was an event I probably would have gone to Knockhill to watch anyway, so it was even better to be a part of it. Rallying isn't something I've ever done before but I would like to have another go. It was a great weekend.
What happens during the off-season? How much of the next few months are you able to relax and enjoy Christmas, or is it all practice and getting ready for next season?
A: We have a lot planned. Adam and I will be out practicing and developing the cars further, and I also have a holiday planned to get my tan sorted for the Autosport show! Apart from that it will be working on my fitness and putting myself in a better position for 2016.
Will there be any changes to the car or the make-up of the team next year or is it you, Laser Tools Racing and the Mercedes? Will the sister partnership with Adam Morgan and Cicely Motorsport remain in place?
A: I will continue to race the Laser Tools Racing, Mercedes A-Class alongside the Wix Filters backed car of Adam. The partnership has helped us both a lot this year and as a team we all get on well, so it makes sense to keep improving together. Of course we will have the new RML parts going onto the car, and that's something we will be working on over the winter period.
We hear new safety regulations are coming in next season, including some changes to the driving seat. Could you tell us a little more about that?
A: The purpose is for further safety as really focuses on protection from a side impact, which is what happened to me at Snetterton. You have a Hans device already but that only protects you when the crash is head on.
What do you make of the new grid regulations for race two that are coming back in for next season which will see grid positions being based on finishing positions in race one again, rather than fastest laps?
A: It suits me well. Qualifying is not my strong point, and I struggling to perform a good one-off lap in the race, but racing up through the field is something I have done well all season, I am happy with the new grid regulations.
What are your aspirations for next season? Is a race win achievable?
A: I am aiming for podiums, and a win would be nice! It's a lot easier said than done in this championship, but now that we have achieved a podium, we have to keep aiming to go forward rather than backwards.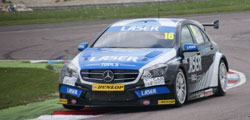 Since we spoke to Aiden, it's been confirmed that he that he and Laser Tools Racing will again be teaming up with Ciceley Motorsport for 2016 season. Click here for the full story.
When the news broke, Aiden commented: "I'm really happy to be staying in the Mercedes-Benz A-Class and, with the continued support of Laser Tools, I'm really looking forward to the 2016 season.
"This year has been a really good season for us and this inspires further confidence throughout the entire team. I was 19 last month and my sponsor, my team and my car have helped me to mature both as a person and a racing driver over the last 12 months.
"We have our aims for 2016 and continuing to have the car prepared by Ciceley Motorsport gives us the perfect platform to achieve our target."
The 2016 season gets underway at the event launch day on March 22nd.