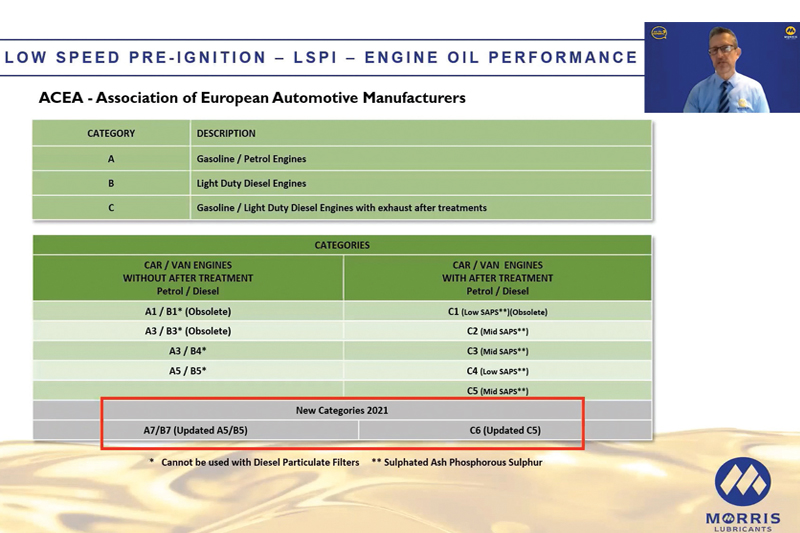 ---
After hearing about the success of previous presentations, PMM decided to sit in on one of Morris Lubricants training webinars. Here's what happened…
---
In the past, Shrewsbury-based lubricant manufacturer Morris Lubricants has put on a number of live training events to help educate and inform the company's customers. For the most part, these events have been led by the company's Automotive Product Manager, Adrian Hill, who you may know from his technical column in PMM, 'Ask Ade?'.
Due to the pandemic, Morris Lubricants moved its training online, creating a series of concise webinars that look at various aspects of vehicle lubrication. This virtual series once again draws on the knowledge and expertise of Adrian, and PMM was able to tune in for one of the presentations, entitled 'GDI, LSPI, and GPF: What are they and how are they related?'.
"It's all to do with emissions"
Adrian began the webinar by introducing the attendees to the Q&A function that was available to them. He invited all participants to enter any questions that they thought of during his presentation into the system.
Once he had completed his 45-minute slideshow, there would be a period of 15 minutes when he would do his best to answer everything that had been supplied.
Noting that meeting emissions requirements is a significant factor in current and future automotive technology, Adrian began by going over the structure of a standard diesel or petrol four-stroke engine, and how an engine with gasoline direct injection (GDI) differs. He then moved on to combustion within the engine and how GDI improves the efficiency of the process. To make it all as clear as possible, every section of the presentation came with clear and informative diagrams to help Adrian explain each point.
"GDI does come with some disadvantages, namely LSPI"
The next part of the webinar focussed on Low-Speed Pre-ignition (LSPI). Adrian outlined how it occurs, when it might occur, and the type of damage it can cause to engine components, particularly to the piston head crown.
Although the chemistry behind the process is complicated, the explanation Adrian provided was easy to understand and concise.
Moving through the presentation, the topics discussed were always put into the context of how lubricants fit into the processes, and why those that work with vehicles need to make sure they are using the correct lubricant. This was made particularly clear when talking about the number of engine classifications in circulation, both current and future.
"GPFs are going to become more and more common"
One unwanted by-product of the GDI engine is soot that carries harmful particulate matter. As a consequence, a Gasoline Particulate Filter (GPF) is required to ensure these harmful substances are not released into the environment. To put this into context, Adrian presented a number of petrol engine classifications and the emissions specifications (including limitations such as 'particulate number') that they must adhere to.
Before turning to the questions that had come streaming in throughout the webinar, which he would dutifully answer, Adrian rounded off the presentation by linking it all back to lubrication and why it's crucial to match the lubricant specification to the correct engine type.
After the webinar, PMM asked Gavin Stout of D Ward Automotive about what he thought of the Morris Lubricant training event. He said, "At D Ward, we have been trading to garages and the public since 1982.
Whenever we've not been sure what oil or lubricants to recommend to a customer the Morris technical team has always provided excellent advice. Taking part in their online training was a great way to extend our knowledge. Not too long, very informative, yet not too technical and well presented. A real pleasure."
---
If you would like to find out more about Morris Lubricants' training offering, click
here
.