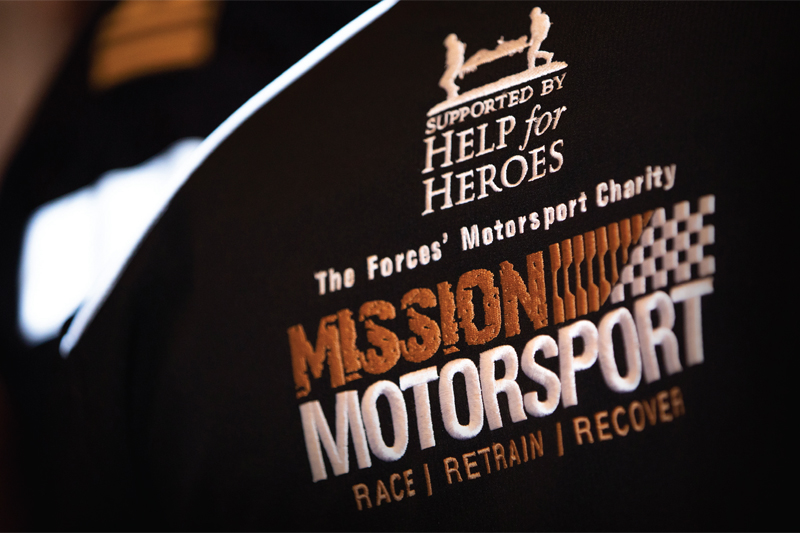 ---
It is common knowledge that there is a significant skills gap within the industry when it comes to working on hybrid and electric vehicles. So, when PMM heard that Mission Motorsport's training centre had received IMI approval, we simply had to find out more about the charity and its courses.
---
Mission Motorsport's approach is epitomised in its motto: 'Race, Retrain, Recover'. The charity was established in 2012 to support veterans looking to find their place in civilian life after completing their military service. It is well documented that some of those that have put their lives on the line for Queen and country later require a guiding hand to direct them towards a civilian profession, so CEO and Founder James Cameron, set up the charity with this exact directive.
When asked about the driving force behind the charity, James explained, "The best way to understand what we do here at Mission Motorsport is through our stated mission: 'Race, Retrain, Recover'. By using motorsport as an engagement tool, we do our utmost to help veterans find a place within the automotive industry, capitalising on the skills they have picked up whilst in the service.
"However, in all honesty, the exact nature of the work they end up doing is not the most important aspect of what we are doing here. What I really care about is that our beneficiaries have a reason to get out of bed in the morning and a sense of purpose that enables them to be financially secure and support their families."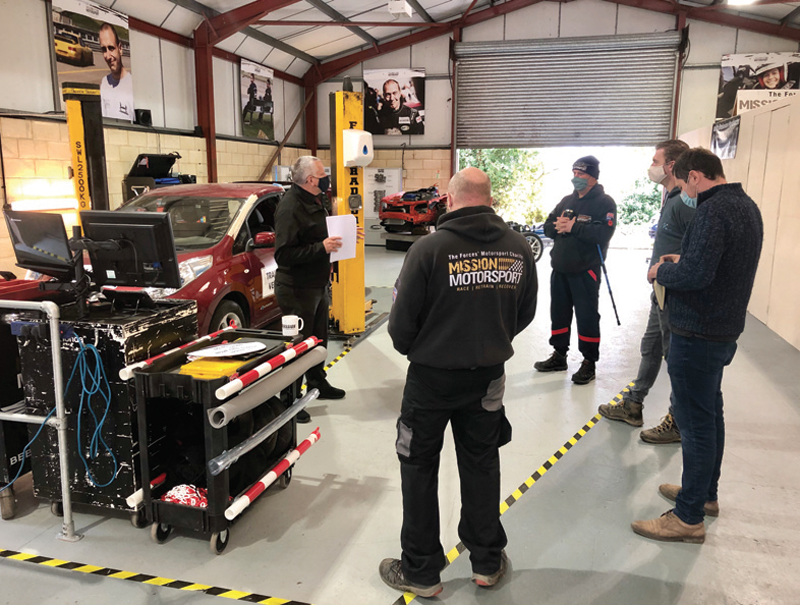 Life after the forces
Although finding gainful employment for veterans plays a part in James' and the charity's mission, there is more to it than that. Many ex-servicemen and women face challenges that others don't always understand when it comes to adjusting to civilian life, which is where Mission Motorsport really comes into its own.
James continued, "Many of those who work for the charity come from a military background, which means they understand the challenges associated with adjusting to life after the forces. From a training point of view, we have to be able to accommodate both physical disabilities and those with mental health problems. Unfortunately, there is a stigma attached to veterans, which suggests that they are one of three things after leaving the military: mad, bad, or sad. This couldn't be further from the truth. In fact, almost all are incredibly capable and highly skilled."
Mission Motorsport is now part of a broader initiative. Back in 2019, the charity orchestrated a partnership between the Ministry of Defence (MOD), the Society for Motor Manufacturers and Traders (SMMT), and The Royal Foundation, in order to form 'Mission Automotive'. The initiative is designed to help companies access and retain ex-forces talent that may otherwise fall by the wayside. Many veterans had spent decades learning automotive skills for various military applications, so all that was needed was a little backing and an opportunity to retrain. By doing this, the charity could ensure a constant stream of talent flowing directly into the automotive industry.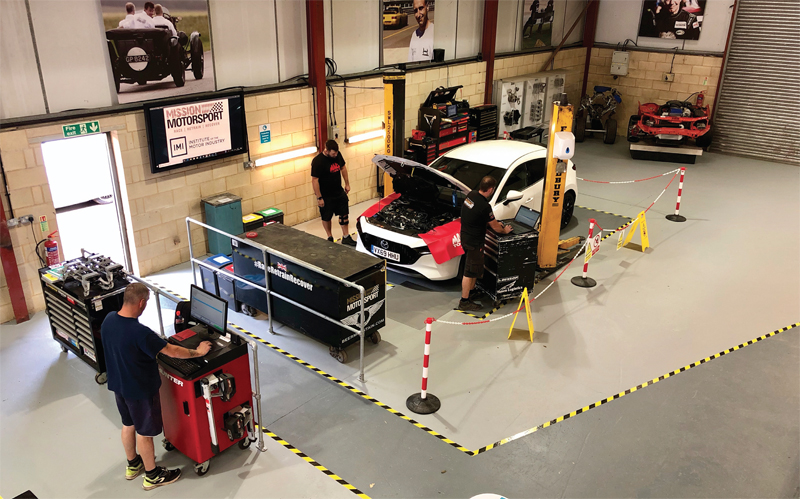 The skills gap
With the increase in electric and hybrid vehicle technology, James realised that there was the possibility of furthering the initiative: "When we first looked into EV qualifications, and how the automotive industry is going to be able to meet growing EV demand, it quickly became clear that automotive businesses needed 'high voltage' qualifications. Now, in the military 'high voltage' refers to over 1,000V, yet when it comes to automotive technicians working on EVs and hybrids, it's over 60V DC or over 30V AC, according to the Health & Safety Executive.
"If you are wondering why the military uses this definition, well that's because the conventional 240V is rarely used in operations. Most of the time, the voltages are somewhere between 400-600V, with plenty of 1,000V applications thrown into the mix as well. From the charity's perspective, we realised a situation where one industry was looking for people skilled at working with 'high voltages', whilst another had an abundance of people that had these exact skills. What we needed to do was ensure that they received the right qualifications."
IMI approval
The charity operates a vehicle maintenance and repair training facility on the outskirts of Wantage in Oxfordshire. Last year, this same centre received IMI approval due to the dedication it put in to make sure it hit the standard demanded.
James continued, "When it came to launch this training programme, we had to ask ourselves: what can we do that is different to the multitude of other training facilities out there in the industry? Inevitably, this came down to our ability to speak both languages. We are able to translate what somebody has done in the military and help contextualise it for them so that they can effectively get the credit and feel confident in their abilities."
David Guilfoyle, Technical Training Manager, was the man in charge of making this happen, and continues to run the courses that are carried out there, as he explained: "Although 2020 was a difficult year, it gave us the opportunity to focus on making sure our training centre hits the standard expected by the IMI. Thanks to the accreditation, we now offer IMI Level 2 and 3 Award in Electric/Hybrid Vehicle System Repair and Replacement, as well as the IMI Level 3 Diploma in Light Vehicle Maintenance and Repair Principles that we were already offering. The courses naturally vary in length and are primarily open to veterans as opposed to civilian technicians. This being said, we plan to make this more broadly accessible as we continue into 2021."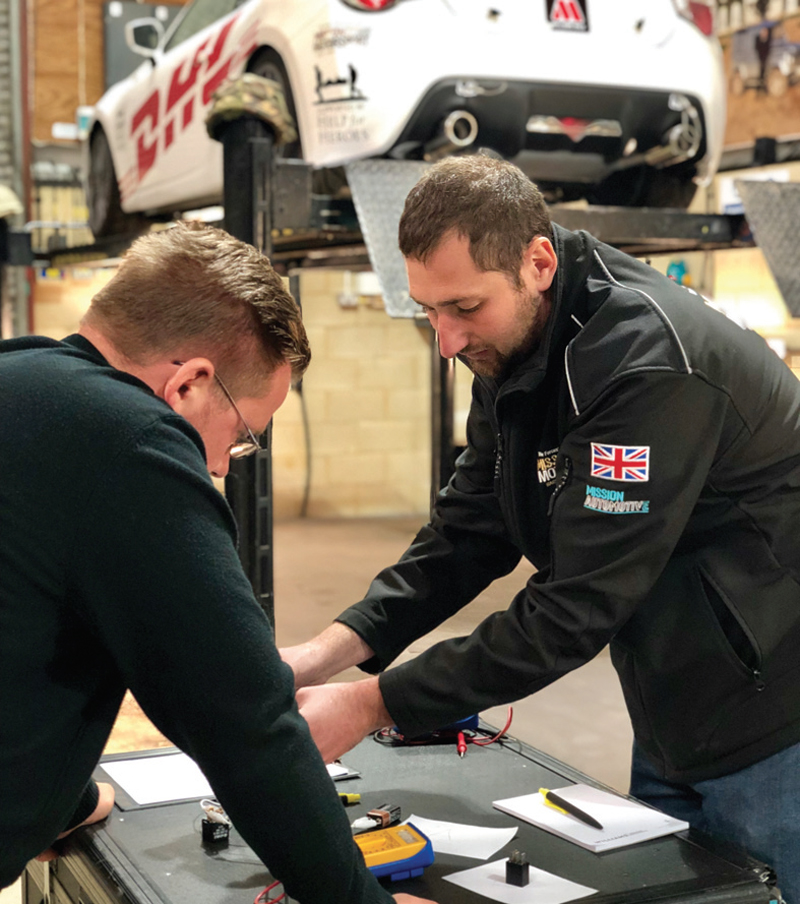 How to get involved
With the training centre up and running, Mission Motorsport offers a fantastic opportunity for businesses to acquire highly trained technicians specialised in high voltage work. However, this is only a part of what the charity does. Each year, there are a multitude of events and opportunities that you can get involved in. No matter whether you are a veteran yourself, a technician interested in motorsport, or a business looking for talent, it is well worth getting in touch with the charity to find out how you can help accomplish its mission.
---
To contact Mission Motorsport, click
here
.