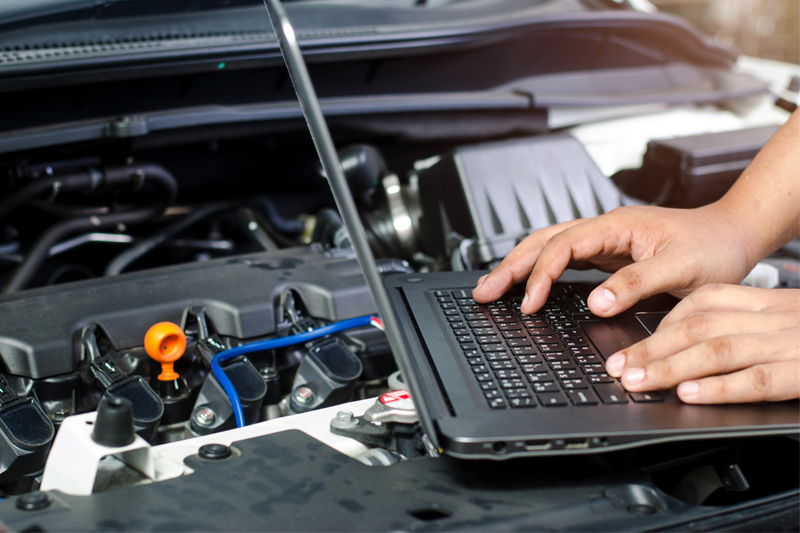 ---
Andy Brooke, managing director of Maverick Diagnostics, explores the obstacles facing workshops on OEM registration post-brexit.
---
As cars become more technologically advanced, access to technical information and diagnostic portals is increasingly crucial for independent workshops. OEM registration is the process by which independent workshops gain access to dealer diagnostic tools and software. However, the registration process is complex and many workshops are not aware that they can have full access to these resources.
Registration has actually never been so easy. although a number of regulations had to be passed before the independent aftermarket was allowed access to dealer diagnostic tools and software.
Block exemption
One of the first regulations that gave the aftermarket the right to repair was block exemption: an anti-competition law set out by the EU that allows any independent workshop to compete directly with the main dealer. This regulation gave unrivalled access to the tools, software, and technical data that only the vehicle manufacturers' dealer groups would otherwise have access to. I am regularly asked about the status of the other regulations: SERMI and NASTF schemes to give full security access to all manufacturers' technical information and diagnostics.
The truth is that since the UK left the EU in 2020, the situation has become complex. The rest of Europe is signed up for the SERMI scheme, which is due to start on 1st August 2023. Only the Republic of Ireland is signed up to SERMI as it's still part of the EU. SERMI is a passport for authorised users to log into dealer diagnostic tools and information portals. A trust centre is appointed; this trust centre stores the user's details and verifies the user.
There is an alternative scheme available in the form of the American system, NASTF, currently being campaigned by the RMI as an alternative to SERMI.
Searching for an alternative
However, the UK has not signed up for either scheme and it is reported that the UK government is looking into an alternative scheme. Failure to adopt either scheme will miss the 1st August 2023 deadline by months, if not years, and could potentially cause issues in the future.
At the time of writing, it is unclear what impact this will have on independent garages, but sources inside UK AFCAR report that the vehicle manufacturers' schemes currently in place should hold for now. I should point out, however, that in the initial period following Brexit, the UK had a number of issues with registration and tool usage. For example, with UK VAT numbers not being recognised. Having said that, it's doubtful that car manufacturers will make anything tougher, as the UK is a large market where software and information sales generate hundreds of millions of pounds each year. The most common registration processes in the UK are with Jaguar Land Rover, VAG Group, Mercedes, and BMW. All of these require personal authentication from the user in the form of a phone app or a security token that changes numeric codes every sixty seconds. The registration process is straightforward as long as workshops follow the basic rules:
Be VAT registered.
Be a limited company with over five years of trading.
Don't have vehicle manufacturer logos on the website.
Don't offer tuning and remapping.
UNECE regulations UN R155 and UN R156 set the framework for automotive cybersecurity. They are highly complex and forward-looking and may have more far-reaching impacts on the automotive aftermarket. These regulations involve the continuous review and updating of security systems throughout the vehicle's lifetime, providing manufacturers with access to the vehicle's security systems for the same duration. This means that even when the vehicle is serviced by the independent aftermarket, only approved tools and users can be used on these vehicles, and users need to be fully identified when accessing the vehicle's software. This could affect those using remote diagnostic systems or aftermarket tools who don't have security clearance.
In summary, the increasing complexity of cars and higher security levels in vehicles due to the UNECE regulations may result in remote diagnostics being phased out by manufacturers. Furthermore, the regulation's "one-shot" programming of components to one vehicle could potentially hurt the secondhand market for electronic components.
To futureproof your workshop from these changes, consider specialising in one or a few brands rather than attempting to repair every vehicle brand unless you're a fast-fit or MOT centre. Additionally, analyse your return on investment on tooling and hourly rates. Successful workshops have taken this approach, and the future looks promising for them. Independent workshops that haven't considered this route may miss out on repairs. Overall, OEM registration is crucial for independent workshops to stay competitive and provide high-quality repairs to customers.
---
Want to know more? For more information click
here.