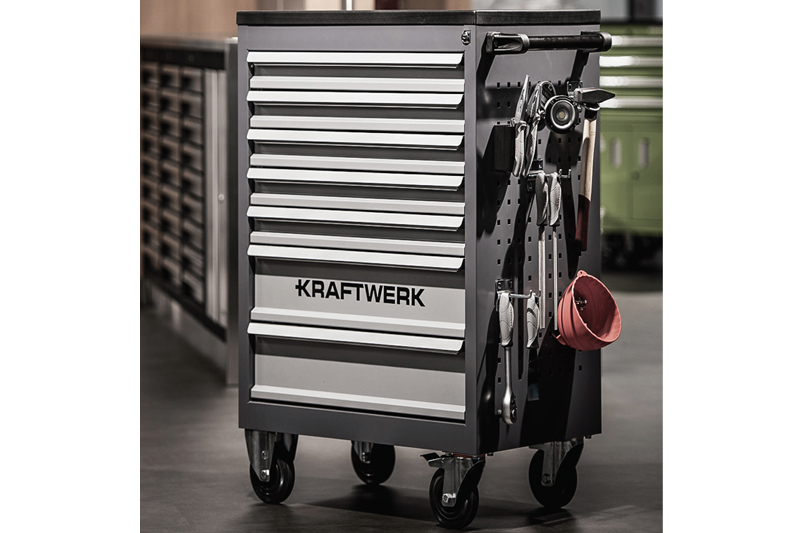 ---
PMM speaks to Paul Fallon, UK representative for Kraftwerk Tools, to find out more about how the company is getting on in the UK, and where its latest range of tool trolleys fits into the bigger picture.
---
PMM: How is business going in the UK for Kraftwerk Tools?
Paul Fallon (PL): Like many businesses, 2020 was a challenging year. Neverthless, Kraftwerk has continued to trade throughout by developing new products, running promotions, and opening new accounts. So, we are hopeful that we are now coming out the other side a stronger business.
Kraftwerk specialises in manufacturing and distributing hand tools, tool trolleys, modular storage, and lighting products for the professional automotive and industrial sector. Since we started in 1979, we have established a strong market reputation for high quality products across Europe, and we now want to leverage some of those ranges in the UK.
PMM: What Kraftwerk ranges do you think have the greatest potential in the UK?
PL: When we look at tool trolleys for example, this represents nearly half our annual turnover as a business, so it is a real core competence. When we looked at the UK market, we noticed that there are not many brands who offer a quality, innovative solution at a competitive price. Kraftwerk has an extensive product range of different tool trolleys, which come with or without tools, to suit all budgets and all requirements.
PMM: What are the different tool trolley ranges offered by Kraftwerk Tools?
PL: The Kraftwerk trolley range can be split into four categories. First is the entry-level Basic Line, which is a proven and affordable cabinet ideal for the apprentice technician.
Next is the Pro-Line 200, which is a midrange 'everyday' compact tool trolley with an ABS chemical resistant working surface, anti-tilt system to prevent tip over, and a foldout side working table. The range also comes in a variety of colours, including electric blue, lime green, light grey or black.
The Pro-Line 300 offers the same features, but also allows the trolley to be expanded with tool chests, has single-hand operation and an extra-strong double wall construction.
Finally, the top of the range Pro-Line 400 features a stainless-steel working surface, full-length plastic impact protectors on each corner, and offers trolleys with an extra-long wheelbase and integrated 'One Drawer Open Once' system, offering extreme stability.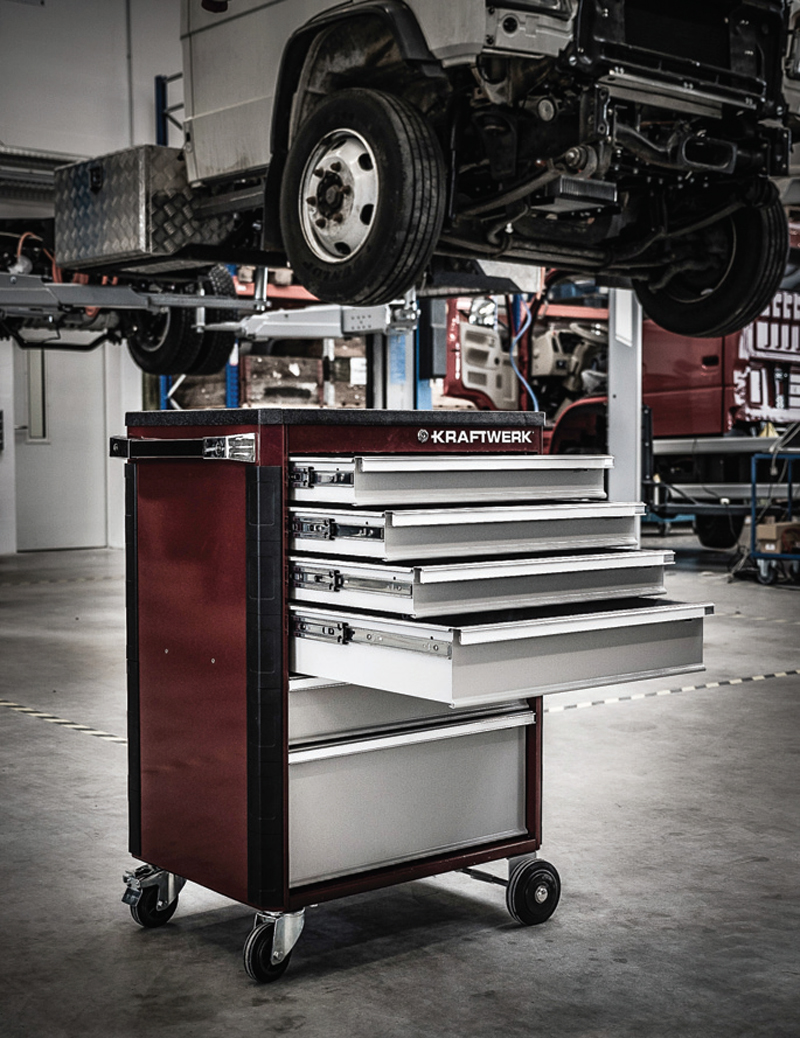 All our premium trolleys are manufactured in Germany and have reinforced industrial grade sheet steel with preformed sides for extra strength, so they can withstand the rigours of a busy workshop. There are also a wide variety of accessories available to create a personalised solution.
PMM: You also mentioned that you had launched some new product. Care to divulge?
PL: The two latest product additions into the range are the VDE Tool Trolley with barriers and warning signage, along with 64-pieces VDE tool set for technicians working on electric hybrid vehicles.
We introduced this product last year, and we have been overwhelmed by the number of enquiries as technicians start to wake up to hybrid and EV training and initiatives – such as IMI TechSafe – to become compliant with regulations for working safely with the technology. There is nothing like this kit currently available in the UK market and it offers everything you need to work safely.
The second product is our retro, two-tone 'First Edition' trolley. This really is a unique trolley in the market as it was the first product to be made in our new factory in Germany, so we made a limited production run, adding some quirky design flourishes.
It has ergonomic rounded corners; a stylish two-tone light and charcoal grey powder-coated finish, and comes with a paper roll holder and waste basket as standard. It has all the features you would expect of our Pro-Line range, including central locking, ABS work surface, braking system, and 100% fully opening, anti-tilt drawers.
PMM: It looks like Kraftwerk Tools is just getting started. Anything else on the horizon to share with our readers?
PL: Kraftwerk Tools is always looking to launch new products to make the technicians working life easier. Our latest project has been the launch of an Industrial Range of workshop trolleys and equipment. For anyone looking for a solution to help with moving heavy equipment, such as engine blocks, around the workshop, then this might be the trolley for you.
---
To find out more about Kraftwerk Tools' range of trolleys, click
here
.