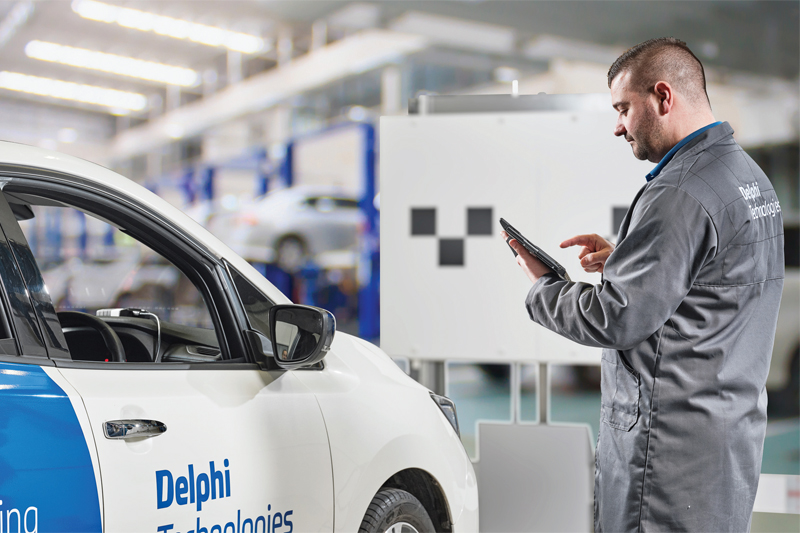 ---
A lack of clarity around ADAS, rather than its complexity, is behind the trade's slow adoption of calibration technology. Delphi Technologies explains.
---
Advanced Driver Assistance Systems (ADAS) technology is not only rapidly changing vehicles, but is also set to have a major impact on the maintenance and repair sector, too. Cars equipped with such features are coming thick and fast. ADAS is recognised as essential to heighten vehicle and road safety and, of major importance to manufacturers, its inclusion is now required to achieve a Euro NCAP maximum five-star rating.
Consequently, the amount of ADAS applications is increasing and with it, so too is the opportunity for forward-thinking garages. Look at the facts and there's little to dissuade garages from pursuing the potential revenue stream that ADAS calibration offers – as well as the rise in cars fitted with the technology, the fact the safety features rely on a combination of camera and radars to function means even the most routine of jobs can necessitate calibration of an ADAS system.
Basically, any job that renders the ADAS sensor/camera out of position can cause the system to function incorrectly or even not at all. For many vehicles, even a cambelt or cam chain replacement means recalibrating ADAS systems, simply because it's not unusual for much of the front end to be removed to enable access.
When to calibrate?
However, while there's great potential to grow revenue from ADAS calibration, the number of independent garages being able to complete the work remains low, as Philip Mitchell, Training Manager at Delphi Technologies Aftermarket UK, explained, "There's no doubt that independents are starting to recognise the importance of being able to offer ADAS servicing, but there are still many that are wary of making the necessary investment in training and equipment.
"When we speak to our customers, what they're struggling with the most, and is affecting their decision to invest in the relevant training and equipment, is simply confusion over when they might need to carry out calibration work – if they don't know when they might need to do it, then they can't see how they can justify the cost.
"From those that have attended our IMI-accredited ADAS course, which has fast become one of our most in-demand modules, how to address this confusion is what is most important to technicians and garages. What's also evident is that technicians and garages are also looking to gain a level of understanding of what's involved so that they have the confidence to explain to a customer about why the cost of a standard maintenance job, such as rear wheel alignment, now carries an extra cost due to the additional calibration work."
Philip continued: "The perfect solution is the vehicle telling technicians that a calibration is required, much like a service indicator light works, but that's not always going to happen. Instead, through our training, we work to educate garages and technicians about all the potential scenarios, typically across four brands, that commonly require ADAS calibration. We're quite unique on that front, as we know some other courses major on a single brand, and we've benchmarked our course against them."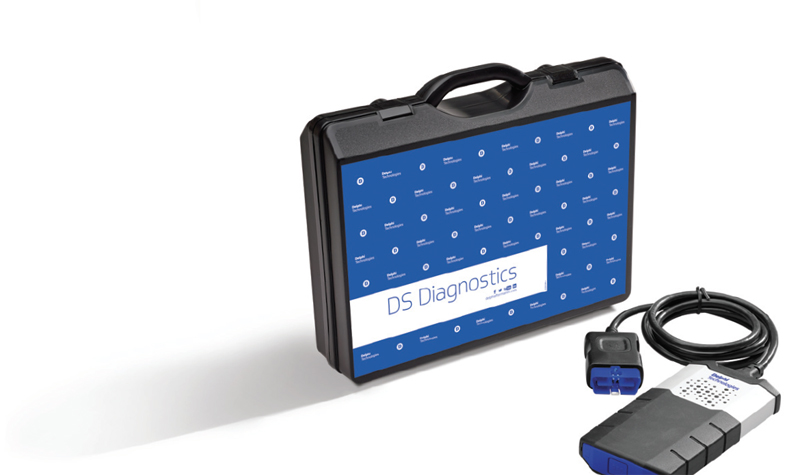 The Delphi Technologies ADAS course lasts two days. The content has been tailored to exceed IMI-accreditation requirements and provides delegates with the skills they need to understand and be able to recalibrate ADAS systems, beginning with an initial overview of the technology and culminating in a one-to-one practical assessment of the resetting of a complex 'bird's eye view' four-camera system.
The ethos of the course is to make it real, with only two hours taking place in the classroom and most of the training being hands-on. The course is available as a standalone module and forms part of Delphi Technologies' Master Technician training. It is delivered by Philip and two colleagues – both of whom have extensive industry experience – at the company's Warwick-based training HQ. The size of the equipment means delivering the course off-site can be awkward, but it can be achieved.
To help garages accomplish increasingly common ADAS calibration, Delphi Technologies has also recently launched its modular ADAS calibration kit. It works with the existing DS diagnostic tablet and software, and provides an initial provision for 284 models with camera calibration and 146 models with radar calibration.
Stay with the trend
Delphi Technologies believes that the number of independent garages able to offer ADAS calibration could be as little as 5%, but as Philip says, that is set to significantly rise.
Philip continued, "As the vehicle parc of vehicles with ADAS grows and becomes older, independents will have to be able to tackle calibration work to maintain business levels, but what will also drive the increase is the need to comply with industry regulation. For example, insurance regulation now stipulates that those completing ADAS repairs must be competent (IMI accreditation covers this), and calibrations must be carried out to manufacturers' specifications with evidence provided (Delphi Technologies DS diagnostics covers this).
"Crucially, it must be recognised that it will become an essential service and every garage needs to start working with this technology, not just because of the increase in demand, but due to garages' obligation to complete repairs that don't compromise the safety systems of a vehicle."
---
To find out more about Delphi Technologies ADAS offering, click
here
.