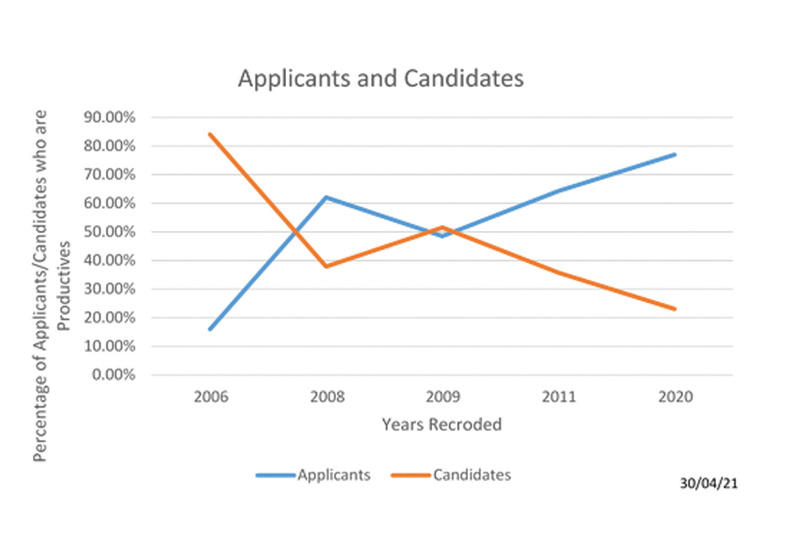 ---
Recruitment specialists Ingenia Recruitment investigate the ongoing skills shortage within the automotive sector.
---
Workshops have reached a critical stage due to an ongoing skills shortage disaster. The current demand for Vehicle Technicians is higher than ever before. Currently, 68.4% of our vacancies are for people who can fix things, and 65.4% of those are for Vehicle Technicians.
These shortages can be traced back to a lack of recruiting enough apprentices for many years, which was always going to lead to the current situation.
We often see CVs where people have very questionable backgrounds. This is due to companies having to recruit lower level skilled staff, hoping they can be developed to a satisfactory level. Unfortunately, many of these recruits do not reach the required standards and are moved on. As it stands, 68.4% of our current vacancies are for productives. In 2020 this figure was 47.3%, 21.2% in 2011, and in 2006 they made up 24.9% of our overall vacancies.
Reflecting on the demand for Vehicle Technicians, we looked at online website vacancies posted in the North East of England. Of the vacancies posted requiring productives on 29/04/21, 90.6% were for Vehicle Technicians. Although we are continuously receiving more applications for productive roles, the number of applicants that we interview is on a major decline. The reason for this is simply because these applicants are either not qualified/experienced or their skill level wouldn't meet client's requirements.
There are anomalies between 2008 and 2009 which clearly accounts for the recession in 2008.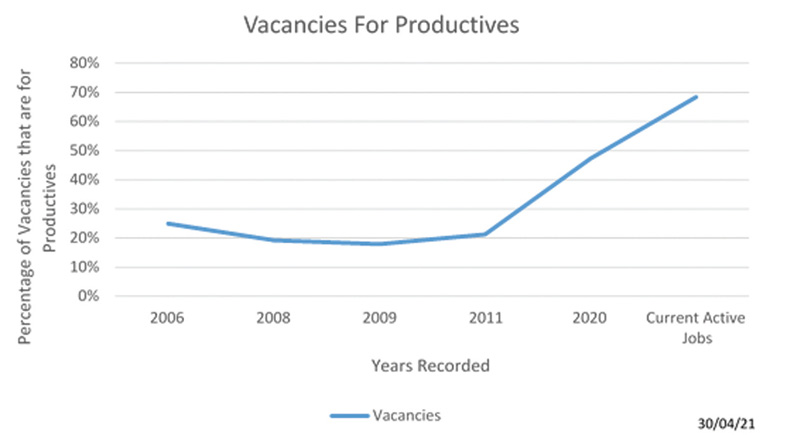 It is clear that the industry took a turn for the worst after the recession. In 2008, when we started to recover, companies should have recruited more apprentices then.
Steve Shaw, Director of Ingenia Recruitment, said: "We are in the midst of a dire situation, with no short term solution in sight. Recruiting apprentices now is the right thing to do, and indeed must be done; but due to their very nature they will take years to achieve the skill level of those Technicians we are losing. Recruiting and training semiskilled people could offer a partial solution, but once these people are recruited, they need a lot of training, mentoring, support and patience; things that we generally tend not to be very good at. Our current system of 'giving them a chance', throw them a service or pads and discs to replace and see how they get on, simply does not work. Most companies have resorted to increasing the wage for productives, but all this has resulted in is speeding up the merry-go-round with no net gain for the industry as a whole.
So, just how much is this impacting our industry? From information available, we know that there are around 21,500 independent workshops in the UK in 2021. We know that the average labour rate in 2020 was £47.47p.h. We have assumed a 40 hour week, an average time to recruit of 6 weeks, and that only 25% of workshops have a vacancy for a Technician. The total loss of income across the UK is in excess of £61M and that assumes that they only need one Technician."
---
Want to know more? For more information, click
here
.