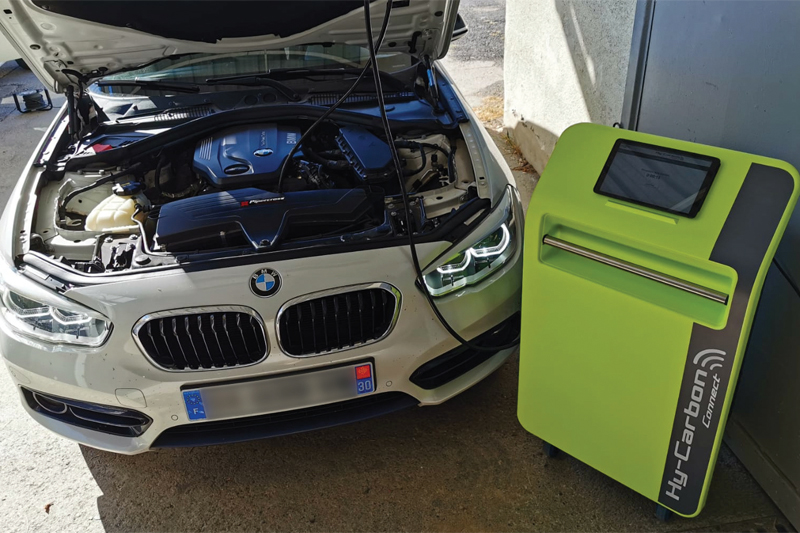 ---
PMM investigates the latest solution from engine carbon cleaning specialist, FlexFuel: Hy-Carbon Connect.
---
The beginning of March sees FlexFuel Energy Development UK (FFEDUK) launch its latest engine carbon cleaning via hydrogen injection machine, Hy-Carbon Connect. The system is fully automated, intelligent, digitally connected, and is claimed to be the only carbon cleaning machine that includes integrated diagnostics.
By using hydrogen gas, the machine is able to break down the carbon deposits that are responsible for low returning fuel economy, reduced power, increased emissions and the premature failure of engine parts.
Connected technology
The engine cleaning process is entirely chemical free, and simply requires deionised water to produce hydrogen gas that acts as a natural solvent on carbon. However, it is the system's digital technology that separates it from the competition. The Hy-Carbon Connect station comes with a touchscreen, which acts as a wireless user interface, and through its automated functionality, has the ability to analyse a vehicle's state of health, presenting the number of miles driven, fault codes and driver habits.
Over time, the system is able to learn the characteristics of engine makes, fault codes, models, age, and the number of miles driven from the other machines in use around the world. The more data on engine types it collects, the more targeted the cleans become.
Put simply, the machine is said to get better the more it gets used, forming a better understanding of the treatment specific engines will need.
Connected control
Through its OBD connection, Hy-Carbon Connect is able to establish automatic control of the engine and its key components, allowing engine parts to be automatically 'set in motion'. Once the treatment has been completed, the system produces a treatment report showing levels of carbon build up in the engine pre-clean and post-clean. Additionally, automated emails and SMS reminders can be sent to the customer every 12 months or 15,000 miles, whichever comes first.
Connected network
Since coming to the UK in 2018, FlexFuel has established 300 garage partners. One such garage partner is Neil Chapman, Owner of Offmore Road Garage in Kidderminster and one of the very first adopters of Hy-Carbon in the UK.
He commented, "I have been a FlexFuel customer for nearly two years. In only a few months, I could see that this would be the most profitable machine in my workshop. It is near autonomous; it does not take a technician away from other jobs and can be left to run in the corner of the workshop. Importantly, there are no consumables or chemicals, which reduces running costs and stops toxic emissions associated with traditional chemical engine cleaning. The feedback from customers has been fantastic to date.
"I have a strong service customer base, and many are now having an engine clean as part of their annual service plan. They are all reporting improved mpg, better engine performance and generally smoother running. At a curative level, it is being used on sticky EGRs, turbos and blocked DPFs. For vehicles failing emissions on their annual MOT test, it is also proving to be highly effective in reducing emissions and ensuring a successful pass."
The Hy-Carbon Connect is available to the UK from March 1st at a monthly cost, but is being offered at a reduced rate to the first 1,000 customers to sign up. Alongside the machine, FlexFuel also provides full training, a full marketing pack, five-year warranty and continued ongoing support whenever required.
---
To find out more about Hy-Carbon Connect, click
here
.