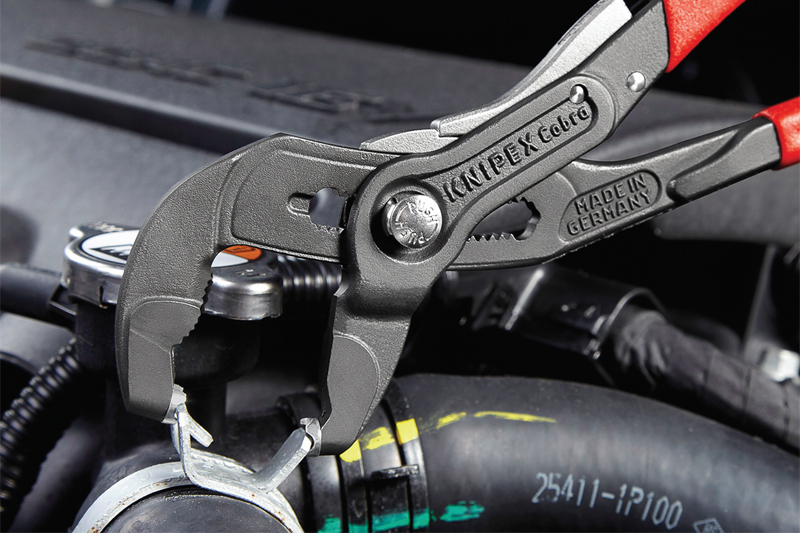 ---
David Barnes, Knipex UK Marketing Manager, looks at the latest trends in hand tools for professional automotive technicians.
---
It would be easy to think that pliers have not changed all that much over the years. However, innovations and new features are designed and incorporated into tools on a regular basis to save time and effort for mechanics. Today, tools have to be more robust than ever, providing reliable performance and, depending on the job, extended tips to get into hard-to-reach areas, or specially designed joints to make the pliers even more user friendly.
New tool designs for the automotive industry are developed, in Knipex's case, by a team of dedicated designers and engineers in state-of-the-art workshops at the headquarters in Wuppertal, Germany. Looking closely at the applications the tools are used for, as well as any changing working practices, our designers are working hard to make repair processes easier for professionals.
Fit for precision
Specialised tools, such as precision circlip pliers, are a popular choice in the workshop. The pliers hold the circlips firmly in place thanks to a large contact area and tips that point outwards, with an inserted spring steel tip providing a tight fit on the circlip, capturing it.
A neat feature is an adjustable stop screw which prevents the overstretching of the circlips, meaning there is little damage and you can reuse the clip. Using this feature, you can also set the diameter just once and then work on a series of circlip removals or additions without any stretching or damage.
These pliers are also very tough and durable, so they can be used over and over again, giving mechanics and engineers reliability, too. The Knipex assortment of circlips ranges from 1 to 300mm in diameter.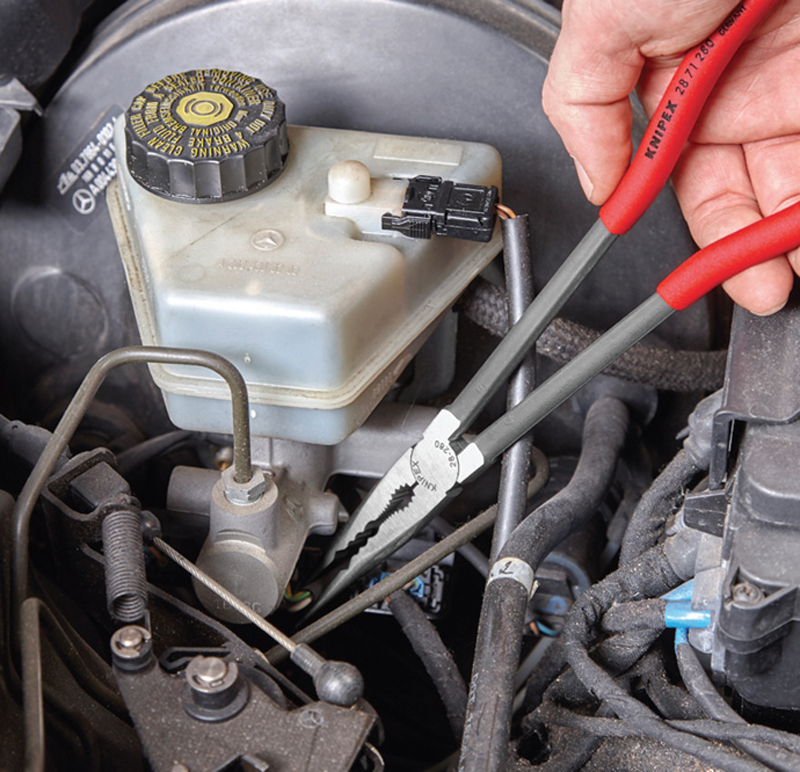 Intricate options
For the more intricate workshop jobs, long reach needle nose pliers can be invaluable. These are especially suitable for gripping, and work where a higher prehensile power is needed in hard to reach areas. Knipex produces versions with transverse profiles that offer careful yet reliable gripping, holding and guiding of small copper pipes, screws and cables, as well as other round parts thanks to milled grooves with smooth surfaces. The head of the pliers even has versatile gripping zones for different tasks, including a serrated pipe grip, a wave profile for smooth surfaces or gentle gripping, holding and guiding, a section for gripping angular components and at the tip, slim, half-round tips.
Intricate jobs can also be carried out with compact tools such as the Cobra XS, reportedly the smallest pump pliers in the world with full functional capability, measuring just 100mm long. The tool can adapt to eleven adjustment positions and grip nuts up to 24mm in width. They also look great, and tools like these are becoming more sought after as professionals look for improved ease of use and functionality. The size of these pliers means that they can fit into the tightest of spaces to get the job done and can be kept in workwear for easy access.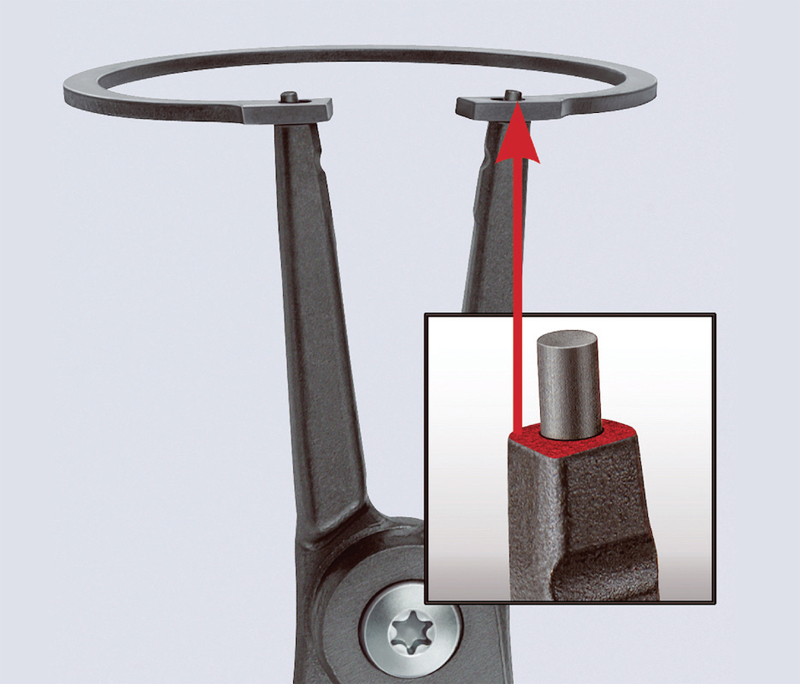 Power potential
Even though innovation in hand tools is alive and well, one feature that has always been essential is power. For instance, the high leverage diagonal cutter has high cutting capacity for tackling really hard materials.
The precision cutters are additionally induction hardened to give them even more strength. In fact, these will require 20% less energy compared to conventional diagonal cutters of the same length. The tool also has an integrated forged joint axle to withstand the toughest, constant use. Much like the circlip pliers, the tool is available in different grip and shape versions.
Gaining leverage
Working on clamps is a common practice for mechanics, and the spring hose clamp pliers is a single tool suitable for standard, space-saving and wire clamps, and for spring band clamps up to 70 mm in diameter. The pliers feature rotatable, universal grip inserts for reliably gripping the clamps in all positions, providing extremely good leverage, which allows clamps to be opened easily without great effort, especially in confined areas.
Some of the application areas where the pliers come into their own, include air intakes, cooling, charged air, water return flow, thermostat, fuel and heating. It is a very versatile tool and a must for workshops.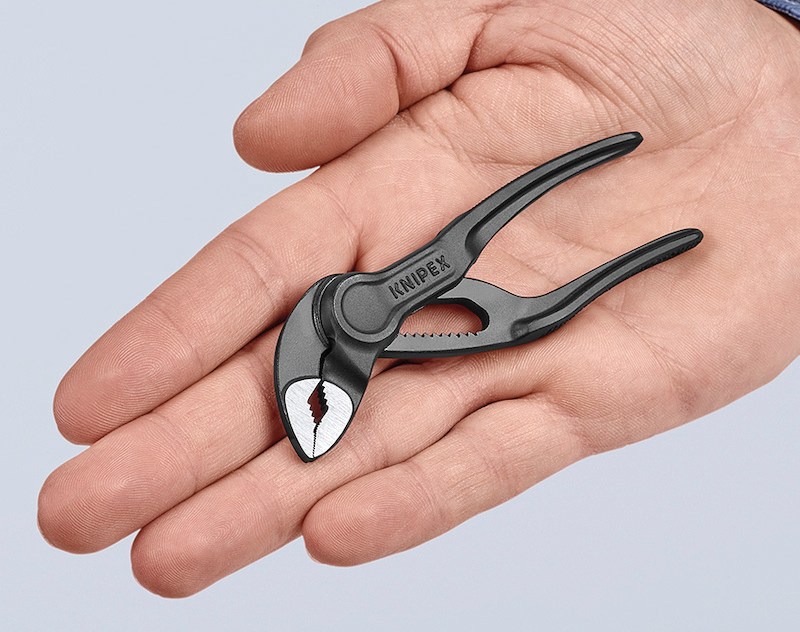 See them in action!
To see how the tools mentioned in this article perform, follow the links below:
---
For more details, click
here
.