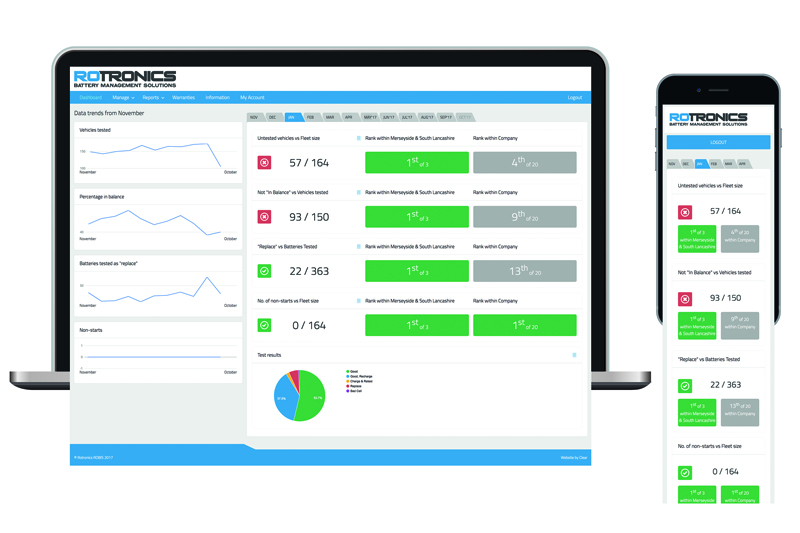 ---
Battery problems remain the top reason for non-starts, and 40% of vehicles entering a workshop have batteries that require attention. To help workshops save money and provide better customer service, Rotronics has developed ROBIS, a web-based dashboard and reporting system that collects and analyses battery test data using its EXP battery testing platform. This system may be of particular interest to those workshops that carry out regular fleet servicing.
---
ROBIS works in conjunction with the Rotronics testing and charging programme, and users simply upload the tester's SD card data on to the portal each month. To help workshops save businesses money, ROBIS has been developed to collect battery and electrical data across national/regional workshop sources and can update software from multiple sites. Using ROBIS, teams can now access clear measurements for battery performance and workshop technicians have a powerful measurement tool that will ensure that they can closely manage their processes and budgets.
What will ROBIS do for your business?
According to Rotronics, ROBIS will help workshops that carry out fleet work save money and reduce their battery budgets by reducing roadside defects. There will also be increased opportunities for sales and service through proactive testing. Your warranty processes can be streamlined as ROBIS provides under-the-microscope data regarding battery performance. The system will deliver proven ROI, says Rotronics, supporting your workshop battery management programme, and will provide uniform testing practices across your business.
ROBIS will also increase customer satisfaction and reduce potential lost mileage claims or missed delivery penalties for those workshops that deal in local fleet work.
Ken Clark, Managing Director of Rotronics, says: "ROBIS will be central to helping technicians evaluate exactly how batteries perform. This is a great tool to help reduce unnecessary battery-related costs in a workshop budget.
"Our customers have been extremely positive so far; they are amazed by the level of data and information that can be extracted from our battery management process. ROBIS will show real-time cost savings in the proactive use of the Rotronics battery management programme."
Internet access is required and users will receive a personalised, secure login which will give multiple user access to the dashboard, reports, warranty management and the regional/national statistics of their vehicles. The dashoard works on any PC, tablet or mobile phone device and gives instant access to current and historical workshop testing results and analysis.
Key features of ROBIS
■ Centralised dashboard showing regional and national KPI output of workshop battery test performance.
■ Early detection of vehicle and battery related performance issues.
■ Instant online access to current and historical workshop battery test results.
■ User uploadable fleet information list to enable vehicle performance and trend analysis.
■ Tracking of equipment usage across multiple locations.
■ Auditing of technician input, to measure and identify any training needs required.
■ Delivery of continuity across the business, with KPI dashboard measuring key deliverables.
■ Centralised database enabling visability of all data, without risk of data loss.
■ Highlight battery performance issues and trends, to understand the qualiity of the batteries you fit to your customers' vehicles.
■ Active warranty management reporting processes, enabling semi-automated warranty process.
■ Multiple reporting sofware, enabling numerous bespoke reports to be produced.
■ Proven ROI capability, enabling measurement of success versus impact of non-compliance.
■ Personalised database with company logo.
---
For further information from
Rotronics, click here.