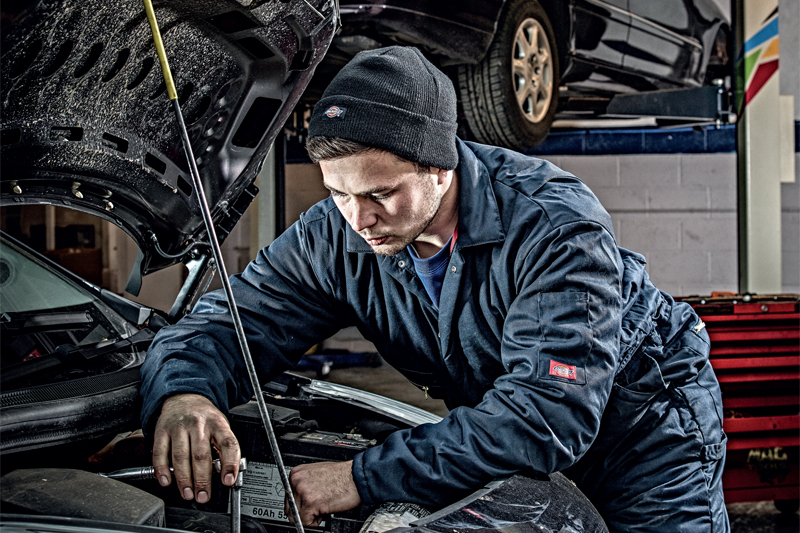 ---
James Whitaker, Marketing Director at Dickies Workwear, shares his top tips on choosing workwear that's right for your business.
---
Workwear has evolved dramatically over the century since our company was first established in 1922. Advances in technology mean the quality of what's on offer these days is better than ever, but there's also been a real shift in what tradespeople demand from their clothing and footwear.
Functionality, durability and affordability are naturally top priorities, but many of today's automotive technicians also demand workwear that helps them to cultivate a professional image.
With so many considerations – and so much to choose from – knowing where to start can prove daunting. Here are my tips on what you need to think about before buying your next item of workwear.
Start at the bottom
If there's one item that's really worth investing in, it's what you wear on your feet and the variety of footwear currently available means you can find something that's truly fit for purpose.
As most mechanics spend much of their days bending or kneeling, look for a flexible shoe or boot that doesn't feel too heavy. Go for lightweight options, which provide foot protection without the weightier feel of traditional steel toe-capped footwear.
Look for safety footwear bearing the S1 classification, which includes resistance to fuel and oil. Also look for a slip resistant outsole – SRA slip resistance helps to prevent slipping on a ceramic tile surface, while SRC covers steel flooring.
A wardrobe must
Most mechanics opt to work in overalls, with coveralls being the most popular item. When shopping for your next pair of coveralls, think about the range of movement you require, as well as the image you're trying to create at work.
It's perfectly possible to find something fitted and smart, which also allows for plenty of movement and flexibility – look for features such as an elasticated back. Further practical features to consider are the number of pockets you're likely to find useful and whether a lined option is better for colder times of year.
Hi-vis styles offer extra visibility when working in dark conditions, and there's a good selection of flame retardant coveralls on the market for those who need that level of protection.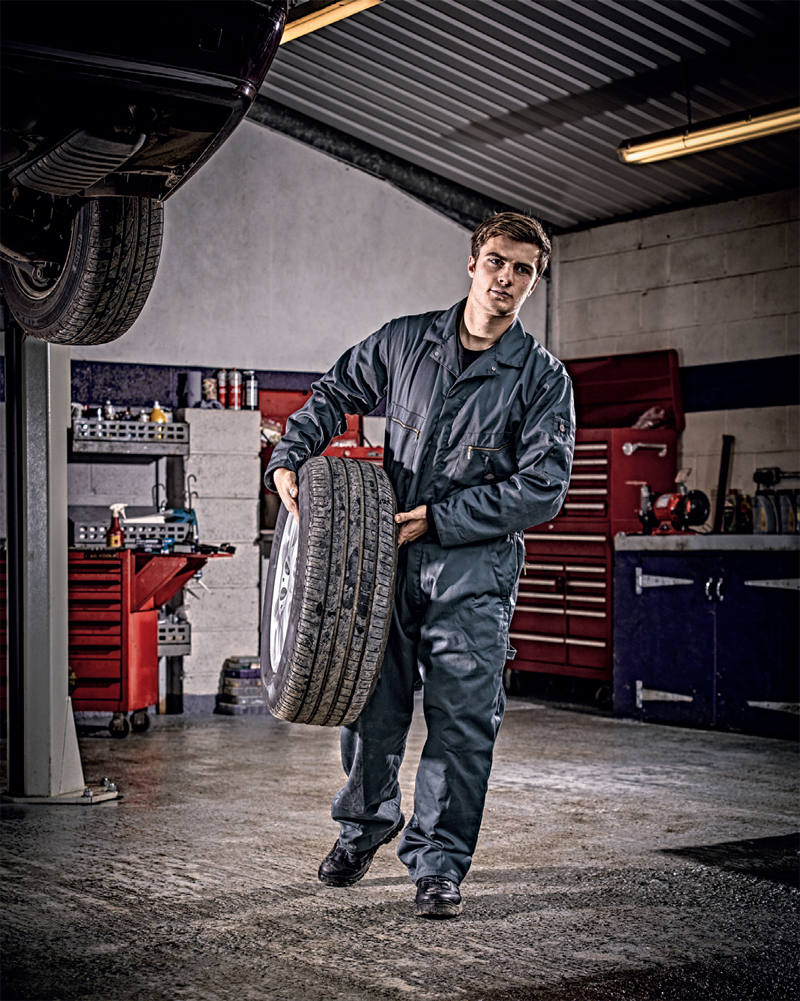 The right trousers
Just as you would look for flexibility in your overalls, any tradesperson who spends a lot of their day kneeling or bending needs trousers that accommodate this, without being restrictive or losing their shape. Features such as as stretch-back waistbands and side panels provide an ergonomic fit, offering comfort and movement.
Again, look for practical details such as plenty of pockets and consider options incorporating hardwearing fabrics that allow the trouser to 'grow' with the wearer throughout the day. Trousers with kneepad pouches are a must for those who spend any time working on their knees in a typical day.
Tips for tops
From everyday essentials such as a simple t-shirt to a smarter polo shirt, there are plenty of tops to choose from on the market.
A key consideration for tops in particular is breathability, especially during the summer months. Look for fabrics such as Coolcore, which wicks moisture away from the body. As long as Coolcore is wet, it will keep on cooling and, as it's chemical free, its benefits won't wash out.
During colder months, a long-sleeved thermal base layer will go a long way to keeping you warm, and many options available today can also be worn as a top in their own right for added versatility.
Final pointers
It may sound obvious, but make sure that none of the garments you're wearing have any exposed metal so that you don't accidentally scratch the paintwork on the vehicle you're working on.
If you're buying workwear for a team, go for ranges that can be easily coordinated as a company uniform, including the option to customise through the addition of a logo.
By thinking about the practical features you need – and the image you'd like to create while doing so – you can create a working wardrobe that supports you while you focus on doing your job well.
---
For more information on Dickies Workwear, click
here
.