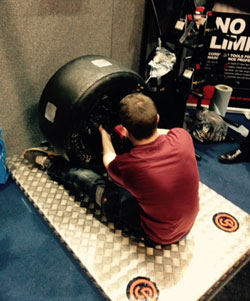 Chicago Pneumatic, a quality leader in high-performance air tools since 1901, has introduced a new range of cordless tools that it claims will deliver more power and a longer runtime. The new impact wrenches, impact driver and drill drivers offer superior power and battery performance to meet customer demand for increased productivity, durability, ease of use and mobility.
What's on offer?
The powerful and efficient CP8848 1/2" impact wrench is the perfect companion for automotive professionals and represents the flagship product of the series.
The tool boasts a custom-designed motor and durable gearbox which provides a powerful 775 ft-lbs (1,050 Nm) of reverse torque, and only weighs 6.9 lbs. (3.1 kg).
Completing the assortment are the compact CP8828 3/8" impact wrench, the lightweight CP8818 1/4" impact driver, the strong and versatile CP8548 1/2" hammer drill, and the ultra-compact CP8528 3/8" drill driver. They each deliver superior power and torque.
The cordless range delivers the power and performance of an air tool while providing the mobility of a battery tool. Ergonomic handles and strategically placed switches guarantee ease of use while tool components and housings have been engineered to ensure maximum reliability and durability for increased tool life.
Battery will get you everywhere
The advanced technology of the 20-Volt CP20XP and 12-Volt CP12XP Lithium-ion batteries provide features that are not typically found in these types of tools. The 4Ah (CP20XP) and 1.5Ah (CP12XP) rated batteries give the operator more power as well as an extended runtime that can be up to twice that of some conventional products. The shock resistant and durable batteries slide smoothly into the tools' cradle and are released via a quick release button. They feature triple protection circuitry and individual cell monitoring to protect and prevent overheating and overloading during extended periods of use. An easily visible charge gauge provides accurate battery level to help minimise downtime.
All CP cordless tool packs come with two batteries and a charger. In addition, the company offers a range of genuine accessories to accompany the range – from drill bits to impact wrench sockets.
Find out more about this fantastic new range at MECHANEX Sandown Park – Stand F6.
Registration is simple, visit http://www.mechanex.info/ or call 01923 237799. For all the latest news and info on upcoming shows, follow @MechanexShow.