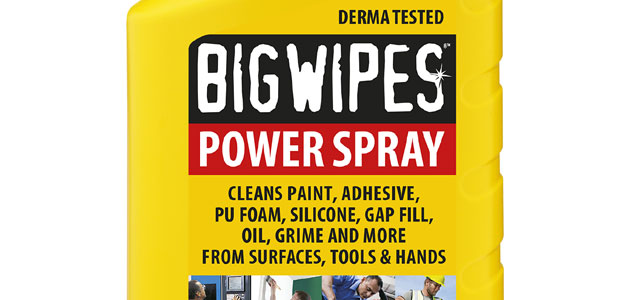 Big Wipes is on a mission to clean up the nation, and to get even closer to the action the company has sent a team of grime-busting vans out on the road to help busy tradesmen scrub up nicely!
Bright enough to make even the most dedicated white van man turn yellow with envy, the colourful Big Wipes vans will be heading to trade shows  all over the country, with a mission to get tradespeople and their tools cleaned up quickly and efficiently. 
With four powerful cleaning agents, Big Wipes 4×4 industrial cleaning wipes are both tough on grime and kind to hands. They can shift all modern construction sealants, adhesives, paints, coatings and grime in an instant. The 4×4 formula also contains four of the world's greatest skin conditioners: Aloe Vera, Lanolin, Vitamin E and Glycerine – which all help to nourish and protect the skin.
"Big Wipes 4×4 clean up hands and tools quickly and easily without the need for water," says Nigel Dibbo, Managing Director. "Our vans will be touring the nation to show the trade how Big Wipes 4×4 can remove even the most stubborn grime while protecting their most important tools – their hands."