---
It can be hard to garner trust and confidence when working as a mobile technician. Customers can be put off by the lack of a permanent business premises and the possibility that if the work is not done properly, the technician could simply avoid contact once they've been paid. Stephen Dennis, Owner of Dennis Automotive Services, is fighting to prove that quality is worth paying for. Here, PMM finds out his story, and how using Checkatrade enabled him to build his mobile business.
---
Of course, good work builds reputation and there is nothing like word of mouth, but building a strong base of repeat customers takes time. The question is: how do you quickly build a client base without resorting to working for next-to-nothing?
Essex-based Dennis Automotive Services has found a way to enhance the word of mouth process while maintaining a profitable pricing structure, thanks to Stephen's good work in marketing himself on Checkatrade. In just over a year, Stephen has built a 10/10 rating on Checkatrade – receiving 40% of his bookings through the trade directory from new customers.
The company specialises in servicing and injector removal, which makes up the bulk of its work. By heading out to the customer's place of work or home, Stephen can give the maximum convenience to his clients. However, this above and beyond service can sometimes put a strain on Stephen, and he recalled, "I was having some trouble with time wasters, people who wanted everything for nothing – something I'm sure every other technician experiences. It can take a lot of time to travel to jobs, so it's much more of an issue for a mobile mechanic than a more traditional garage set up."
Stephen found that customers were often trying to drive down prices, citing competition from other mechanics, his lower overheads, and trust. When he decided it was time to grow, he purchased a new van and listed his business on Checkatrade. Stephen commented, "I wanted to expand, and I felt cutting out this wasted time would help me do that. My online profile means I can be more selective with jobs – I turn down a job a day on average because I can't make it worthwhile for the customer or myself.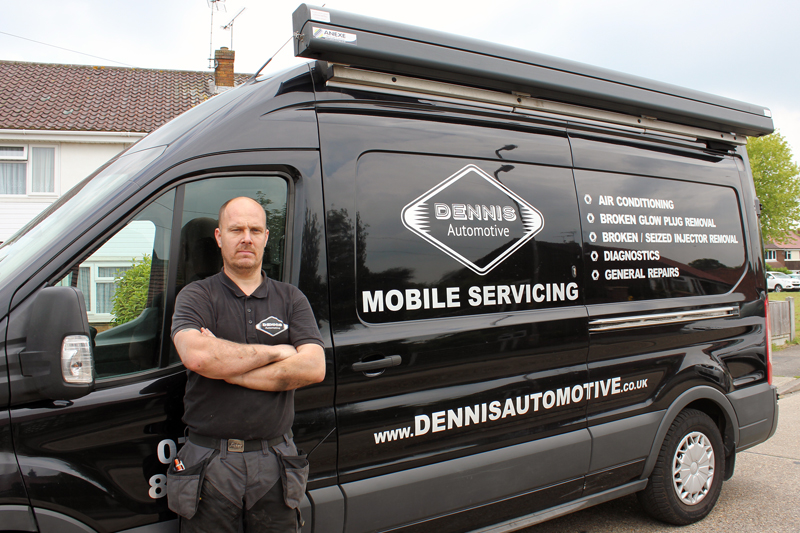 "This allows me to work for people who are willing to pay a fair price for good work and means I can offer the best service possible and continue to build my online reputation. Checkatrade has created a bank of trusted reviews that I can refer to."
Unlike other platforms which involve bidding for leads – creating a race to the bottom in terms of price – Checkatrade claims to be a reputation builder which encourages potential consumers to approach tradespeople based on the portfolio of work and reviews they have built up online. Customers are aware that to become a member, tradespeople have to pass a vigorous vetting process. More than 4.3 million reviews have already been posted to the online directory, offering honest and trusted feedback to the tradespeople – there's a reason Checkatrade has an 'excellent', 9.1 TrustScore rating on Trustpilot.
---