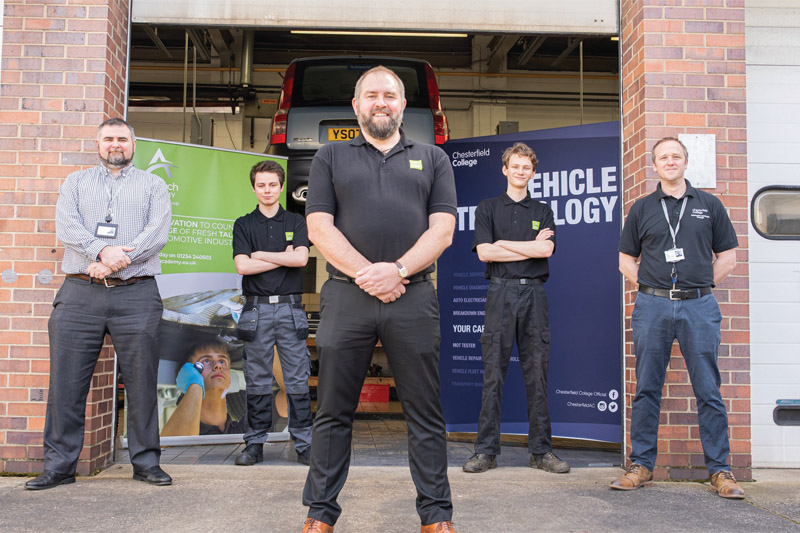 ---
Safeguarding the future of the repair and maintenance sector has been a concern for many years. The problem is one of industry reputation and finding the young people to become the technicians and service advisors of tomorrow. Autotech Academy believes that it may have created the solution…
---
Since its launch at the start of the year, Autotech Academy has been cited as 'the missing link' between colleges and the automotive aftermarket. The initiative was developed to not only create a steady stream of new talent for the industry, but to cut the number of college leavers finding employment within other sectors because they struggle to secure a role within the automotive industry after qualifying.
While armed with the theoretical knowledge, college leavers often lack practical experience to hit the ground running – which can be a deterrent to many time-poor garage owners and fast fit company managers. Autotech Academy created an internship solution to overcome this recruitment bottleneck, and effectively 'ease the pain' of recruiting skilled staff.
Part of the push with this new initiative has seen business trainer and former garage owner, Andy Savva, a.k.a. The Garage Inspector, join the board of directors. A vocal advocate for ensuring a stream of well-qualified, young technicians come into the garage sector, Andy will be lending his experience and knowledge to help further this project.
Andy explained, "When I have crossed paths with Autotech Group in the past, it has always been very clear to me that we are singing from the same hymn sheet. Together, we have often discussed the seriousness of the skills shortage within our industry and how we could work to plug the gap. With Autotech Academy and the internship programme, we might just be able to start solving the problem."
Workshop experience
There is no escaping the fact that garages, managing busy service schedules, need highly skilled, experienced technicians. They know the need to create opportunities for younger, less experienced technicians is vital to futureproof their businesses, but without the right college connections, the process can be arduous.
Consequently, the concept of Autotech Academy has piqued the interest of garage owners. A low-risk solution, the Academy team, who are well versed in screening vehicle technicians through Autotech Group's recruitment division, work with colleges to identify the right person with the right qualities and skills before they are put forward for an internship. And, from day one, the intern will be equipped with the right tools and workwear to immediately start work.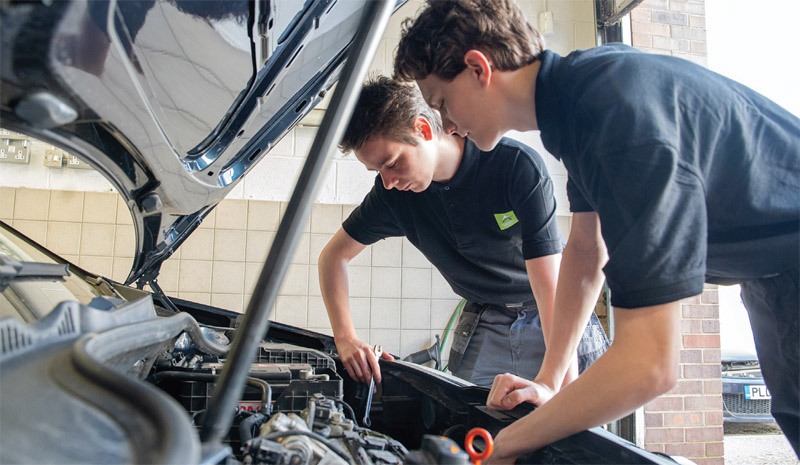 Internships will not replace apprenticeships but complement them, a message Autotech Academy is keen to address: "This is a misconception at both college and garage level," comments Gavin White, CEO of Autotech Group. "With apprenticeships, garages have a young person with no qualifications, who will need weekly day release to attend college. An intern will be over 18 and hold at least a Level 2 automotive qualification, and they will be a full-time employee."
Andy was quick to reinforce this point: "We're not trying to take apprentices away from colleges. What we want to do is work with colleges to enhance the skills of their qualified leavers and offer them a channel into the working world."
High quality training
Interns will receive training, delivered through either a vehicle manufacturer's own training facility, or through an equivalent OEM such as Bosch, and Level 2 or Level 3 IMI accredited electric/hybrid vehicle training.
Gavin continued, "This is training which all vehicle technicians need, regardless of years of experience, to keep up with ever-evolving vehicle technology."
In the coming years, the programme will look to incorporate business skills seminars, delivered by Andy, to those that sign up for the internship through Autotech Academy.
Ranging from lessons in leadership, to how to stay on top of finances, the intention is to prepare these young technicians for not just the next rung on the ladder, but instead a long and fulfilling career within the automotive industry.
Already gaining traction
Since its launch, many industry organisations have thrown their weight behind the initiative, including Teng Tools, the IMI, Bosch, the IAAF and the NTDA, demonstrating the growing belief that Autotech Academy will fill a void within the sector.
Gavin concluded, "We have already announced the fact that we are working with Chesterfield College, and while we are in talks with other colleges, we are also frequently contacted by students who are keen to get their foot on the ladder."
---
To find out how you can get involved with Autotech Academy, click
here
.