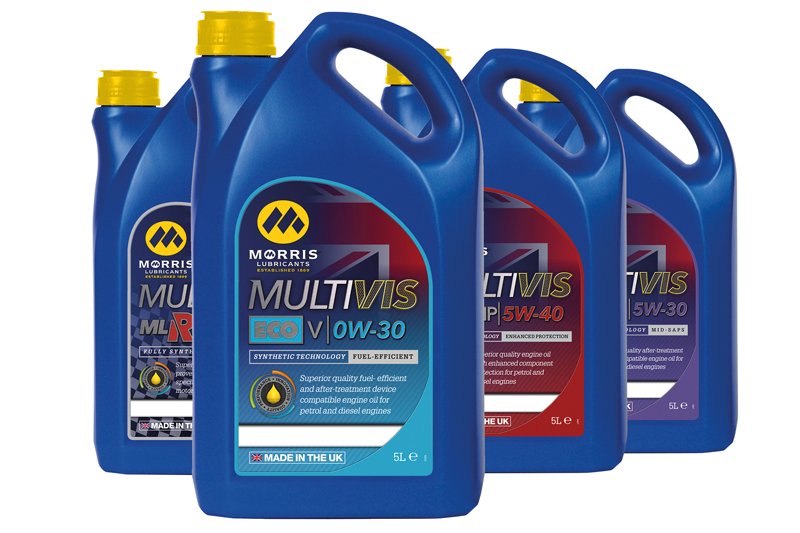 ---
Morris Lubricants, one of UK's leading independent lubricants blenders, has updated and restructured its range of quality automotive engine oils to drive forward continued growth within the automotive sector.
---
The company's automotive engine oils have been consolidated under the Multivis banner and are designated into three generational tiers – ECO, ADT, CST – which capture the latest innovations, technologies and specifications.
The company says the progressive move brings the product range in line with major competitors and gives the Multivis brand maximum trademark protection in more than 80 emerging and competitive international markets.
The latest in a series of progressive steps taken by Morris Lubricants to strengthen and professionalise its product range in the competitive automotive market, the rebrand builds upon the company's positive work within franchise dealership networks, motor factors and independent garages.
Multivis ECO products promote ecological benefits – these oils are formulated with a low viscosity profile that contributes to reduced internal friction and improved fuel efficiency. In turn the engine produces less CO2 emissions, minimising environmental impact and are after-treatment device compatible for petrol and diesel engines.
Multivis ADT products for use with after-treatment device technology – these oils are formulated to be fully compatible with all after-treatment device technologies, including Exhaust Gas Recirculation (EGR), catalysts, Diesel Particulate Filters (DPF) or Selective Catalytic Reduction Systems (SCR), also known as Adblue.
Multivis CST products use conventional SAPS technology – these oils have a specification profile designed to satisfy the performance requirements of older engines that do not incorporate after-treatment devices. The oils are designed to combat the effects of EGR and are also catalyst friendly.
The company has taken a number of steps to assist customers with the transition to the new branding structure. Part numbers will be retained across all existing grades and packaging sizes. New barcodes have been applied across one and five litre pack sizes, to assist with stock rotation. All 25 and 205 litre packaging contain previous names to assist with familiarity for when being used within the workshop. The company's online lubricant selector tool www.whatoildoineed.com also contains previous names to assist customers with the consumption of current branded stock.
Explaining the thinking behind the rebrand, Morris Lubricants' automotive products manager Adrian Hill said: "The increasingly complex automotive engine oil formulation and rate of innovation called for a new naming and coding structure that provides both longevity and consistency to the range.
"Because of the emergence of clear generations of new lubricant technology, it's a good time to put the oils into generational tiers where there is a shared technology element. Hopefully, the new names given to the different generations of products will make it easier for customers to know where the oil can be used. It will also be easier to add new products in the future as we now have an enhanced formula in place.
---
For further information from
Morris Lubricants
, click
here.