---
We are used to hearing warnings about battery failure in the colder months; as the temperature drops, battery failures start. However, the damage is not caused by the cold – that's just the trigger. Lack of ongoing maintenance and increased pressure on batteries from onboard electronics are the big factors that lead to a damaged battery. Therefore, it's a good idea for battery checks to be included in year-round services and checks – and Ring claims to have just the kit to help make battery analysis quick, easy and useful for you and your customers.
---
Under pressure
The way drivers use their cars has changed, and as a result, car batteries are under more pressure than ever. The average battery life has become shorter, as energy required for on- board electronics has increased, car trips have become more frequent and shorter, and cars are left unused for longer periods of time.
When they aren't being used, batteries naturally self-discharge. These days, the average car spends about 80% of the time parked at home, is parked elsewhere for about 16% of the time and is only actually in use (moving) for the remaining 4% of the time. It takes roughly eight hours of continuous driving for the alternator to fully charge the battery. Therefore, if the battery infrequently receives a full charge from a long drive, strong crystalline deposits can form on the negative plates and consequently prevent the battery from charging properly. This process, called sulphation, will begin occurring when the state-of-charge is less than 100%. 80% of all battery failure is related to sulphur build- up on the plates, causing the battery to die.
As well as cars being used for shorter trips, the power demands on the battery have changed over time. The battery is designed to supply a sudden burst of power to the ignition, not for providing energy for electronics and other devices for a prolonged period, which is increasingly how car batteries are being expected to perform. Besides, the alternator generates electricity and charges the battery when the engine is on. So, operating lights, radio, charging phones and other electronics when the car is idling puts unnecessary pressure on the battery and can damage it in the long run.
The cost of a replacement battery could be high for a customer, especially as more and more vehicles have stop/start technology. In fact, 90% of vehicles manufactured in 2019 will be fitted with AGM or EFB battery types, and by 2020, 30% of those will enter the independent aftermarket, equating to around 900,000 vehicles. A replacement EFB or AGM battery can be a costly repair for drivers, and with only 30% of batteries currently sold lasting over 48 months, a lot of drivers will have to pay the price.
Quick, thorough checks
All these factors suggest that a battery check could help prevent a breakdown at any time throughout the year. There's a simple way to carry out tests that present the full picture of a battery's health.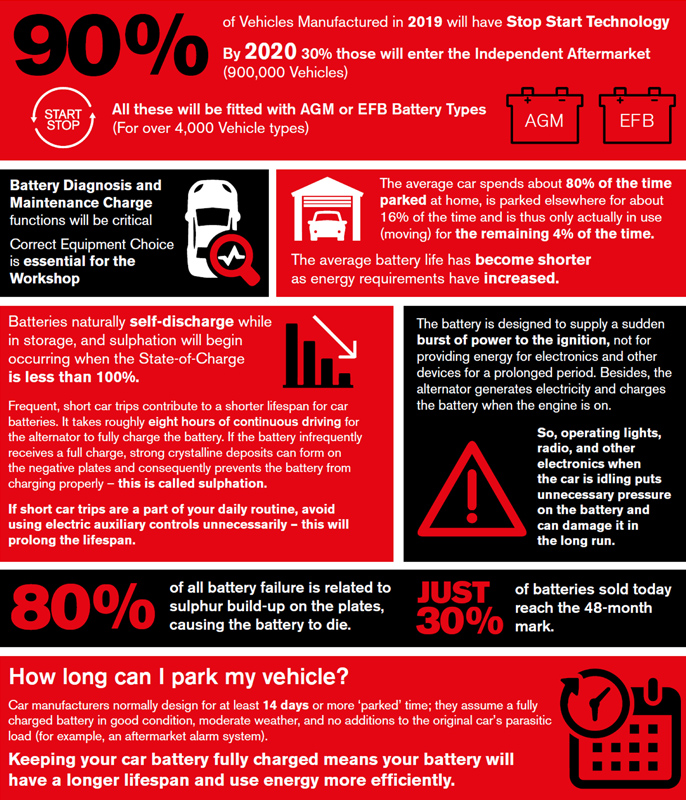 With a single piece of kit, you can offer a comprehensive battery analysis to help put a driver's mind at rest or spot any problems quickly. The Ring RBAG700 Battery Analyser is a comprehensive battery analysis tool that not only performs a range of diagnostic tests, but is easy and quick to use.
The microprocessor control can analyse and test the battery capacity without applying a load, providing fast, accurate results on batteries up to 1700CCA. A low range setting is also included for testing motorcycle batteries. Batteries can be tested in or out of the vehicle and reverse polarity protection is built in.
RBAG700 will not only test the battery cranking performance, but also the alternator (including a diode ripple test), starter and earth system, providing a complete health check of the battery system to help mechanics diagnose potential faults.
Its intuitive graphical interface and integrated printer make it simple to share results with colleagues and customers. As well as the instant print out, a full report can be produced via the PC link and custom icon-driven software. This software enables the printed reports to be customised to show the garage and vehicle details.
The unit tests a broad range of vehicle batteries, including lead acid, gel, AGM, EFB and calcium, as well as start/stop and smaller motorcycle batteries. Temperature compensation gives more accurate results, and it includes alternator diode ripple test function. It can store up to 80 vehicle's test results at once, allowing multi-vehicle testing before downloading data, which makes it ideal for large dealerships and workshops.
---