---
EDT Automotive tells PMM what it has to offer UK garages, and explains its partnership system.
---
EDT Automotive says it is rated as the number one car care service company on Trustpilot, with a five-star 9.9 out of 10 rating. On top of this, the company is the sole supplier of the engine contaminant extraction system in the UK. David Homes, CEO of EDT Automotive said, "We chose Trustpilot as it is the most significant independent customer review site, helping us to differentiate ourselves from our competitors and receive unaudited live customer feedback."
The business
EDT claims that its partners have a clear understanding of the company's ability to generate profit, and that its offerings aren't an extra cost to their business; they add to their bottom line and subsequently improve customer satisfaction. The EDT system gives garages something in their armoury that no other business local to them can offer, helping them maintain the advantage over their competitors.
The customer relationship
EDT claims that its customers are its passion; they motivate the team to exceed their expectations, and ensure they leave the business happy and with a smile on their face. EDT's partners want to deliver the best possible service using the latest technologies available to them. Proactive garages like Regency Autos in Cambridge, Strathearn in Aberuthven, and Jackson Phillips in Leighton Buzzard are successfully promoting EDT's advantages, and Bartons Garage in Devon even includes an EDT treatment with every service, as it fully understands that the customer deserves the enhanced benefits of a treatment that standard servicing alone will not provide.
Forward thinking
The industry is forever changing, and EDT knows that its partners assess where their business stands and what is needed going forward to constantly evolve. Motorists are keeping their cars for longer, so garages are needed to maintain them. Along with the more stringent MOT regulations on emissions, diesel MOT emissions are worrying the diesel owning public, and MOT failures for emissions are becoming more commonplace.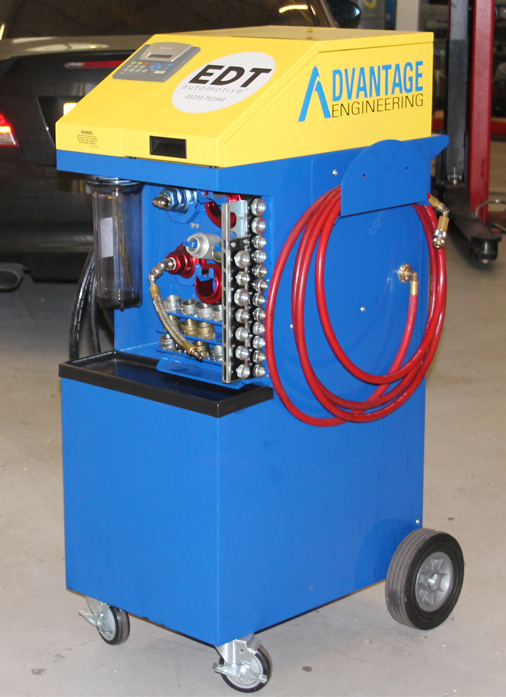 The EDT system removes the abrasive particulates from the oil system that cause engine wear and premature engine failure, and in doing so, it protects and extends the life of the engine, allowing customers to keep their cars on the road for longer.
Become a partner
EDT is looking for likeminded partners across the UK who are keen to offer something completely unique. With no capital outlay or onward consumables costs for the carbon-busting system, EDT offers partners a pay as you use model, working closely with each garage to get them into profit within the second month.
According to EDT, its services provide customers with fuel savings of up to 26%, reduced emissions, restored power of up to 6 BHP, improved torque of up to 7ft/lb, extended engine life and enhanced driveability, with a smoother, quieter and more refined delivery of power.
The system works by heating and pulsing a light mineral oil in and around the oil system, breaking down the carbon, sludge and harmful residue that conventional servicing leaves behind, then vacuuming from the sump via a one micron filtration system, leaving the engine oil system clean and ready to receive its new oil.
---