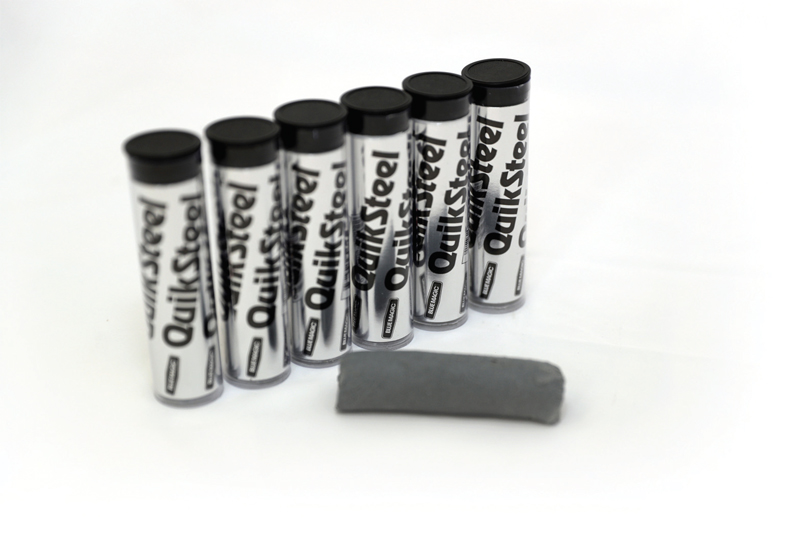 ---
Kalimex, the European distributor of QuikSteel, presents real-world examples of when the much-loved epoxy putty has really come into its own and helped technicians remedy all manner of leaks and repairs.
---
QuikSteel is an industrial strength epoxy putty that bonds to any hard surface. It is said to be used by thousands of mechanics worldwide to repair leaking fuel tanks, blowing exhausts, cracked sumps, leaking pipes, stone damaged radiators and more – on cars, light commercial vehicles, and motorbikes. It cures steel hard in 20 minutes and withstands up to 300°C.
With garages under pressure as motorists take to the roads once again, having products to hand that can help in an emergency – without adding a significant sum to the bill – is crucial.
Where can you use QuikSteel?
Pretty much anywhere. This is because the putty bonds to all hard surfaces, including metals, stone, wood, glass, and hard plastics. In the USA, QuikSteel is even approved by NSF for use on drinking water supplies.
"Recently, QuikSteel was used to fix the leaking fuel tank on a 1999 Suzuki SV650s," explained Mike Schlup, MD of Kalimex, the European distributors of QuikSteel. "Within 60 minutes the biker was back on the road, leak fixed. Another memorable repair was on a Range Rover. The fuel tank was badly damaged by thieves trying to steal the fuel. By using the putty, the mechanic repaired the damage; a process that took under two hours. We have many case studies at our head office of QuikSteel being used to stop shorting in high voltage ignition coils, repair worn wiper spines, seal cracked distributor caps and fix blown fuel rails."
Multiple applications
When working with the putty have a little water to hand. When finishing the job, wet your fingers to stop the putty sticking to them. This also makes for a smoother finish. You can paint and powder coat a repair once the putty has cured
For fuel tank repairs, if you can't drain the tank first, then some use a bar of soap to temporarily stop the leak. Then clean the area around the leak and apply the putty
To tap a new thread, mix the QuikSteel and push it into the old stripped thread
Coat the bolt or screw with WD40, or similar alternative, and then push this into the putty. Leave it for a few minutes, and then give it a half turn to create the new thread. Alternatively, you can drill and tap once the putty has cured.
"Unlike lower specification DIY brands, you only need one type of QuikSteel to cover all eventualities," continued Mike. "For the professional mechanic, it's the only epoxy putty they will ever need in the workshop."
A high-profile fan of the product is John Mickel, multiple-time UK and World Legends Racing Champion. "We always carry QuikSteel with us," clarified John. "We've fixed cracked heads, loose bolts, even damaged sumps."
QuikSteel is an iconic workshop product, one that has been put through its paces through many different applications.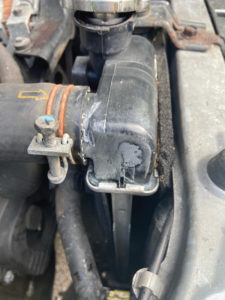 Before                                          After
---