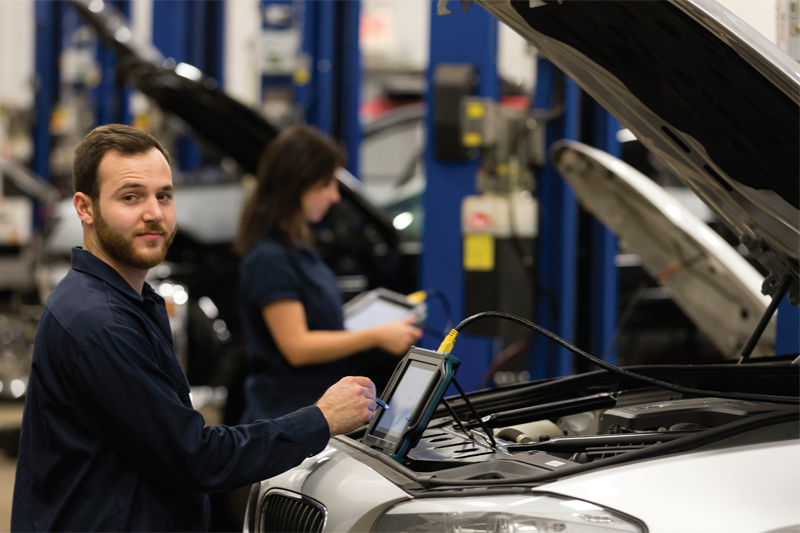 ---
The IVS 360 team provides Brownings Garage with essential step-by-step guidance for rectifying a cooling fan fault on a 2006 Mercedes-Benz.
---
Case study info
Vehicle model and fault:
Mercedes-Benz C-Class (2006 model year) with a cooling fan fault
IVS 360 Master Technician:
Kevin Hardy
Diagnosis and repair time:
35 minutes
Opus IVS OEM-trained Master Technicians support customers in the automotive aftermarket via its IVS 360TM live diagnostic support service delivered from its UK office in Wheatley, Oxford. The delivery of this essential service is provided by diagnostic specialists who are equipped with the brand-specific repair knowledge learned only from years of hands-on dealer experience.
In this latest request for support, Opus IVS provided Brownings Garage with live repair guidance on a 2006 Mercedes-Benz that was experiencing a cooling fan fault.
Brownings Garage
Brownings Garage, established in 1910 and based in London, is a workshop that offers service and repairs, MOTs, electronic diagnostics and fault finding, tyre tracking, and more. Director Miles Brown is the third generation in his family to have run Brownings Garage. The workshop initially repaired motorbike frames but made the move to car repairs in the 1920s. Now, in 2021, the business has developed further by incorporating electric and hybrid vehicle services into its offering.
The fault
Brownings Garage uses its Opus IVS diagnostic tool on a weekly basis to resolve a wide range of coding and programming issues. The latest issue arose with a Mercedes-Benz, which was experiencing a cooling fan fault.
The fault presented itself with the cooling fan being on permanently, and a coolant warning light displayed on the instrument cluster. To ensure that he found a solution quickly and efficiently, Miles utilised the IVS 360 service, and was able to contact Master Technician Kevin Hardy for diagnostics and repair guidance.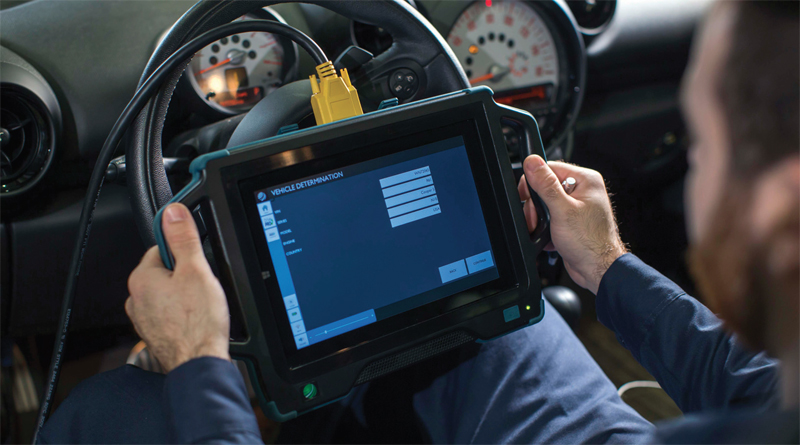 Miles provided Kevin with details of the fault and fault codes found, as shown here:
P1636-004 Check engine & air conditioning electric suction fan with integrated control
(M4/7): signal wire open circuit
The repair process
Step one
Kevin, explained that the following four wires would need to be checked:
Pin 2 at fan = 10mm red = perm 12V live
Pin 1 = earth
Pin 3 = black/red = 12V ignition live
Pin 4 signal wire to ECU pin 57 plug 2 at engine ECU
Step two
Kevin then suggested that Miles load test the signal wire and substitute it, and that in terms of voltage on this particular wire, he should expect to see:
1-1.7V to get the fan to be stationary and no actuation
8-10.5V – this will ask ECU to go to maximum
Step three
Miles was then advised to carry out two actions. Firstly, he would need to look at the signal wire out of the engine ECU, and also at the other end of the fan module. Then, he would need to see if the engine cannot see continuity on the signal wire (it would log a code for suction fan).
Repair result
Following the step-by-step guidance from Kevin, Miles was able to identify and find the broken signal wire. After replacing the wire, the fault was rectified, and Miles was then free to tackle his next job of the day.
Miles explained, "Thanks to Kevin's help, I found the signal wire broken as suspected, behind the N/S/F inner wheel arch just by the washer bottle. Using IVS 360 saved me valuable time on this job."
About Opus IVS
Globally, the IVS team provides essential diagnostic support to thousands of customers like Brownings Garage, with the aim of improving efficiency and profitability in their workshops. From symptom-driven advice through to complex repair guidance, Opus IVS provides the knowledge and expertise to get from fault diagnosis to successful repair in minimal time, reducing costs and downtime for today's modern workshop.
---
For more information on how Opus IVS can support your workshop, click
here
.