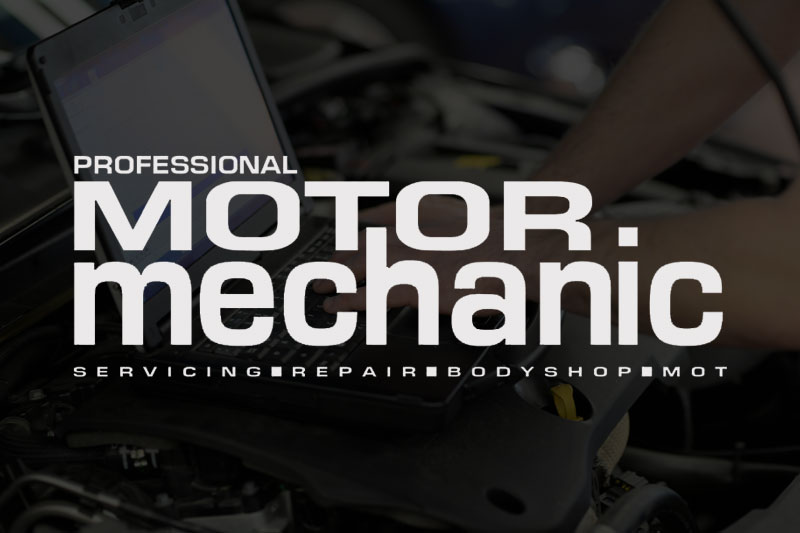 EPB helps to make cars safer, more comfortable and easier to use. Yet this simple but advanced system is now such a part of modern motoring it seems incredible that it is only a decade since TRW was the first to make EPB available on mass production cars.
The system uses a simple rocker switch or button which the driver just presses. This sends an electric signal to the vehicle's electronic control unit, which in turn activates the brakes. The EPB caliper features an electro-mechanical actuator built into the disc brake calliper.
By doing away with the handbrake lever, as well as all the necessary linkages, fixing devices, and cables that go with it, significant weight savings are made. The smaller EPB unit means there is more space, especially between the front seats.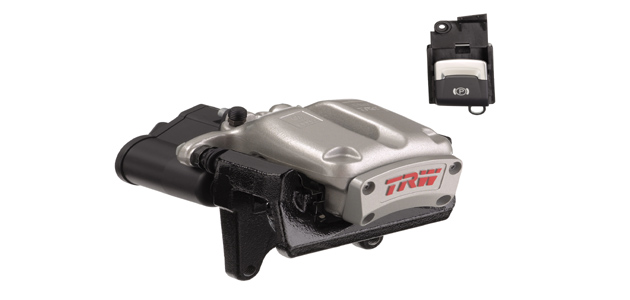 TRW's Electric Park Brake and Switch
As well as being easier to use, EPB is a more reliable system since there are no cables to stretch, corrode or freeze, and no linkages and ratchets to wear out.
EPB works as a conventional hydraulic brake for everyday brake use, and as an electric brake for parking and emergency braking. The flexibility of EPB means that with EPB fully integrated into a vehicle's stability control system, the driver can enjoy the major safety benefits of full anti-lock braking to all four wheels.
EPB becoming the standard
With so many advantages it is no surprise that EPB has become increasingly popular on cars large and small, volume and prestige, over the last 10 or so years.
In 2001 TRW was the first-to-market with EPB (with the motor mounted to the Colette caliper) for mass production cars. Today it is used on millions of vehicles including BMW's 5 and 6 Series cars as well as their X3 and Z4, on Ford's Galaxy and S-Max, the Volvo S60, S80, V60, V70, XC 60, and XC70, the Renault Megane and Scenic, Audi's Q5, A4, A5, A6, A7, A8, and VW's Tiguan, Sharan, Model CC, Passat and Passat Coupe. The list grows month by month.
It is forecast that EPB will be standard fit on one in five of all vehicles built in Europe by 2015 and that half of all mid to large sized passenger cars will have EPB within three years.
For independent garages EPB work is a must
All of which means independent workshops will definitely see more and more vehicles through their doors fitted with EPB with owners looking to have service, repair and maintenance work done on them. Also, in order to change the pads on a vehicle fitted with TRW EPB, an electronic service tool (such as the TRW easycheck) must be used.
Not just that, but recent legislative changes mean that vehicles showing an EPB Malfunction Indicator Light (MIL) are now an MOT fail. Being able to work confidently, safely and efficiently with EPB is vital for every independent garage and test station.
The harsh commercial reality is that workshops need to be able to do such work immediately and on the spot. The alternative is that independents will inevitably lose business as they are forced to farm out such work to franchised dealers, scare customers off by adding the cost of a main dealer's support to the job, or see the car go to a rival garage that is able to work with EPB.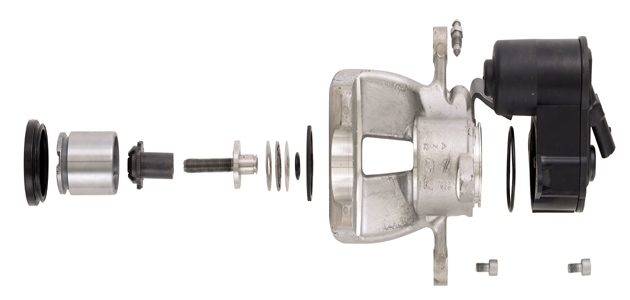 Electric rear calliper (exploded view)
THE PROCESS IN PICTURES
STEP 1: Selecting Fastcheck option on TRW easycheck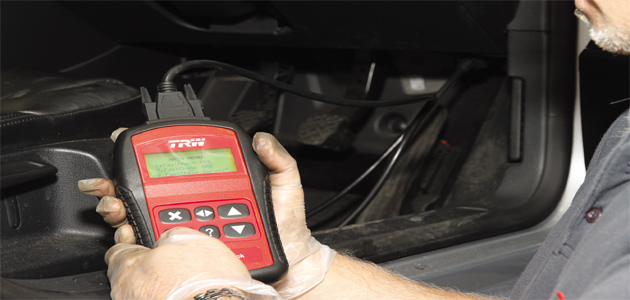 STEP 2: Removing the pad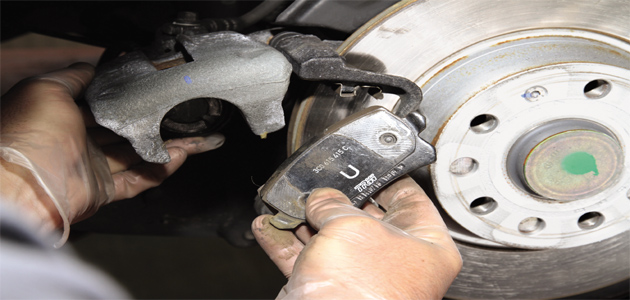 STEP 3: Fitting a new pad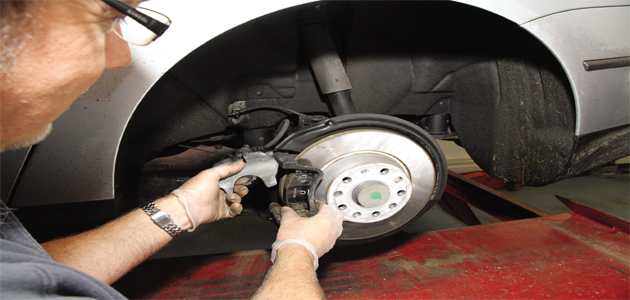 STEP 4: Reassembling the caliper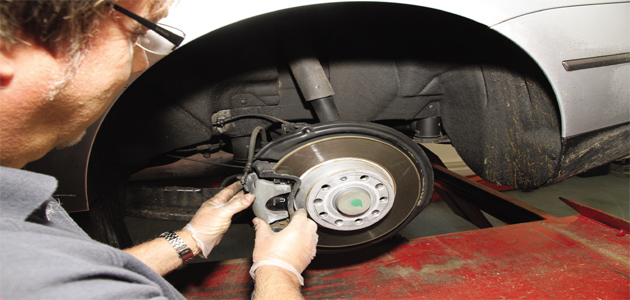 STEP 5: TRW easycheck calibrating the brakes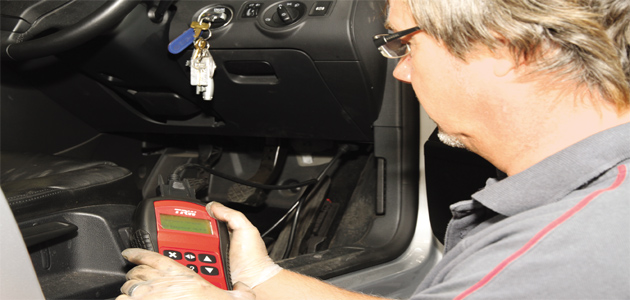 Using the TRW easycheck is simplicity itself:

 Plug the easycheck cable into the vehicle's J1962

diagnostic socket. Select 'Fastcheck EPB' from the menu, followed by 'Manufacturer', then 'Maintenance', and finally 'Replace Pads';
From the three options select 'Release Brakes'

and follow the on-screen instructions. When the process is complete the tool will display 'Complete';
The rear brake system can now be stripped;
Before fitting the new pads, the piston must be

manually pushed back into its housing (in exactly the same way as it would for front calipers). When the calliper is re-assembled, select 'Close Brakes' on the TRW easycheck;
When finished, 'Complete' will appear on screen,

followed by a message requesting the calibration process. Again follow the onscreen instructions for 'Calibrate Brakes'. You will now hear the motors actuating the calipers, ensuring the correct pad and disc clearance and operation of the EPB;
Finally, you will see a message asking you to

check for any fault codes. Select 'Read DTC's' from the menu. If all the work has been completed correctly, there will be no DTC's

present.