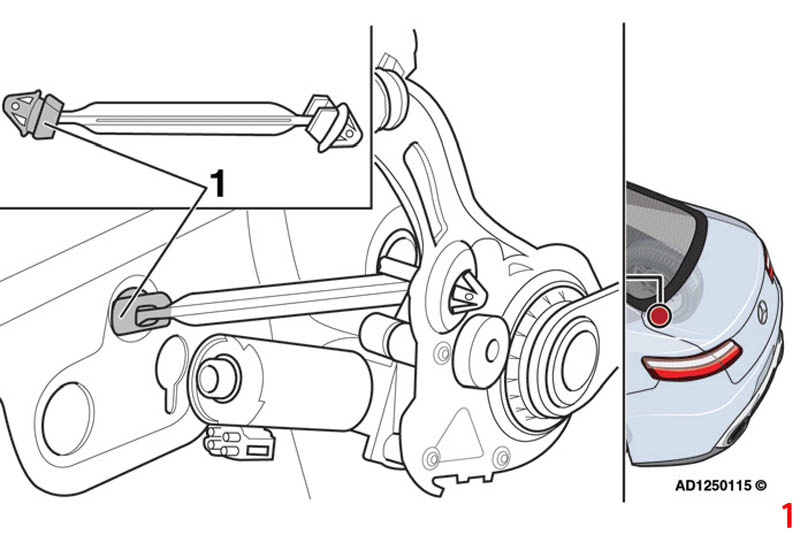 ---
In this regular column, Autodata's Technical Team share their fixes to common problems raised through Autodata's technical helpline, available to all UK customers.
---
Mercedes-Benz E-Class – Boot lid will not fully open or close, abnormal boot noise present
Fault
We have a 2017 Mercedes E-Class Coupe/Cabriolet (238) with a faulty boot lid that will neither fully open nor fully close. When the boot lid is opened or closed, we hear a rubbing or rustling noise from the interior. There is no obvious obstruction and the client would like the issue resolved as part of their service. What's the best way to go about diagnosing and resolving the issue?
Fix
We're aware of this issue, which affects E-Class Coupe/Cabriolet models from 2017 onward. The cause is an unsatisfactory design of the boot lid LH hinge support strut bush. Remove the LH boot lid hinge cover. Fit a modified boot lid LH hinge support strut bush, available from the Mercedes-Benz parts department, as shown (Fig 1.1/main image). Fit a new LH boot lid hinge cover, if necessary.
---
PMM and Autodata have teamed up to bring you Autodocta, offering expert advice and fixes direct from the Autodata workshop application. The company will be offering PMM readers an exclusive 10% discount off Autodata for your first year
if you sign up with the discount code PMMADQ121 here. Simply enter the code when asked to receive your discount
.