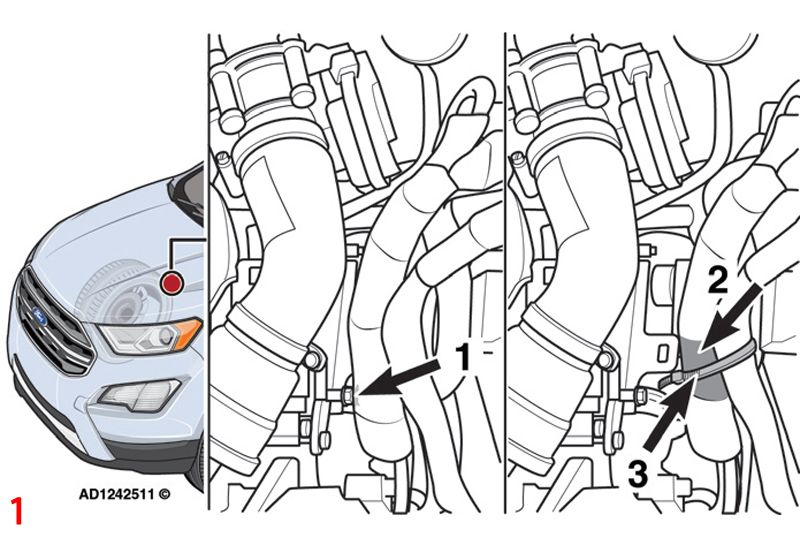 ---
In this regular column, Autodata's Technical Team share their fixes to common problems raised through Autodata's technical helpline, available to all UK customers.
---
Ford Ecosport – Lack of power and engine misfire
Fault:
We are experiencing some faults with a 2017 Ford EcoSport 1.5 diesel. The faults include intermittent engine misfire, a lack of power and the engine malfunction indicator lamp (MIL) illuminated. Trouble codes P0087, P0088, P008A, P009E, P0193, P116E, P0825, P089F, P0822, P0252, P027C, P02E5, P162F, P062A, P06E9, P1102, U0212, U0109 are stored in the fault memory. We have checked the relevant components but we cannot find a solution. Any ideas?
Fix:
This problem affects all EcoSport models with 1.5 diesel engine up to 02/04/19. The faults are due to the engine wiring harness chafing against the vacuum pump mounting bracket causing a short circuit. To gain access to the wiring harness, remove the air filter assembly, battery and battery tray. Inspect the wiring harness for chafing in the area indicated (Fig 1.1). Repair the wiring harness as necessary and wrap with insulation tape (Fig 1.2). Secure the wiring harness with a cable tie (Fig 1.3). Refit the battery tray, battery and air filter assembly. Carry out a road test to ensure the fault has been rectified.
---
For more information, click
here
.