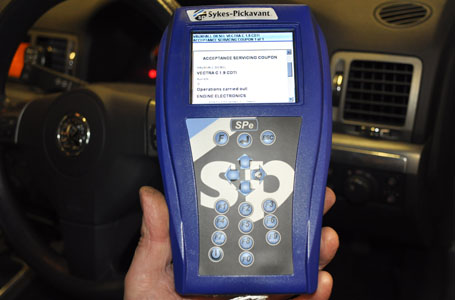 I'm a big fan of products from Sykes-Pickavant, having been given the opportunity to test a few over the years. Needless to say my ears pricked up when the company announced it had developed and produced a new electronic service tool, and I was chomping at the bit to have a play with it.
Service tool
Designed to operate on all vehicles with an EOBD socket, the unit allows electronic service functions to be carried out, but although it is primarily marketed as a service tool, I soon discovered that it does much more.
It is a hand-held, neat looking tool that boasts a clear display and a simple to use keyboard with alphanumeric navigation keys. Once connected to the EOBD socket – using the standard 16pin cable – the vehicle powers the SPe, and an internal battery also allows the user up to an hour of 'stand-alone' usage.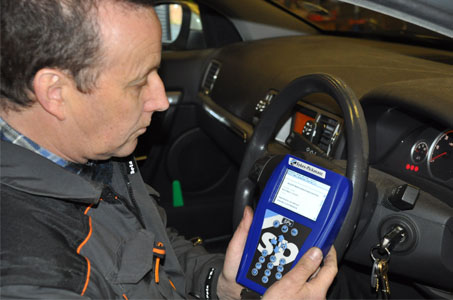 Once connected to the vehicle, the user then selects the 'service coupon/maintenance' option. Before any work is carried out the SPe can check the engine management system for any faults and then create a service report. The required service and any repairs should then be carried out by the technician, after which time all resets can be performed (dependant on the vehicle requirement).
Some of the 'standard' reset functions include: brake pads, oil, spark plugs and brake fluid while the SPe can also operate electric brake systems, allowing pad replacement. This may seem a fairly comprehensive list but the 'advanced' functions really set it apart, with the capability to undertake TPMS, steering reset, suspension setup, DPF regeneration and brake/clutch bleeding. Vehicle technical data is also available on some makes.
Diagnostic capability
As alluded to earlier, the SPe is more than just a standard service tool; it can also perform diagnostic functions. The unit can test and report either all or individual ECUs, giving fault codes (with text descriptions) that can be erased. Component activation is another possibility, along with actuator testing, injector coding and key coding.
Having used the product on many applications I found it very user-friendly and although it might not be the fastest I have used, in terms of making communication with the vehicle, once it gets there it is excellent. It doesn't claim to be a top of the range diagnostic tool, so live data coverage is reasonable, but fault code reading is as good as any and it has access capability to much more than just engine ECUs.
The SPe comes in two packages: the service tool (as reviewed here) and an electronic bodywork tool (ABS/ESP, central locking, doors/lights etc). The company's website is also great for troubleshooting tips and online support.
Verdict: The SPe is primarily a service tool and – without wanting to undermine it – secondarily a diagnostic tool. For what it is capable of doing, this is fantastic value for money and well worth a look!