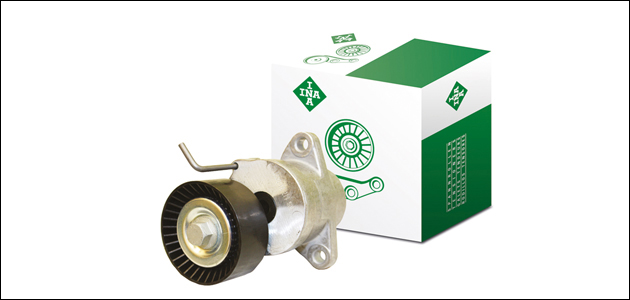 INA belt drive components recently released into the automotive aftermarket by Schaeffler Automotive Aftermarket (UK) Ltd include significant new additions for both passenger cars and light commercial vehicles (LCVs).
On the passenger car side, these include: an auxiliary belt tensioner for nearly 110,000 vehicles including the Vauxhall/Opel Insignia 2.0 CDTI 07/2008-, and Vauxhall/Opel Astra MkVI 2.0 CDTI, 08/2011-; an auxiliary belt tensioner for more than 7,000 vehicles including the VAG A4, A5, A6, A8, Q5, Phaeton, Touareg 2.4, 2.8FSi, 3.0TFSi, 3.2FSi, 3.7 and 4.2, 2004-; and one for more than 4,600 vehicles including the Hyundai/Kia ix35, Santa Fé, Sonata 2.0, 2.4/Carens, Magentis, Sorento and Sportage 2.0 and 2.4, 2006-.
Recent new LCV arrivals include: a timing belt tensioner for the VW Caddy and Transporter 1.6TDi and 2.0TDi, 2008-; a timing belt kit which fits the LDV Maxus 2.5Cdi, 02/2005-12/2008; an auxiliary belt deflection pulley for the Mercedes Sprinter 218, 219, 318. 319, 419, 518 and 519, 3.0CDi, 2006-; and an auxiliary belt tensioner for the Sprinter 219, 319, 419 and 519 3.0CDi, 2009-.