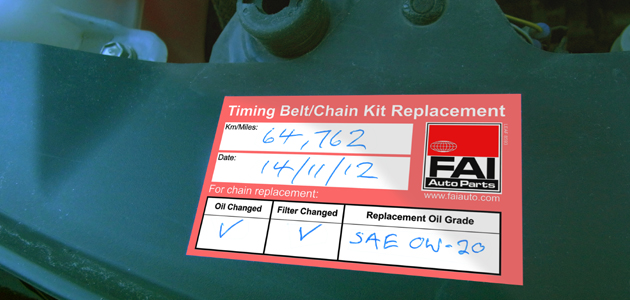 Everyone likes to sign off the jobs they are doing and to have a record of the work entailed in the event they are required to refer back to the job.
FAI is helping garages achieve this by adding service labels to its Timing Belt Kits and Timing Chain Kits. Two labels will be supplied in each kit, enabling the repairer to 'sign off' jobs and improve the traceability of the work done by providing the correct date and mileage and reassuring drivers that their repair has been properly done.
One sticker is to go into the vehicle service manual or under the bonnet, whilst the other is attached to the copy invoice held by the repairer. Should the garage need to refer back to the repair, the garage and their suppliers can easily access the relevant information to quickly and accurately respond to any issues.
Timing Chain Kit replacement is more technical and involved than belt replacement. It is important that repairers should note that the engine oil and filter must be replaced when fitting a new timing chain, as old oil can be contaminated and affect the performance of the new parts.
Engine manufacturers and oil suppliers have worked closely to improve the longevity and performance of oils for modern engines and as a result generic engine oils cannot be used for timing chain kit replacement.
It is imperative that engine specific oils are used as per the vehicle manufacturer's specifications. Not to do so will result in the timing chain being incorrectly tensioned and may cause failure in use.