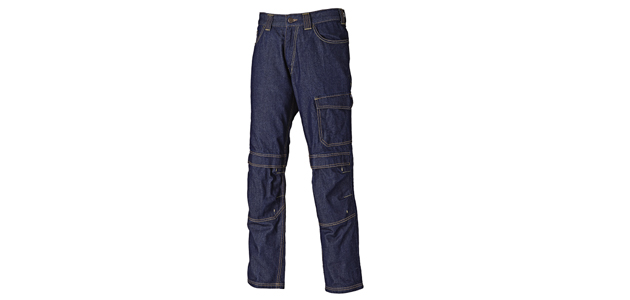 Dickies is introducing a number of exciting new products and ranges for 2015, with style, functionality and quality being paramount in driving the Dickies business forward: with over 90 years' experience in workwear manufacturing, generations of workers have found Dickies to be a brand they can trust.
Employing the latest developments in fabric technology and manufacturing techniques, Dickies' high performance workwear is suited for even the harshest working environments.
New products such as the Stanmore workwear jean, which has an ergonomic fit with multi pockets to ensure that the tradesperson has style, practicality and comfort. The Eisenhower premium trouser is the must have work trouser for 2015 with a mix of the premium fabrics, rip stop and cordura, and the clever design of pocket details (zip off holster pockets). The fit has been ergonomically designed to be able to move and provide maximum comfort.
Following on from the popular two tone range introduced earlier this year is the two tone high visibility range, which includes a jacket, trousers, bib, T shirt and waistcoat. The new styles are all certified to the new high-visibility standard EN ISO 20471:2013.
To offer warmth while working, Dickies will be offering the Abbott '3 in 1' jacket with waterproof fabrication and fully taped seams, it's a must have for the colder months.  Reflective detailing sits this nicely with the Eisenhower range. A new waterproof jacket and waterproof pack away jacket are lightweight and suitable to be thrown into a bag or vehicle to be always prepared for those unexpected rainy days.
To keep hands safe while working Dickies has now joined forces with KONG® offering the new range of Impact gloves. These gloves are built off of the KONG® chassis, carry the Dickies® name and cover jobs both "on" and "off" the drillhead: from rigger glove with a Duraclad® rope channel that offers 8x durability where the riggers need it most, to Deck Hand Cut 5 glove that can withstand just about anything.
Renowned the world over for its protective work wear, Dickies also offer a wide range of practical garments and footwear specifically designed for use in the country, whether at work or leisure. The new Farm and Country is a brand new range for Dickies. The range is functional, yet in keeping with the traditional look and feel you'd expect from an agricultural range. Dickies have added a new range of shirts into the collection to enhance its current Tattersall collection, as well as a new range of jackets and trousers to complement its existing range. Each suited to specific country pursuits but all versatile and comfortable enough to be worn at any time.
Dickies has introduced another 10 new styles of safety footwear and added more colours to the existing range, new lines in the PU/Rubber sole and also extended the range to offer more S3 footwear for 2015.
There are also two basic style sneaker shoes introduced in composite toe and non-metal midsole. These are made with suede leather and canvas upper.
There is a new colour for the popular Landmaster safety Wellington boot in navy with an orange sole. The Landmaster Wellingtons are one of the lightest and most comfortable wellington boots on the market. Because Polyurethane is extremely light 40% less than PVC or rubber.
Another interesting addition is the Waders range being expanded to utility companies and environmental agencies for the first time with the introduction of two types of PVC wader, one thigh and the other a chest wader.
For more information visit the Dickies website.