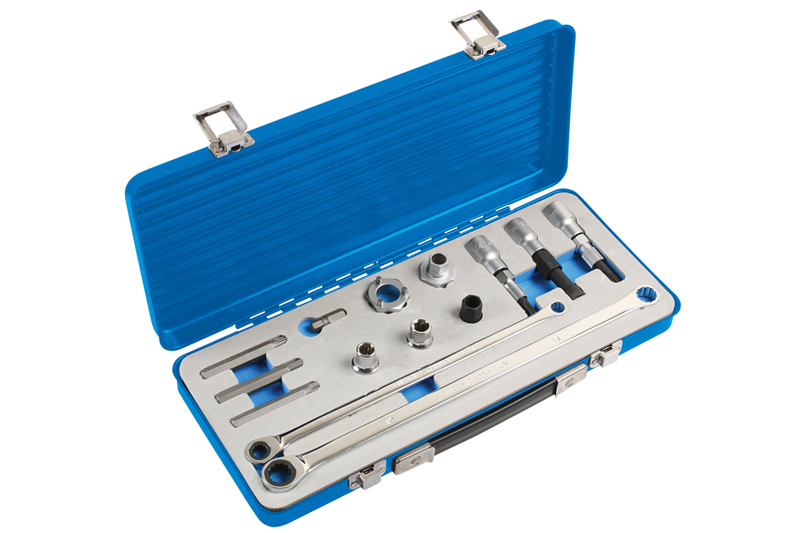 ---
Alternator pulley tools kit from Laser Tools.
---
Overrunning alternator pulleys are becoming increasingly popular on many modern passenger cars and light commercial vehicles due to increased alternator loads. As opposed to traditional solid pulleys, they allow the alternator to free-wheel or overrun every time the engine decelerates and, at the same time, dampen vibrations at the alternator. Like any other part, overrunning alternator pulleys don't last forever, and this is now a common replacement part. Proper tools are needed when working on these pulleys, and this new kit from Laser Tools (part number 7052) brings together the tools needed to remove and install the pulleys on Nippon Denso, Valeo, Bosch and Marelli alternators.
The kit is comprehensive, and includes three 1/2″ drive combination drivers: an M10 spline driver with a 31 spline with 15mm hex, a 10mm female hex with a 17mm outer hex and a T50 star combined with 31 spline with 15mm hex. It also features three sleeves: 32mm male hex with 3-pin drive, 33 spline drive x 15mm hex (outer) and a 28mm male hex x 15mm male hex drive. A 1/2″ drive 10mm bit holder is included, along with a 1/2″ drive 10mm 12-point socket. Finally, the kit includes three 75mm long 10mm bit drivers, which are manufactured from tough, shock-resisting S2 steel.
---